How do you make vegan crostata? In this blog post we will show you how to make a vegan crostata, just like the one made in Italy. We made 3 different variations: a classic strawberry jam crostata, a wholegrain crostata with apricot jam and an oatmeal crostata with blueberries.
On this page:
For other delicious vegan Italian crostata recipes, check out:
Ingredients & Substitutions
Flour: you can use really any flour for these crostatas. Our favourite is to take rolled oats, blend them up in a blender into a fine flour and make crostata with them. But you can also use cake flour, all purpose flour, or wholegrain flour.
Sugar: you can use any sugar in granular form. We tested both unrefined cane sugar and regular white sugar. They both work.
Sunflower seed oil: that's our favourite vegetable oil for baking. It's affordable and it doesn't have much flavour. If you want you can replace it with coconut oil.
Water: for vegan crostata we prefer to make our shortcrust pastry with water rather than plant-milk because it's cheaper and because it yields a crunchier crostata.
Citrus zest: orange, lemon, or lime. Grate their zest to add flavour to the base of the crostata.
Vanilla: extract, essence, aroma, or real vanilla beans, anything will work in this recipe. We use it to flavour the base of the crostata.
Baking powder: this will help make the pie a tiny bit more fragrant.
Jam or fresh fruit: we prefer to use fresh fruit that is in season. Here we use blueberries for the crostata. But you can also use jam.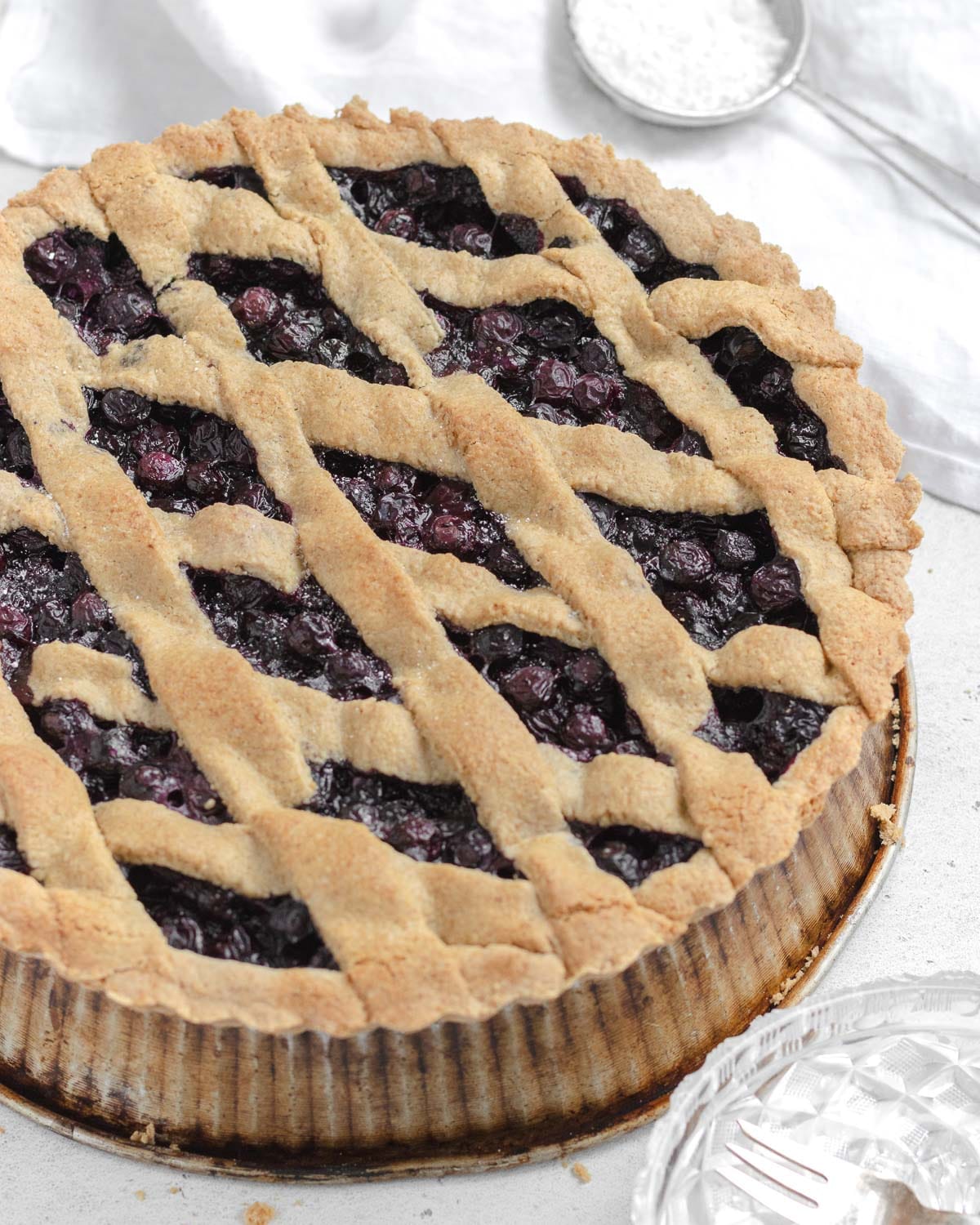 Equipment
You'll need a pie dish with removable base that is either 24cm or 26 cm in diameter or 9 to 10 inches. You'll also need a rolling pin to flatten the base for the crostata and a clean worktop.
Tips
Make your own flour: while you can make this vegan crostata with any flour of your choice, we recommend to blend your own flour from rolled oats. The taste will be a lot richer this way, and the crostata will be a lot healthier.
Dissolve the sugar in the liquids: do this before adding the flour to get a lighter and crispier crostata.
Don't over-knead: over-kneading will develop the gluten which in turn will make the crostata more compact and heavy.
Use fresh fruit if you can: crostata is traditionally made with jam, however we recommend using fresh fruit if you can to reduce the amount of added sugar, increase the overall nutrition, but without compromising the taste.
Questions & answers
Can I make crostata gluten free?
Yes. You can sub the flour with gluten free flour. The base of your crostata might not be as sturdy as with regular flour, but it will still taste good and you'll be able to eat it with a fork.
Why do you make holes with a fork?
We pierce the pie with a fork so that during cooking it the hot air and moisture can get out from under the pie and won't form bubbles that would break the base.
Can I use a different fruit?
Yes, you can use any type of fruit jam for your crostata. We recommend following the season. If you do it in spring/summer go for strawberry, peach or apricots. If you do it in winter go for chocolate, apples, citrus, etc.
What if I don't have a pie dish with removable base?
Then you can either cut the crostata into the tray and only take out the slice you serve. Alternatively, you can cut 2 long and thick stripes of parchment paper and place them in a cross position into the pie dish under the dough. When the pie is baked, let it cool completely and then you'll be able to lift it out of the tray by pulling up the parchment paper stripes.
Storage
The best way is to keep it up to 4-5 days in a dry and cool place covered in a cake cover. You can also store it in the fridge for up to a week however make sure you wrap it up well or it'll absorb weird flavours from your fridge. Also, it is likely that in the fridge it'll become a bit soggy as the crust tends to absorb moisture when stored in the fridge.
Can I freeze vegan crostata?
Yes, but we don't recommend it because it is likely that the crust will absorb moisture and won't be a fragrant as freshly made.
If however you decide to freeze it you have two options. One, freeze raw before you bake it. Then on the day you want to bake it you need to let it unfreeze for two hours before baking it.
Two, freeze it cooked. In this case we recommend cutting it into slices before you freeze it so that you can take out of the freezer just the right number of slices you are about to serve. In both cases you can only freeze it for up to one month.
Variations
An eye-catching dessert that will wow your friends and family thanks to its popping colour and flavour. Our tart is made with a crunchy shortcrust pastry base, filled with a smooth and creamy vanilla custard, and topped with sweet fresh strawberries.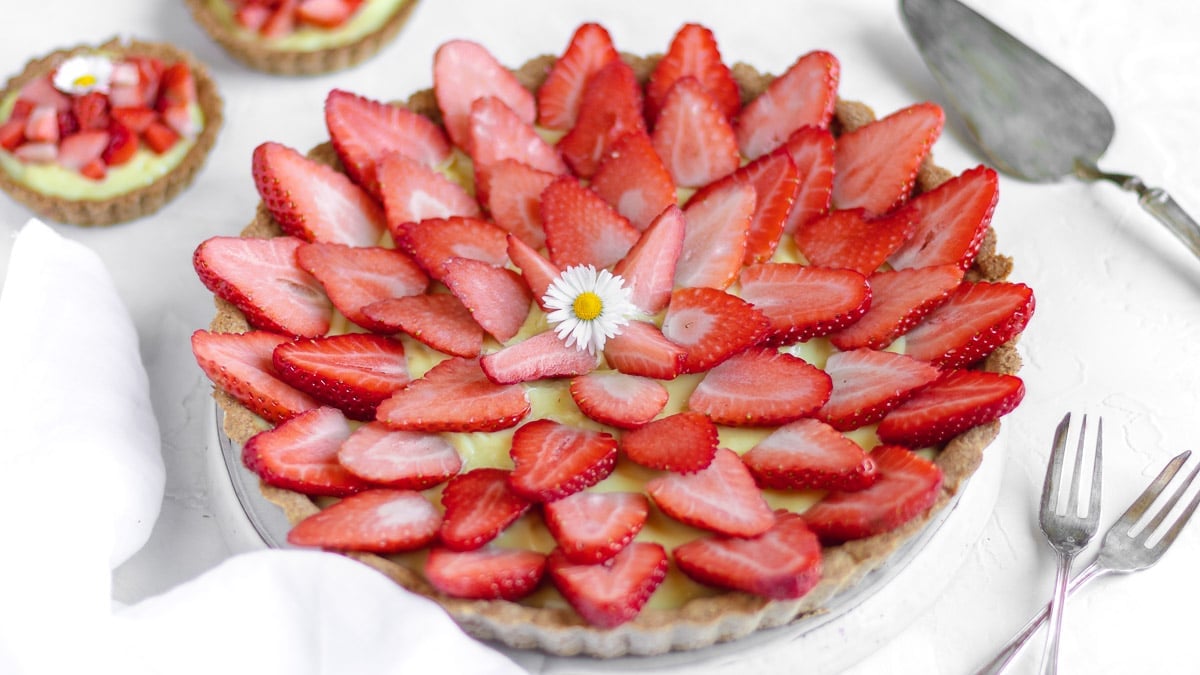 The perfect treat for a mid morning snack, or for a cosy tea-break in the afternoon. They are pretty, crunchy, filled with fresh apples and raisins, and made with a delicious vegan shortcrust pastry that is super easy to make, and even easier to eat!
This beautiful and delicious fruit tart with lemon custard is a classic Italian pastry recipe that everyone loves. It's egg-free, dairy-free, made with wholegrain flour and plenty of fresh seasonal fruit.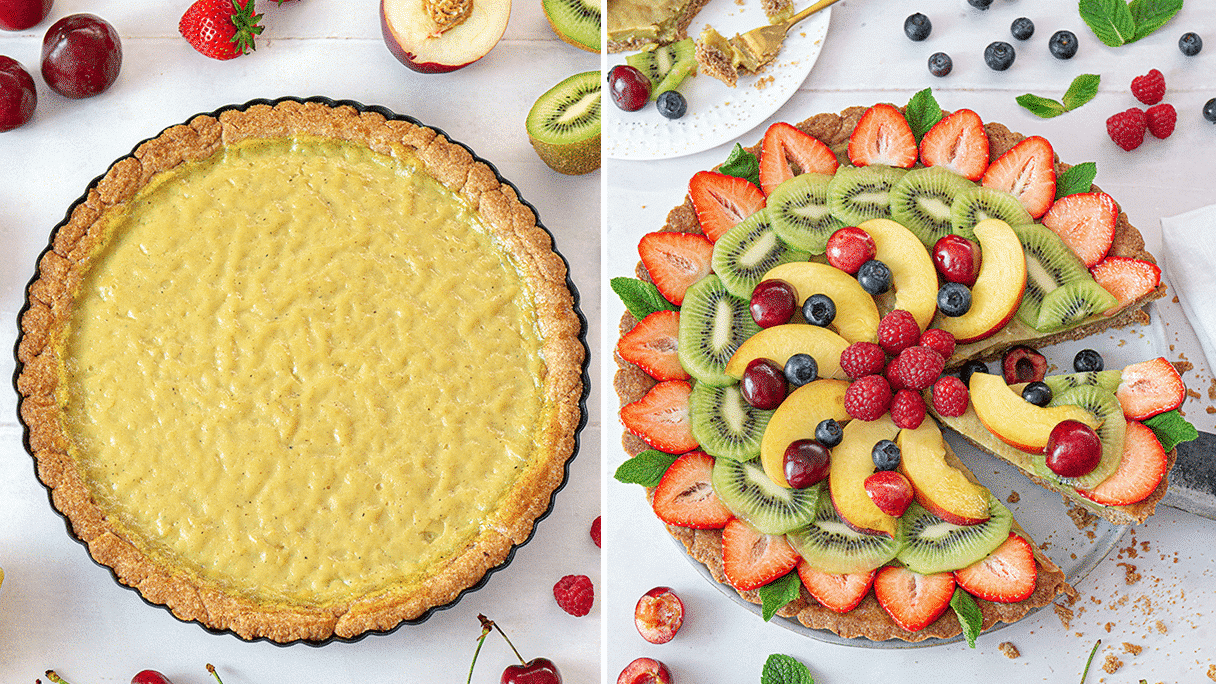 Recipe
Vegan Crostata - Italian Recipe
How do you make vegan crostata? In this blog post we will show you how to make a vegan crostata, just like the one made in Italy. And because we love crostata so much, we made 3 different variations: a classic strawberry jam crostata, a wholegrain crostata with apricot jam and an oatmeal crostata with blueberries. Our favourite? Oats and blueberries!
Equipment
Pie dish 9 to 10 inches (24 to 26cm) easiest if with removable base.
Ingredients
350

g

rolled oats

or wholegrain flour or all-purpose flour

130

g

sugar

unrefined or white

80

g

cold water

65

g

sunflower seed oil

½

lemon

zest + juice

1

teaspoon

vanilla extract

1

pinch

salt

2

teaspoon

baking powder

500

g

fresh blueberries

+ 3 tablespoon sugar
Instructions
If you use rolled oats, blend the oats in a blender until you get a fine oat flour. Set aside.If you use fresh blueberries, add them to a bowl with 3 tablespoon of sugar and the juice of half a lemon. Give it a stir and set aside to marinate.

In a large bowl, add sunflower seed oil, water, sugar, lemon zest, vanilla extract and with a spatula stir well until the sugar is dissolved in the liquids.

Add the oat flour (or any other flour of your choice), the salt, and the baking powder all at once and mix with a spatula.

When the dough is hard enough, knead with your hands for a minute to bring everything together. Do not over-mix.

Let the dough rest in the refrigerator for 20 minutes. You can put it back into the bowl and cover with a kitchen cloth. Then prep the pie dish by greasing it with oil. Then dust it with flour. We use a 10 inch (24 cm) pie dish.

Preheat the oven at 360˚F (180˚C). Then take ¾ of the dough, shape it into a ball, then flatten it to 4 to 5 mm (around ⅛ of an inch) thick.

Roll the dough around the rolling pin to lift it, and place it into the pie dish. Trim the excess. With a fork, make some whole into the base of the pie.

Add the fresh blueberries and spread them around the base.NOTE: If you are using store bough jam, then pour it into a bowl first, and stir it around to make sure it's smooth.

Take the rest of the dough (you should have ¼ left) and roll it flat in a rectangular shape on your table. Then with a sharp knife, cut nine stripes, ½ inch wide (1 to 1.5 cm thick).

Position the first 4 stripes on the pie at equal distance from each other. Then position the other 3 or 4 stripes on top of the others diagonally. Now seal the pie by pressing with your fingers where the stripes meet the edge of the pie. Brush the top of the crostata with some water or plant milk.

Bake for about 40 min if you use oat flour or wholegrain flour. And around 30 if you use all-purpose flour. The pie is ready when slightly golden on top. Let the crostata cool down completely before cutting it and eating it.
Notes
MEASUREMENTS
We recommend using the metric system for this recipe.
Nutritional Values
Nutrition Facts
Vegan Crostata - Italian Recipe
Amount Per Serving
Calories 227
Calories from Fat 63
% Daily Value*
Fat 7g11%
Potassium 211mg6%
Carbohydrates 37g12%
Protein 4g8%
Vitamin A 23IU0%
Vitamin B6 1mg50%
Vitamin C 6mg7%
Vitamin E 3mg20%
Vitamin K 9µg9%
Calcium 48mg5%
Folate 12µg3%
Iron 1mg6%
Manganese 1mg50%
Magnesium 43mg11%
Zinc 1mg7%
* Percent Daily Values are based on a 2000 calorie diet.
Did you like this recipe?
We are not much on Instagram, Facebook, and Pinterest. Leave us a comment below instead, it would mean the world to us 🙂