Cambia lingua / Switch language: ITA
Muffins with oat flour are a healthy and tasty quick recipe that is ideal for a fast breakfast or as a snack.

They are easy to make and contain plenty of dietary fiber and natural sugar that will give you a slow release of energy and keep you full longer.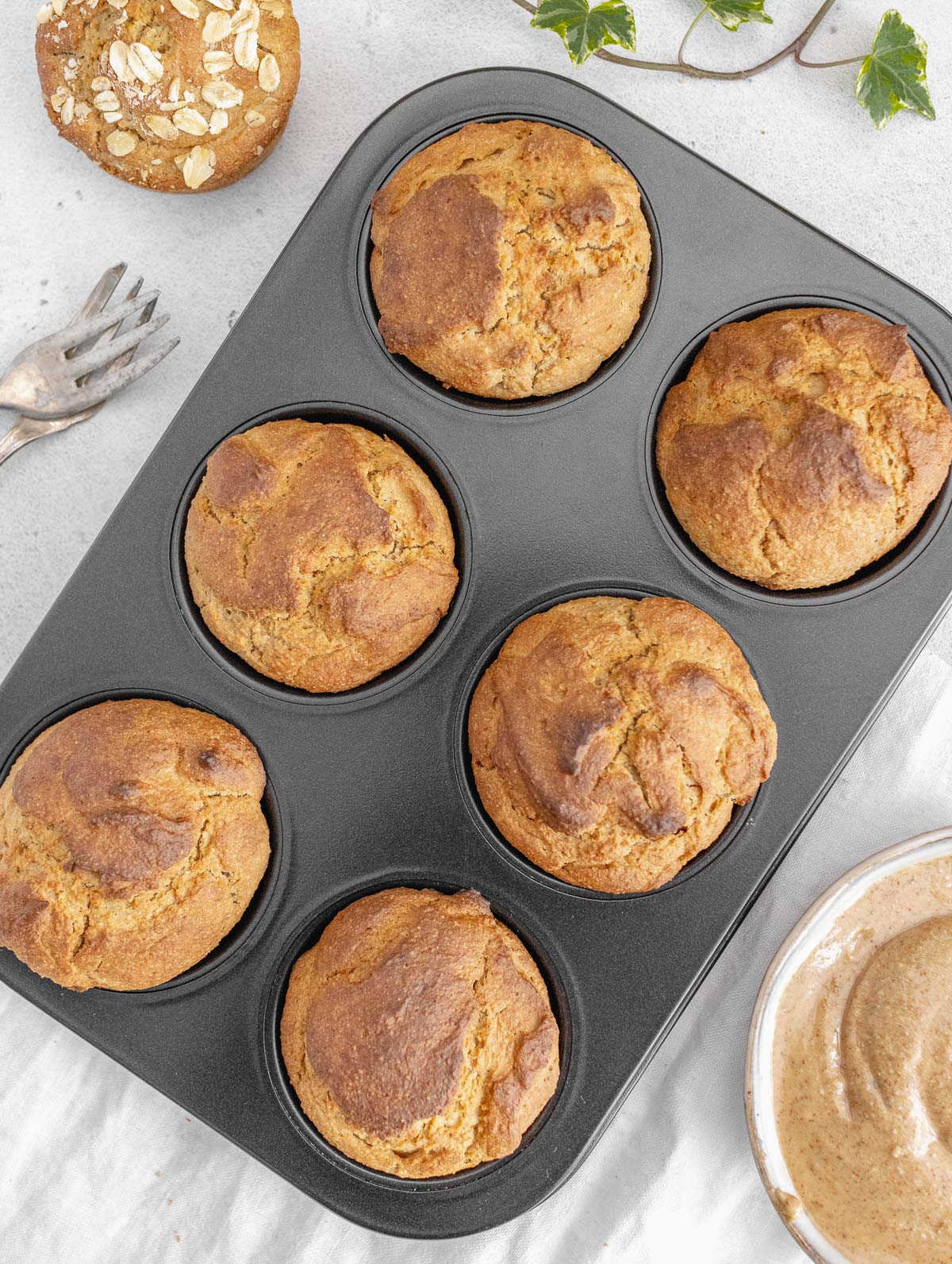 Jump to:
What are muffins with oat flour
Muffins with oat flour are a healthy alternative to regular muffins. While they are not as sweet, these muffins are still delicious and can be served with jams and butter.
They are made with blended oats turned into flour instead of wheat flour, and are sweetened with mashed banana and dates instead of sugar.
Their flavor and texture are similar to that of banana bread.
Watch a quick video-story HERE on how to make oat muffins.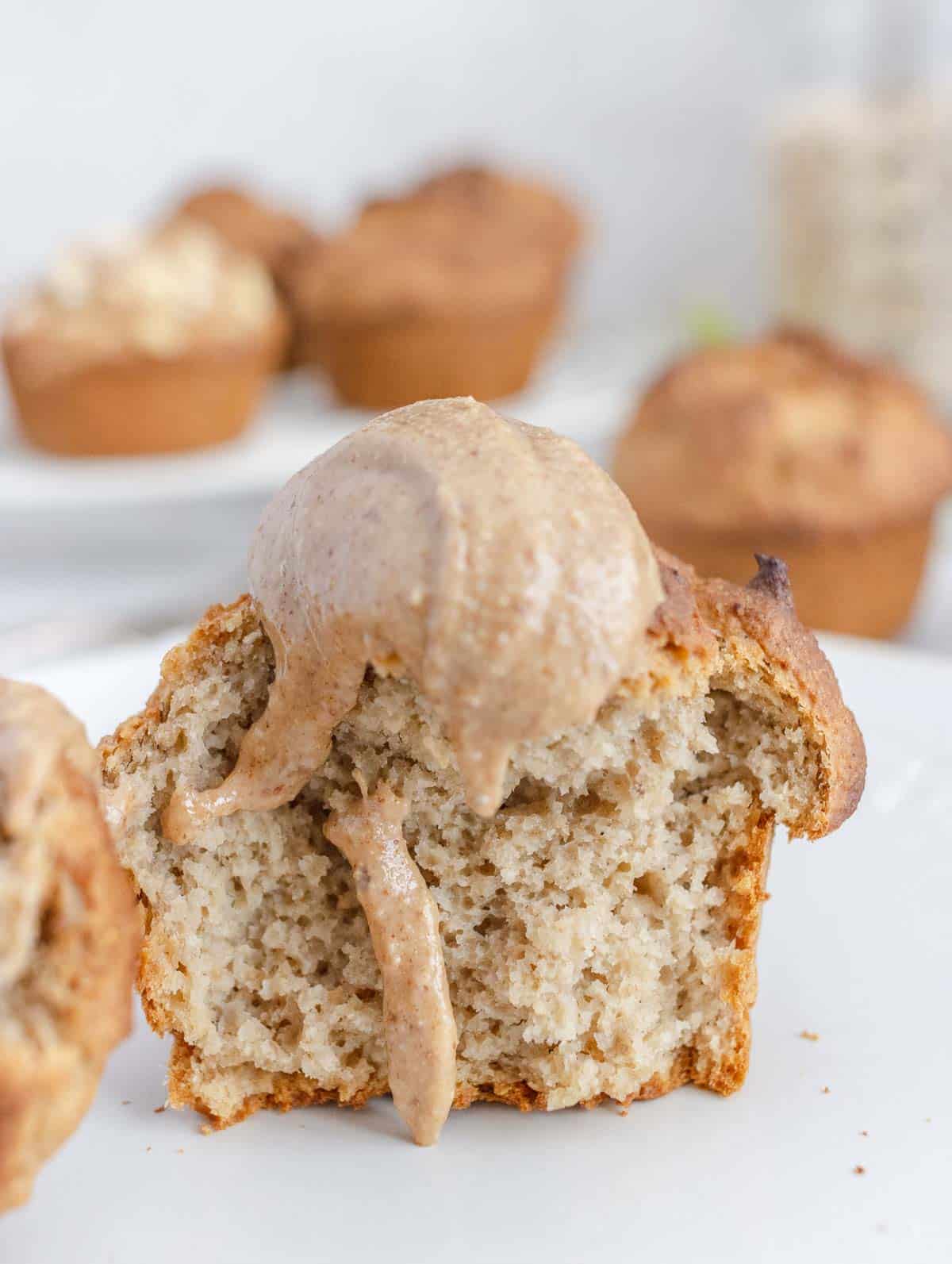 Ingredients & Substitutions
Rolled oats: sometimes known as old-fashioned oats are the main ingredient in this recipe.

If you replace it with regular flour, please do so using a scale and not cups. This is because oats weigh less per volume than regular flour.
Bananas: choose ripe bananas because they are sweeter. Bananas also help with binding the muffins together and in this recipe are a good egg replacement.

Milk: we use almond milk. Other types of plant milk are also good, like oat milk, soy milk, etc.

Oil: we use sunflower or canola oil. Any type of neutral flavour vegetable oil is good too.

Dates: they are the main sweetener in these muffins with oat flour. You can use whole pitted dates, or if you have it at hand, date paste.

Vanilla extract: you can replace it with the paste in a real vanilla bean.

Salt: useful to lift the other flavours.

Rising agent: here you can use regular baking powder, or cream of tartar if you want a more natural option. With cream of tartar you'll often need some baking soda as well. The instructions to use it are on the packet of cream of tartar.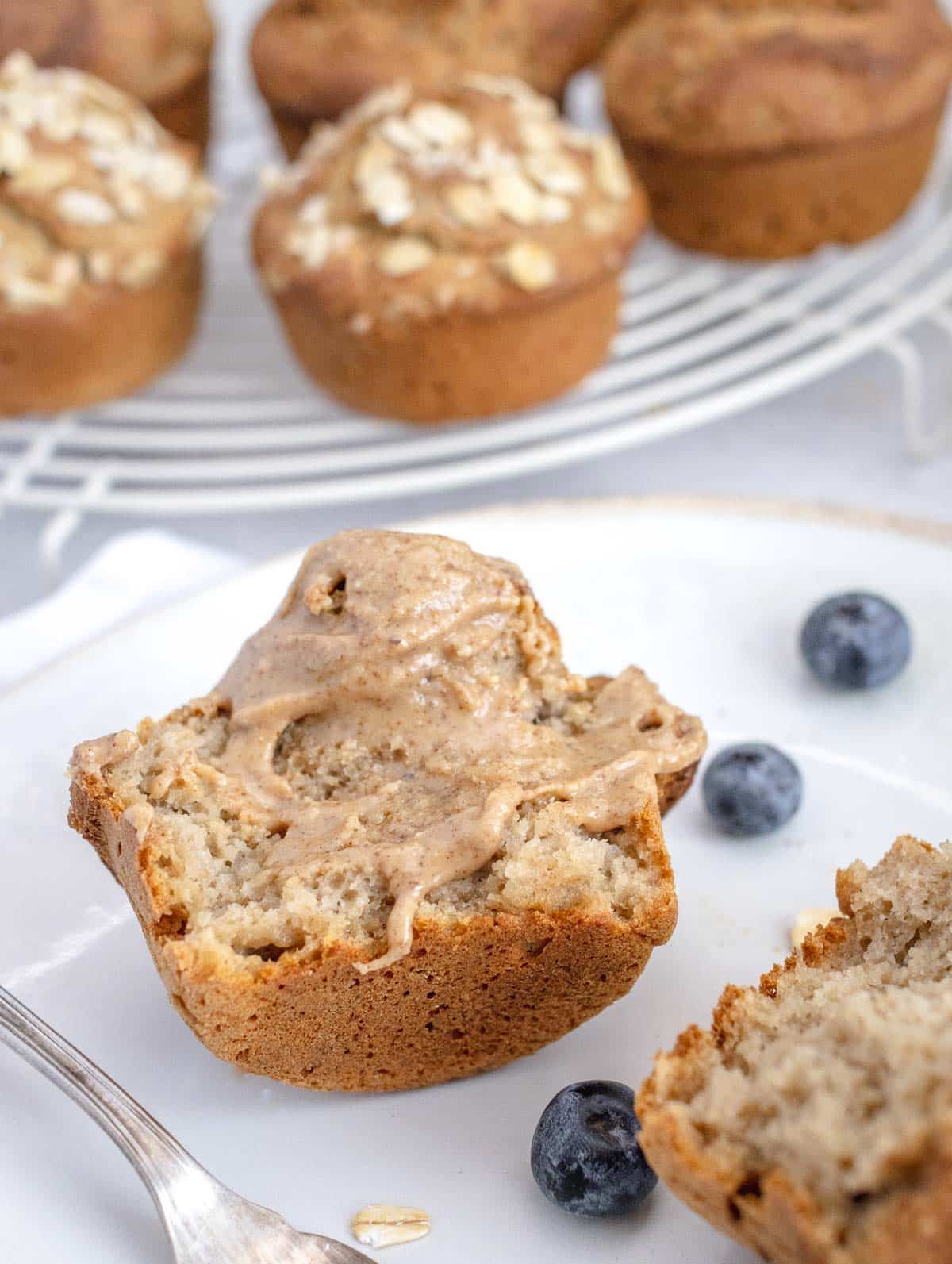 How to make muffins with oat flour
To make them we need oat flour, which we make by blending 2 cups (220 grams) of rolled oats in a blender for about a minute. Transfer to a bowl and set aside.
Of course, you can also buy ready-made oat flour.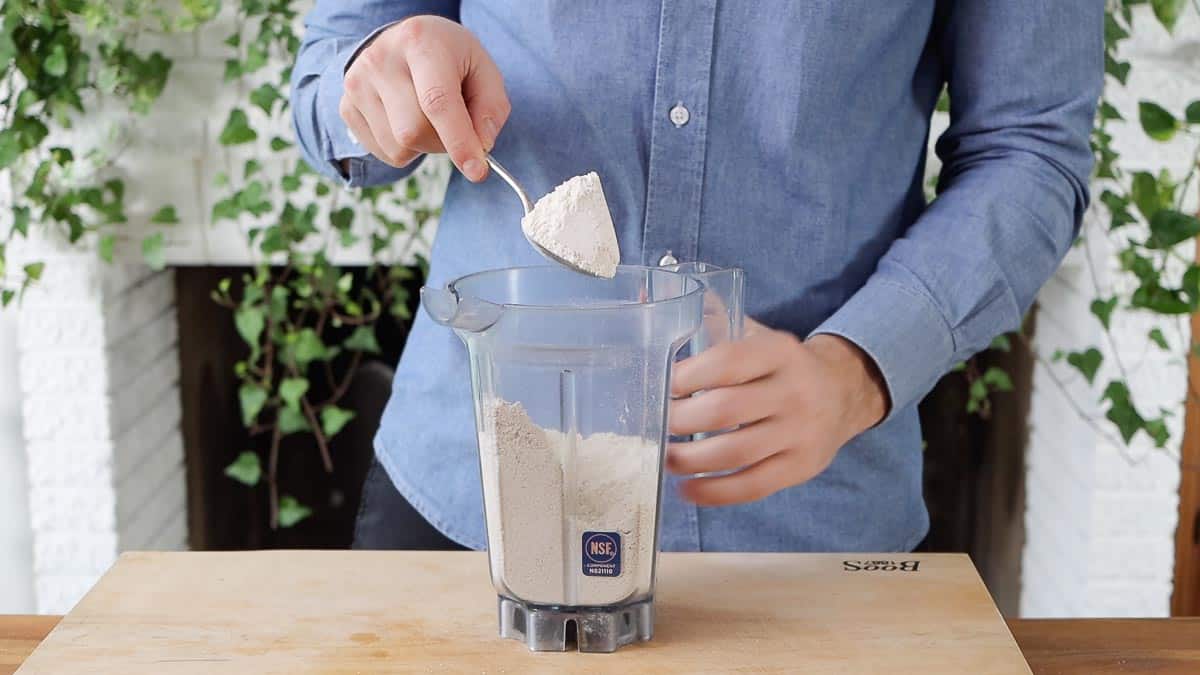 In the same blender, we put 3 very ripe small bananas, ⅓ cup (80 grams) of almond milk, 2 tablespoons (30 grams) of canola, sunflower, or other vegetable oil, ½ cup of pitted dates, or ¼ cup of date paste (75 grams), 1 teaspoon of vanilla extract, half a teaspoon of salt, a tablespoon of cream of tartar or baking powder and half a teaspoon of baking soda.
Now we blend well until we have a fairly smooth homogeneous mixture.
Then if your blender is large enough you can add the oat flour back in there and keep mixing.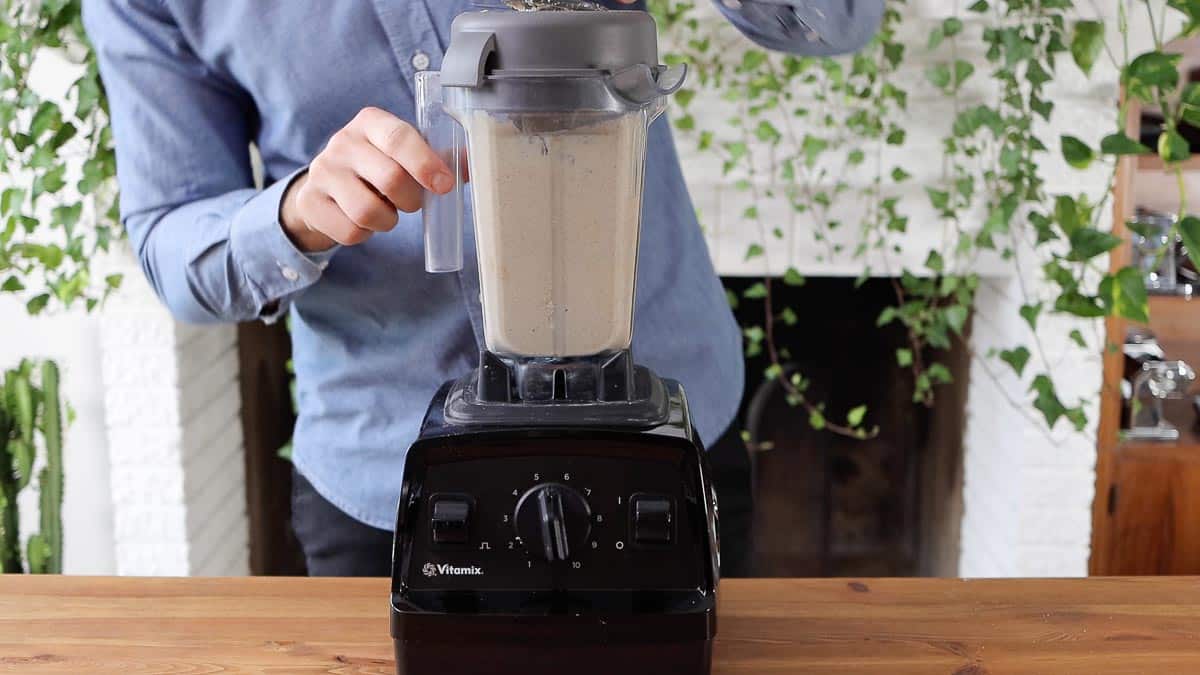 Alternatively, you can transfer the liquid and the oat flour to a bowl, and mix with a spatula or with a whisk till the ingredients are combined.
TIP: if you do have date paste ready, then all you need to do is to blend the rolled oats first, then add all the other ingredients into the same blender, give it another spin to combine, and you are done.

We usually make date paste once a month or so, and then store it in a jar in the fridge so we always have it on hand.
Now, all we have to do is transfer the mixture into an oiled muffin pan and bake in a preheated oven at 350F or 180C for about 30.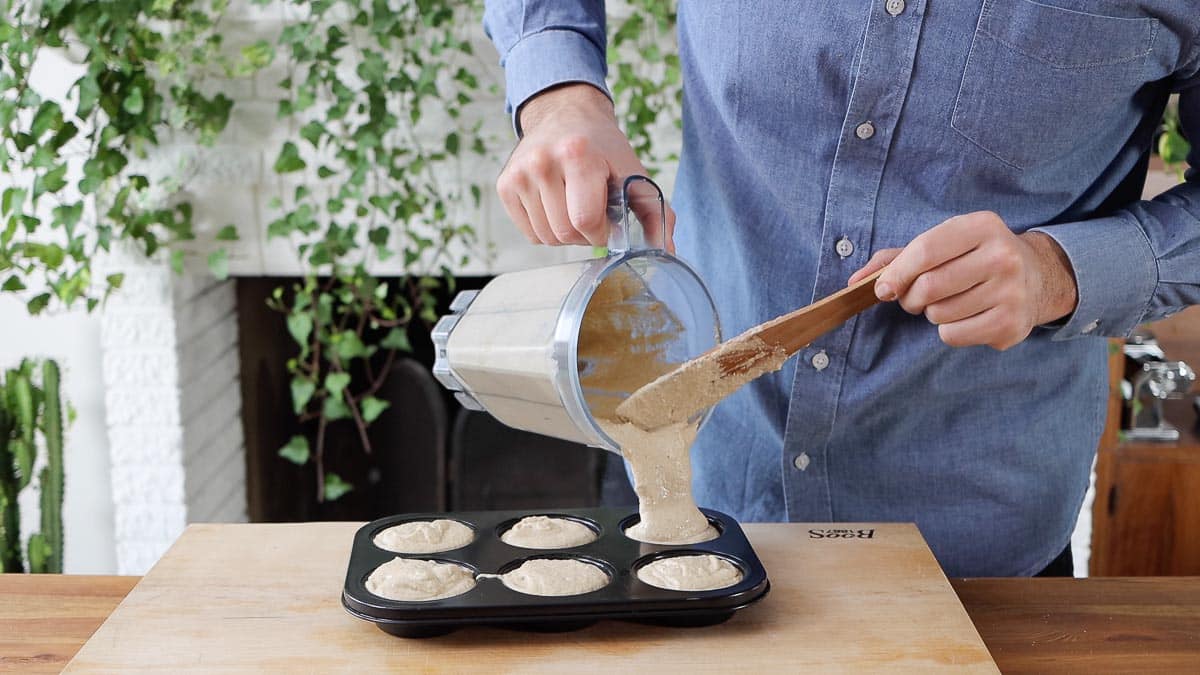 Keep in mind that cooking time can vary greatly (from 25 to 35 minutes) depending on the size of your muffins.

With these quantities, you should be able to make about 6 muffins.
Let them cool on a cooling rack before eating them.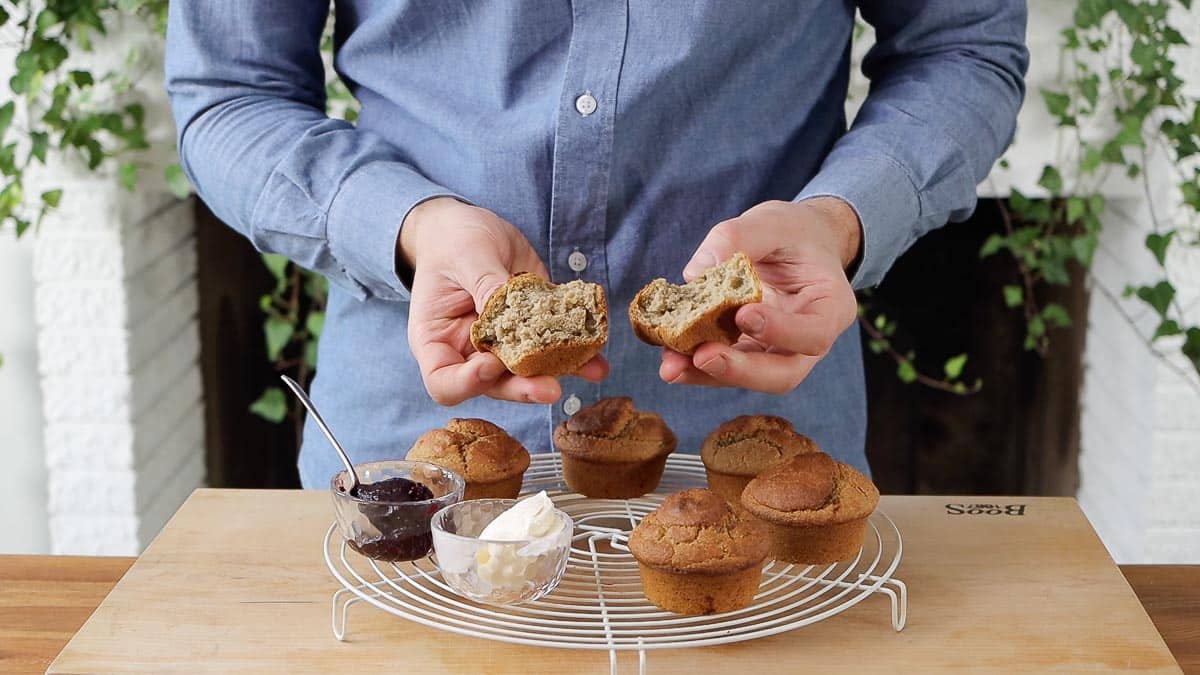 These muffins with oat flour are tasty and wholesome, perfect for a quick breakfast or a healthy snack.
And since they are not too sweet can be accompanied by a jam, perhaps even this without added sugar.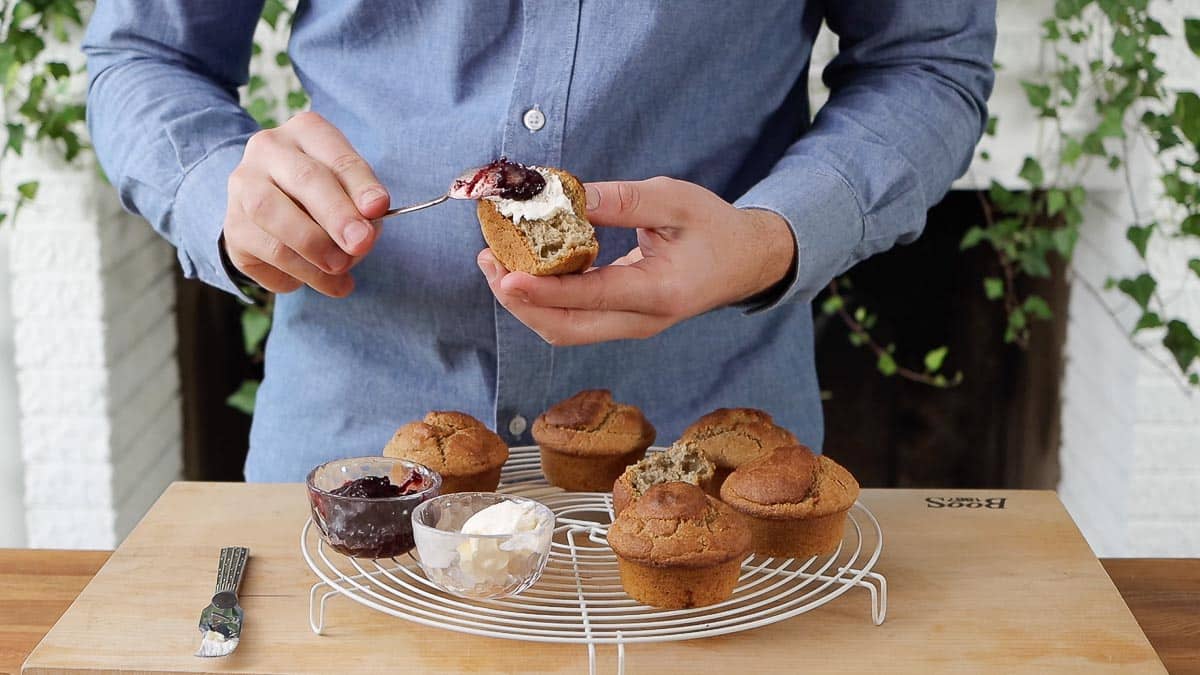 And thanks to the fiber and natural sugars of oats, bananas, and dates, these muffins will make us feel full all morning long.
Your questions
Are muffins with oat flour gluten-free?
Yes, but...it depends on the oats. In theory, oats are a gluten-free whole grain, however, most oat processing plants also process other grains, and often oats are contaminated with gluten. So, to be 100% sure that your oats are gluten-free, they need to be certified. If so, it's written on the package.
Can I make this recipe without a blender?
Yes, you can. In this case, mash the banana and the dates with a fork. If the dates are hard soak them in hot water first. Then add all ingredients to a bowl. You'll need store-bought oat flour in this case. Mix and bake.
Are these muffins with oat flour vegan?
Yes. This recipe is vegan.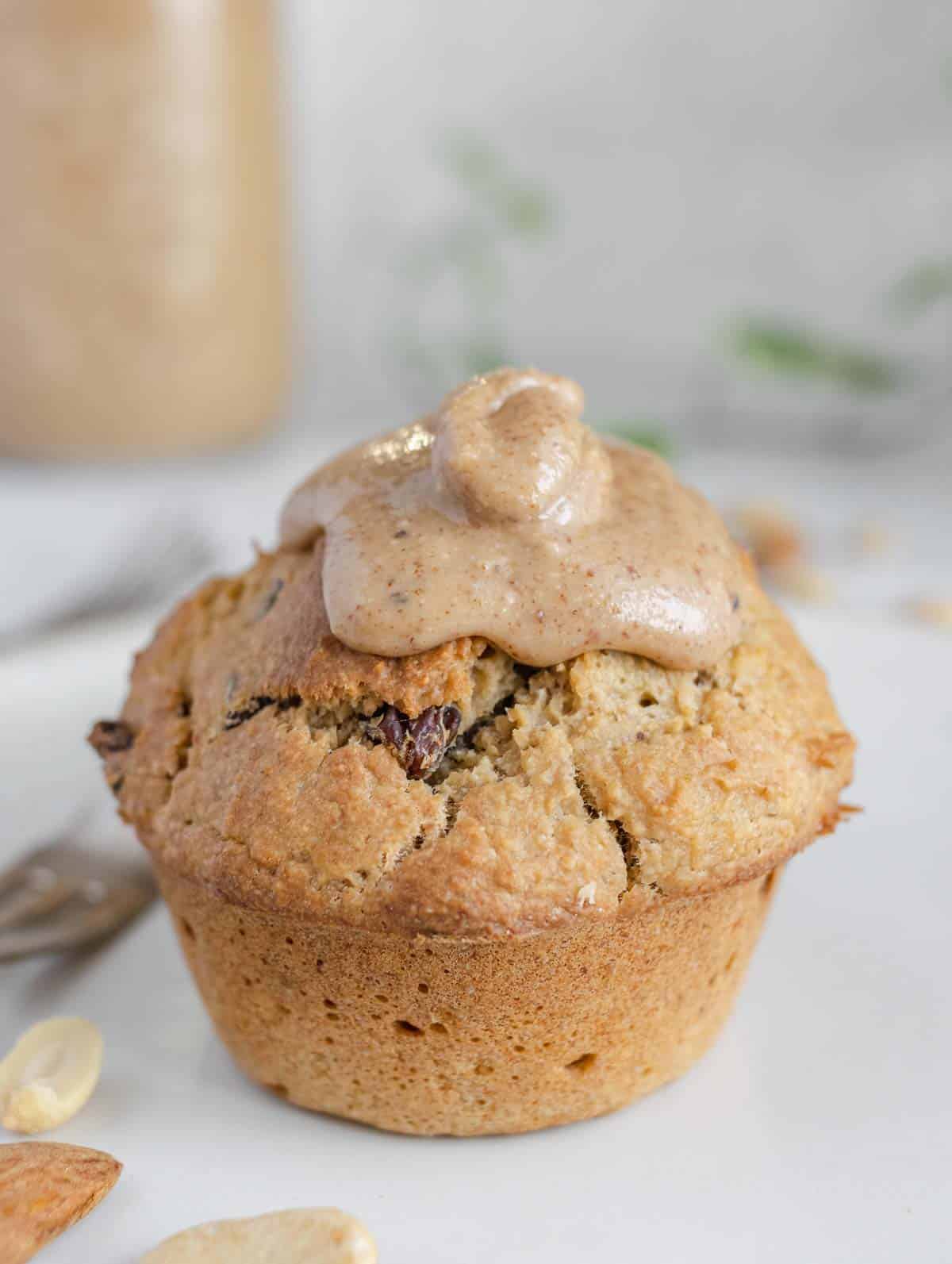 Flavour variations
Like any other muffins, these are also easy to customize. To keep them healthy and wholesome we recommend:
Raisins: add ¼ (30 grams) of a cup of raisins in the batter to make them sweeter.

Dark chocolate chips: add ¼ of a cup of dark chocolate chips to make them chocolatey. You can also sprinkle some chocolate chips on top before baking them, without exagerating or they won't grow as much.

Dried cranberries: you can add some chopped dried cranberries to add some chewiness and colour. In this case, since the cranberries are not very sweet, I would add 3 tablespoons of sugar in the batter, or 3 more tablespoons of date paste.

Blueberries: add ½ cup of blueberries to the batter to make wholesome blueberry muffins. In this case too, since blueberries are not very sweet, you might want to add 3 more tablespoons of sweetener, either sugar, or date paste.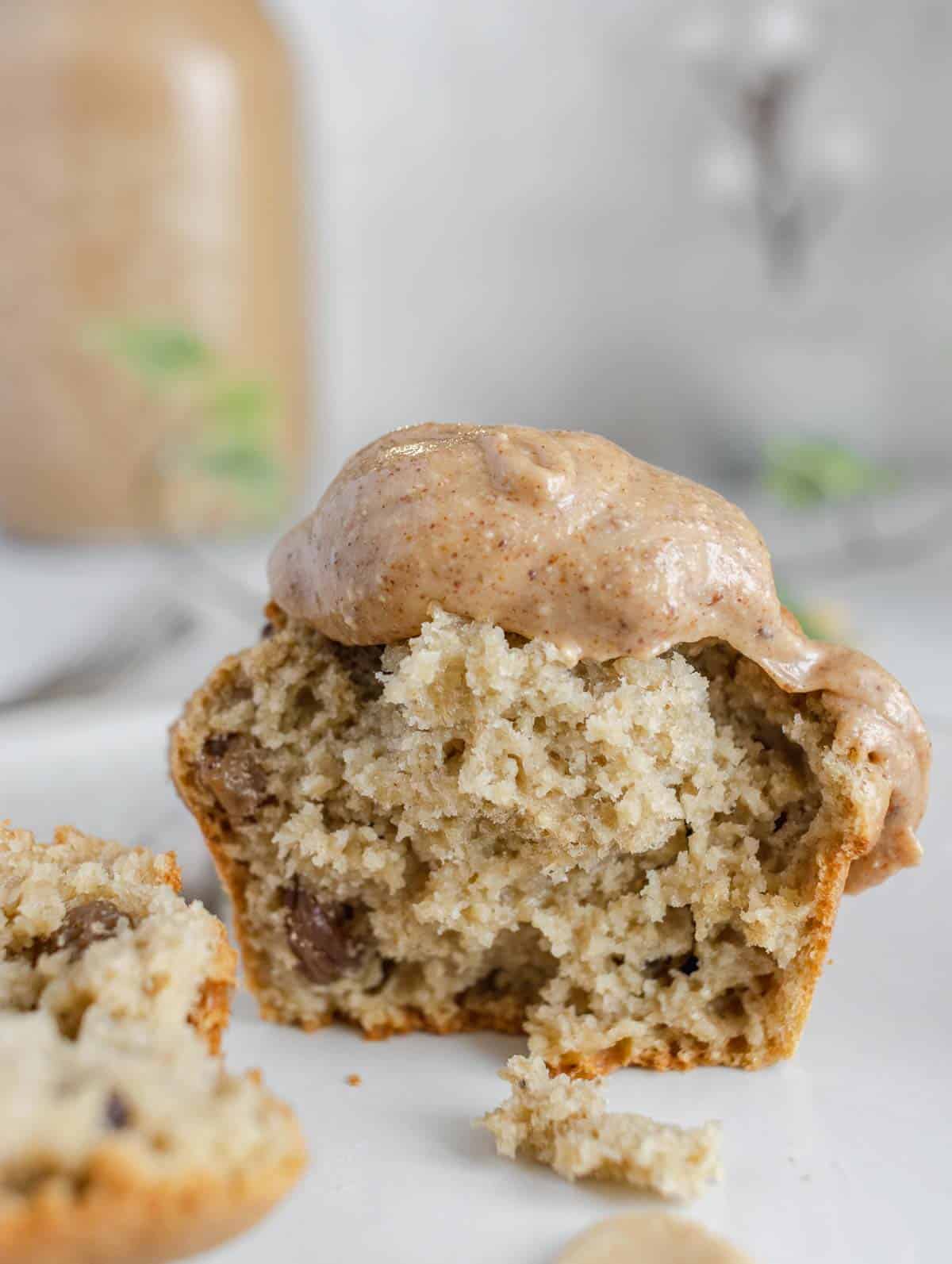 Serving suggestions
These muffins were designed to be served as a healthy breakfast, or as a healthy snack, and so they are not very sweet compared to your regular muffins.

If you have them for breakfast, we recommend trying them with some vegan butter and reduced sugar jam, or even with peanut butter and jam. They are delicious this way.
Storage
We like to make muffins with oat flour in advance, then have them for breakfast for a few days. The best way to store them is in a plastic bag, then put them in your breadbasket. They keep soft and moist for up to 5 days this way.
You can also freeze the muffins, then thaw them in the microwave.
Recipe
Muffins with oat flour
Muffins with oat flour are a healthy and tasty quick recipe that is ideal for a quick breakfast or as a snack.
They are easy to make and contain plenty of dietary fiber and natural sugar that will give you a slow release of energy and keep you full longer.
Equipment
Blender

Muffin pan (6 piece)
Ingredients
2

cups

(

220

grams

)

rolled oats

3

small

(

260

grams

)

ripe bananas

⅓

cup

(

80

grams

)

almond milk

2

tablespoons

(

30

grams

)

vegetable oil

½

cup

(

75

grams

)

pitted dates

1

teaspoon

vanilla extract

½

teaspoon

salt

½

tablespoon

(

16

grams

)

baking powder

½

teaspoon

baking soda
Instructions
Preheat the oven to 350F (180C).

To a blender, add the oats and blend at high speed for about 1 minute till you have oat flour. Transfer to a bowl and set aside.

To the same blender, add the bananas, almond milk, pitted dates, vegetable oil, vanilla extract and salt. Blend till your have a smooth liquid.

Now add oat flour, baking powder and baking soda to the blender with the liquids. Blend till the ingredients are incorporated.Alternatively you can add the liquid mix to the bowl with the oat flour and mix by hand till ingredients are incorporated.

Transfer into an oiled 6-piece muffin pan, and bake at 350F (180C) for about 25 to 30 minutes, depending on the size of your muffins. Let cool down for 15 min before serving.
Nutritional Values
Nutrition Facts
Muffins with oat flour
Amount Per Serving
Calories 228
Calories from Fat 63
% Daily Value*
Fat 7g11%
Potassium 564mg16%
Carbohydrates 40g13%
Protein 4g8%
Vitamin A 34IU1%
Vitamin B6 1mg50%
Vitamin C 4mg5%
Vitamin E 1mg7%
Vitamin K 9µg9%
Calcium 125mg13%
Folate 21µg5%
Iron 2mg11%
Manganese 1mg50%
Magnesium 57mg14%
Zinc 1mg7%
* Percent Daily Values are based on a 2000 calorie diet.
Did you like this recipe?
Leave us a comment below. It would mean the world to us 🙂
If you liked this recipe you might also like:
Easy oat cookies with raisins
Healthy granola bar with pea nut butter
Birchermüesli aka overnight oats with apple and almonds
Granola recipe
Did you try this recipe at home? Let us know in the comments below!
Buon appetito.
Nico