If you're wondering what to serve with stuffed peppers, you've come to the right place. We've selected 35 of our best side dishes and easy recipes, that complement stuffed peppers perfectly.
Browse through this list and pick your favorite: sauces, vegetables, fresh salads, and bread. These recipes will surely give you new ideas for what to pair with your peppers.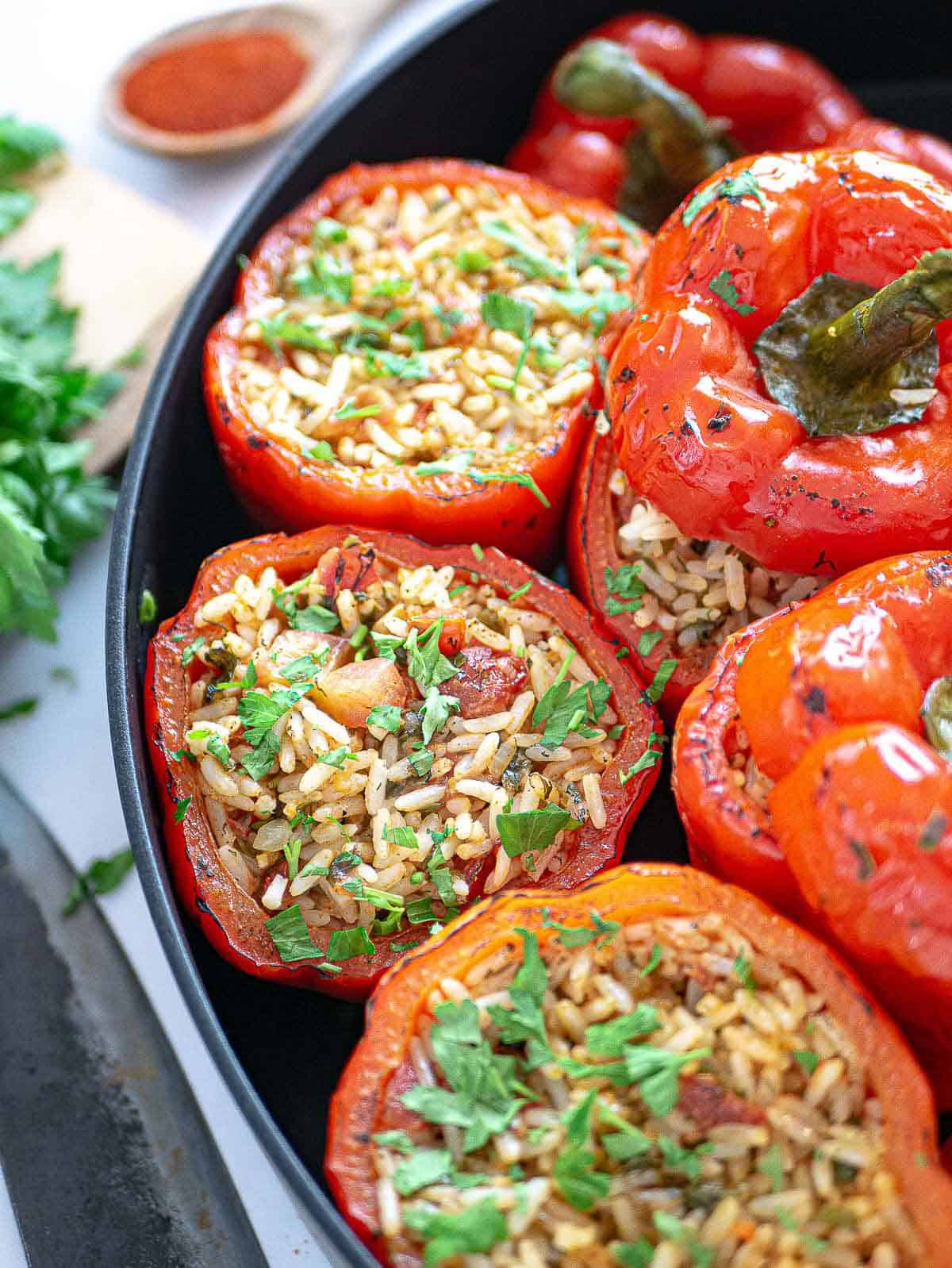 Looking for a good recipe for stuffed peppers? Try these vegan stuffed peppers.
How to garnish stuffed peppers
You can top these peppers with your favorite vegan toppings, such as vegan melted cheese, homemade parmesan, or vegan cream cheese. We like to use:
Homemade vegan ricotta: we make this ricotta once a week and store it in the fridge ready to be used in recipes like this one. It's perfect when crumbled on top of the peppers after they are baked.
Unsweetened plant yogurt: such as soy yogurt or neutral dairy-free yogurt. Drizzle this on top of the steamy hot peppers to add freshness and creaminess to the dish.
Olive oil and parsley: a drizzle of extra virgin olive oil and a sprinkle of parsley.
More Stuffed Veggie Recipes
These salads, sauces, and vegetable side ideas easily pair with other stuffed vegetable dishes as well. Here are some of our favorites:
Or try any of these vegetable side dishes for more grilled, roasted, and steamed cooking ideas.
How to Store these Recipes
In the refrigerator
Stuffed bell peppers are the perfect food for meal prep as they can be stored in the refrigerator for up to 3 days. Their flavor will be even richer the day after you cooked them.
When you reheat them, make sure you only reheat the peppers that you are going to eat.
For many more side dishes ideas, check out our sides category page.
What to serve with Stuffed Peppers
Looking to find ideas for what to serve with stuffed peppers? We've got you covered with these side dishes and dinners, including vegetables, grains and salads.
Ingredients
Check each individual recipe for ingredients required.

Cook your favorite recipe and serve with stuffed peppers.
Instructions
How to store: Keep these meals stored in the refrigerator, ideally in an airtight container, for up to 3 days.

How to reheat: Warm it up on the stovetop or in the microwave. Before serving garnish with fresh herbs.
Notes
Store leftovers in the fridge for up to 3 days. You can eat them at room temperature, or reheat them in the microwave. We do not recommend freezing these recipes.
Nutritional Values
Nutrition Facts
What to serve with Stuffed Peppers
Amount Per Serving (200 g)
Calories 250
% Daily Value*
Cholesterol 0mg0%
Carbohydrates 40g13%
Protein 6g12%
* Percent Daily Values are based on a 2000 calorie diet.
Did you like this recipe?
We are not much on Instagram, Facebook, and Pinterest. Leave us a comment below instead, it would mean the world to us 🙂
If you liked these ideas for what to serve with stuffed peppers, you might also like: