If you're looking for inspiration for what to serve with risotto, you've come to the right place. We've selected 25 of our best sides, appetizers, and easy recipes, that can easily up your risotto to the main meal.
Browse through this list and pick your favorite for your next serving of risotto: roasted and healthy vegetables, fresh salads, protein-rich dishes, and many more. These recipes will surely give you new inspiration for what to serve with a creamy risotto.
What protein goes well with risotto?
Risotto can easily be upgraded to dinner status if you serve it with protein. In fact, vegetable-based risotto pairs well with protein as it becomes a complete meal from a nutrition standpoint. Here are some examples of good plant-based protein sources:
Tofu: try serving your risotto with fried tofu, marinated tofu, or aromatic vegan fish roasted in the oven.
Chickpeas: serve with a 20-minute chickpea salad or add roasted chickpeas to an easy side salad next to your risotto.
Lentils: use canned lentils or dried lentils and make a lentil stir fry or quick marinated lentils.
Chickpea flour: such an easy zucchini frittata, egg-free muffins with vegetables or this easy chickpea farinata.
Tempeh: you can top risotto with strips of tempeh bacon or cubes of air fryer tempeh. With 15 grams of protein per 3-ounce serving, you're sure to get satiated after eating tempeh.
Nuts: you can add extra healthy fats and protein with shaved and roasted almonds, or pine nuts. With our asparagus risotto, we sometimes sprinkle roasted almonds on top, which give bold flavor and crunch.
Risotto as a side dish or main dish?
Whether you're having a vegan risotto or a vegetarian risotto, you can easily eat this Italian delicacy as a main meal or enjoy it as a starter. Here are some of the ways you can eat risotto:
Starter

: Italians typically serve risotto as a

primo

piatto

(starter), and without veggies or any sides.


If you're hosting a dinner party, you can spoil your guests by serving a 3-course dinner where your risotto is the starter, and it's followed by a plant-based main course, such as vegan steaks, a portion of vegan pasta, or any of these dinner ideas.
Main meal: Serve risotto for dinner by pairing it with an easy side salad, or any of the veggies and side dishes on the list above.
Risotto is a grain-based meal and combined with greens and protein, you'll get a complete and satiating meal.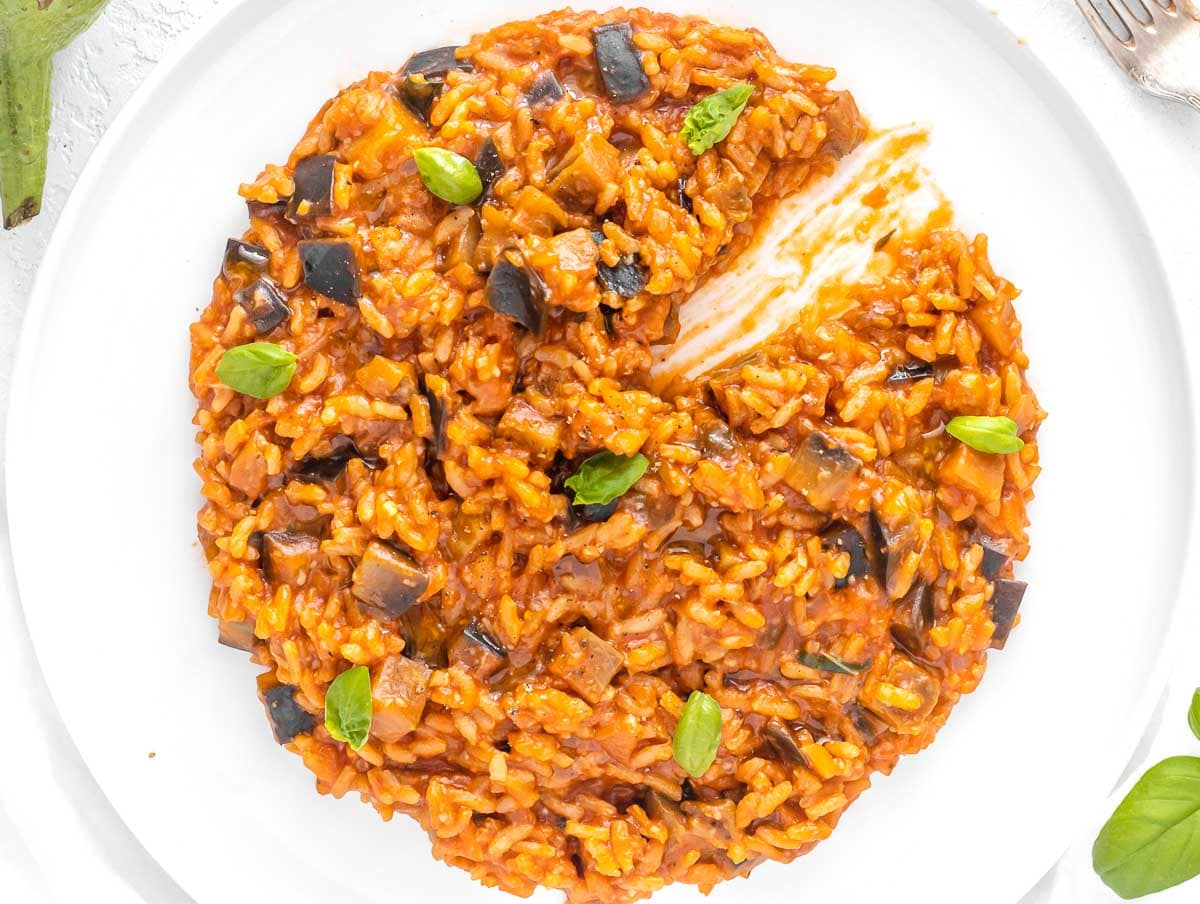 For many more side dishes ideas, check out our sides category page.
What to serve with Risotto: 25 Easy Ideas
Looking to find ideas for what to serve with risotto? We've got you covered with these side dishes, including vegetables, protein-rich dishes and salads.
Ingredients
Check each individual recipe for ingredients required.

Cook your favorite recipe and serve with risotto.
Instructions
How to store: Keep these meals stored in the refrigerator, ideally in an airtight container, for up to 3 days.

How to reheat: Warm it up on the stovetop or in the microwave. Before serving garnish with fresh herbs.
Notes
Store leftovers in the fridge for up to 3 days. You can eat them at room temperature, or reheat them in the microwave. We do not recommend freezing these recipes.
Nutritional Values
Nutrition Facts
What to serve with Risotto: 25 Easy Ideas
Amount per Serving
% Daily Value*
* Percent Daily Values are based on a 2000 calorie diet.
Did you like this recipe?
Leave us a comment below or find us on Instagram, YouTube, Pinterest, TikTok, and Facebook.
Did you like these side dishes, Then, you might also like: