Discover our 30 best vegan cake recipes to satisfy any sweet tooth, vegans and non-vegans alike.
This list includes vegan sponge cakes, pound cakes, easy single–layer desserts, frosting, and more—basically, everything you need to make the best vegan cake.
This list is also a selection of cakes suitable for birthdays, anniversaries, holidays, and celebrations like New Year, Christmas, or Thanksgiving.
Whether you're a seasoned vegan or curious to explore egg–free and dairy–free options, this collection is bound to inspire and satisfy your cravings.
Join us as we explore the creativity and flavors of these mouthwatering vegan cakes, where every slice is a testament to the possibilities of vegan baking.
If you have a sweet craving, these homemade vegan cake recipes satisfy that sweet tooth.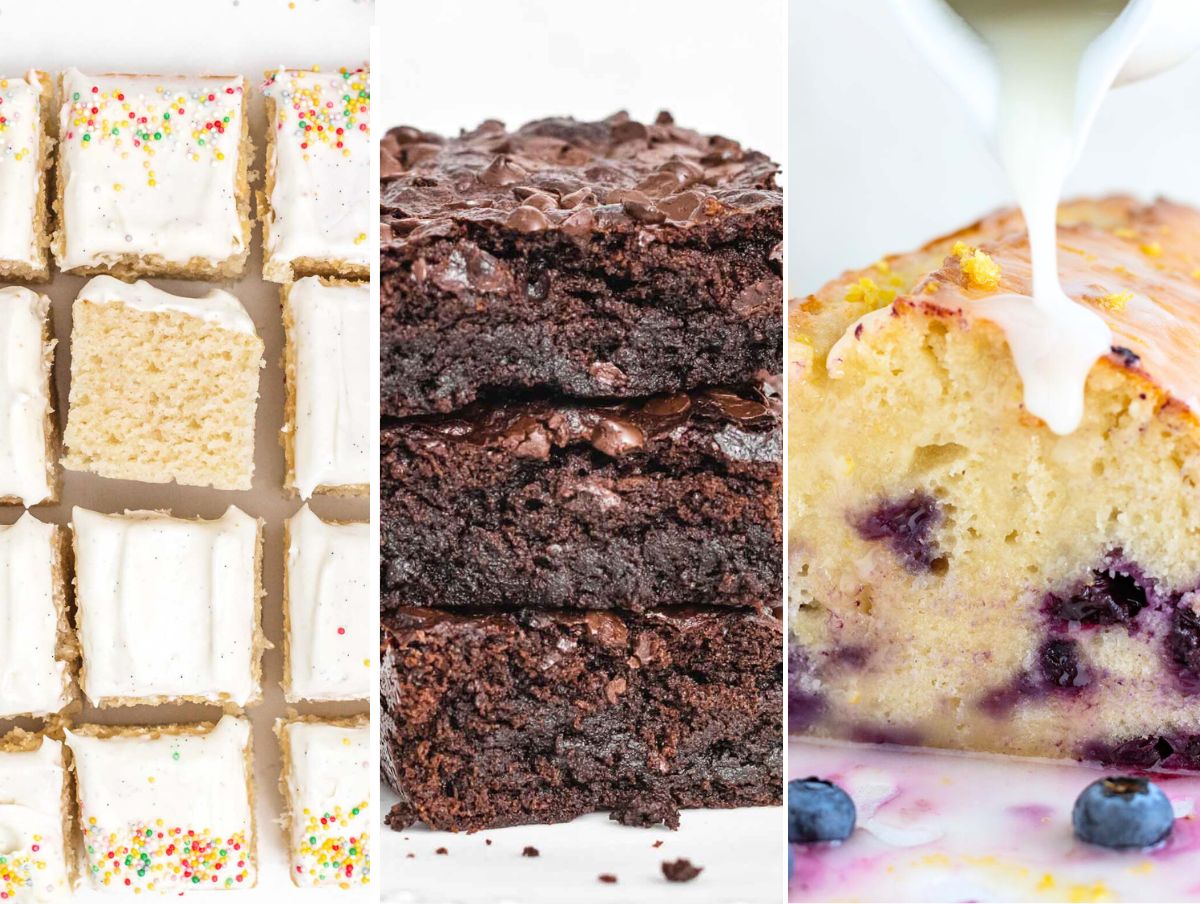 Tips for making vegan cakes
Check your baking powder's freshness.
Baking powder can get stale and inactive if kept for too long in your pantry. To check if it's still active, add one teaspoon of baking powder to a small bowl and pour half a cup of hot, almost boiling water.
If the baking powder foams, it's still active, and you can use it. If not, it lost its raising magic.
Do not over-mix. Over-mixing will result in a heavy, gummy cake. If you want your vegan cake light and fluffy, then mix till the ingredients are incorporated and no more.
Try to be fast. When you add baking powder to the cake batter, try to finish your cake and bake it as fast as possible.
The baking powder starts working as soon as it touches the cake batter, and if you leave it out for too long without baking, you'll lose some of its leavening power.
Our Best Vegan Cake Recipes
How to store vegan cakes
How to store: Most cakes are kept out of the fridge for 2-3 days, covered with a cake container.
How to freeze: You can also freeze most of these cakes. We recommend putting them in the freezer for 30 min before cutting them, as you'll get much sharper slices. You can freeze the vegan cake for up to a week. Let it out of the freezer for about 45 minutes before eating it. We highly recommend referring to each recipe for its storage instructions.
NOTE: Limiting airflow to the cakes and sweets is vital to preserve their softness.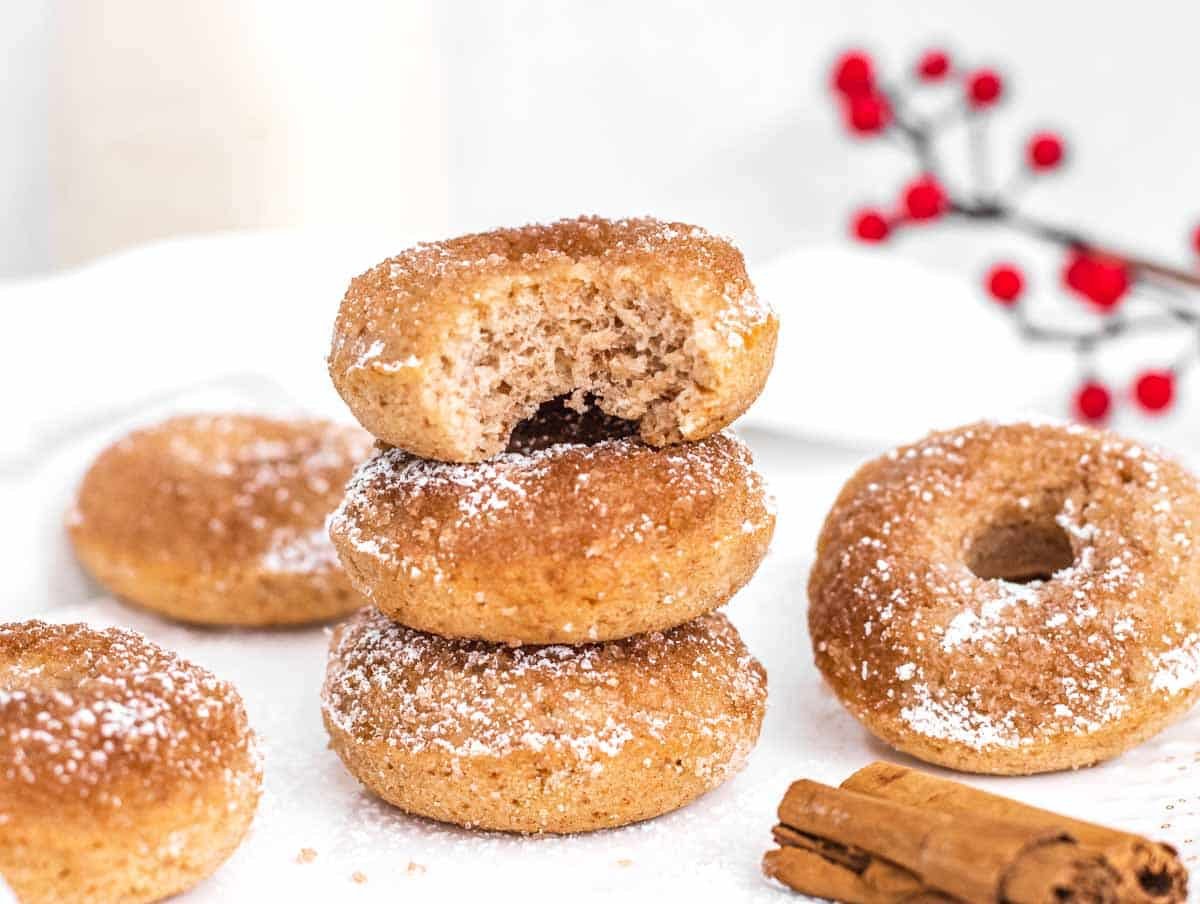 For many more easy dessert ideas, check out our desserts category page.
30 Vegan Cakes (cake donuts)
Cake donuts are a simple, quick, and delicious treat you can make in 30 minutes with simple pantry staples.You can expect a firm donut with a soft cake-like crumb and a delicious cinnamon sugar, lemon, or chocolate topping.
Ingredients
DRY INGREDIENTS
1

cup

all-purpose flour

½

cup

sugar

1

teaspoon

baking powder

¼

teaspoon

salt

1

teaspoon

cinnamon

or grated lemon zest
WET INGREDIENTS
⅔

cup

milk

any, we use almond milk

1

tablespoon

olive oil

sub avocado oil or canola oil

1

teaspoon

vanilla extract
CINNAMON SUGAR TOPPING
¼

cup

sugar

1½

teaspoon

cinnamon

¼

cup

milk

any, we use almond milk
LEMON GLAZE TOPPING
1

cup

powdered sugar

2

tablespoons

lemon juice

1

teaspoon

vanilla extract
Instructions
MAKE DONUT BATTER
Preheat the oven to 340°F or 170°C. Brush your donut baking pan with butter or dairy-free butter.In a large bowl, whisk 1 cup all-purpose flour, ½ cup sugar, 1 teaspoon baking powder, ¼ teaspoon salt, and 1 teaspoon cinnamon.

Add ⅔ cup milk, 1 tablespoon olive oil, and 1 teaspoon vanilla extract. Whisk to combine without overmixing.
BAKE THE DONUTS
With the help of a spoon, pour the mixture into the donut pan, filling the molds a little over half full.

Bake at 340°F or 170°C for 20 minutes. Let them cool down for 10 minutes in the pan, then take them out and serve with your favorite topping.
CINNAMON SUGAR TOPPING
In a small bowl, add ¼ cup milk. In another small bowl, add 1½ teaspoon cinnamon stirred in ¼ cup sugar.Dip the top half of each donut in milk first and in cinnamon sugar later, and arrange on a wire rack to cool.
LEMON GLAZE TOPPING
In a small bowl, whisk 1 cup powdered sugar with 2 tablespoons lemon juice and 1 teaspoon vanilla extract until creamy.

Dip the donuts in the glaze, then top with grated lemon zest or sprinkles.

You can serve the donuts right away, with milk, coffee, or a latte.
Notes
Nutrition information is an estimate for 1 cake donut out of 12 made with non-dairy milk and without topping. STORAGE Make Ahead: this recipe is excellent for making ahead because the donuts keep very well for several days. Room temperature: store donuts in a food-grade plastic bag or an airtight container at room temperature for up to 4 – 5 days. If they get a little dry on the last day, warm them in the microwave for 1 minute to bring out the moisture in the dough. Freezer: cake donuts are great for freezing. Let them cool down completely, arrange them in a freezer-friendly bag, and freeze them for up to 6 months. Thaw: defrost in the microwave for a few minutes or fridge for several hours.
Nutrition
Calories:
88
kcal
,
Carbohydrates:
17
g
,
Protein:
1
g
,
Fat:
2
g
,
Saturated Fat:
0.2
g
,
Polyunsaturated Fat:
0.3
g
,
Monounsaturated Fat:
1
g
,
Trans Fat:
0
g
,
Cholesterol:
0
mg
,
Potassium:
65
mg
,
Dietary Fiber:
0.4
g
,
Sugar:
9
g
,
Vitamin A:
52
IU
,
Vitamin B6:
0.03
mg
,
Vitamin C:
1
mg
,
Vitamin E:
1
mg
,
Vitamin K:
1
µg
,
Calcium:
36
mg
,
Folate:
23
µg
,
Iron:
1
mg
,
Manganese:
0.1
mg
,
Magnesium:
3
mg
,
Zinc:
0.1
mg
Tried this recipe?
Leave a comment below or mention @theplantbasedschool on Instagram. We are also on Facebook, Pinterest, YouTube, and TikTok.
If you liked these vegan cakes, you might also enjoy: