Cambia lingua / Switch language: ITA
This orange cake is based on a popular Italian cake recipe that is often eaten in Italy for breakfast. The cake is very light, soft, airy, and with just the right amount of moistness. It's filled with a tangy, zesty, and citrusy eggless orange curd that literally melts in your mouth. It's also made vegan.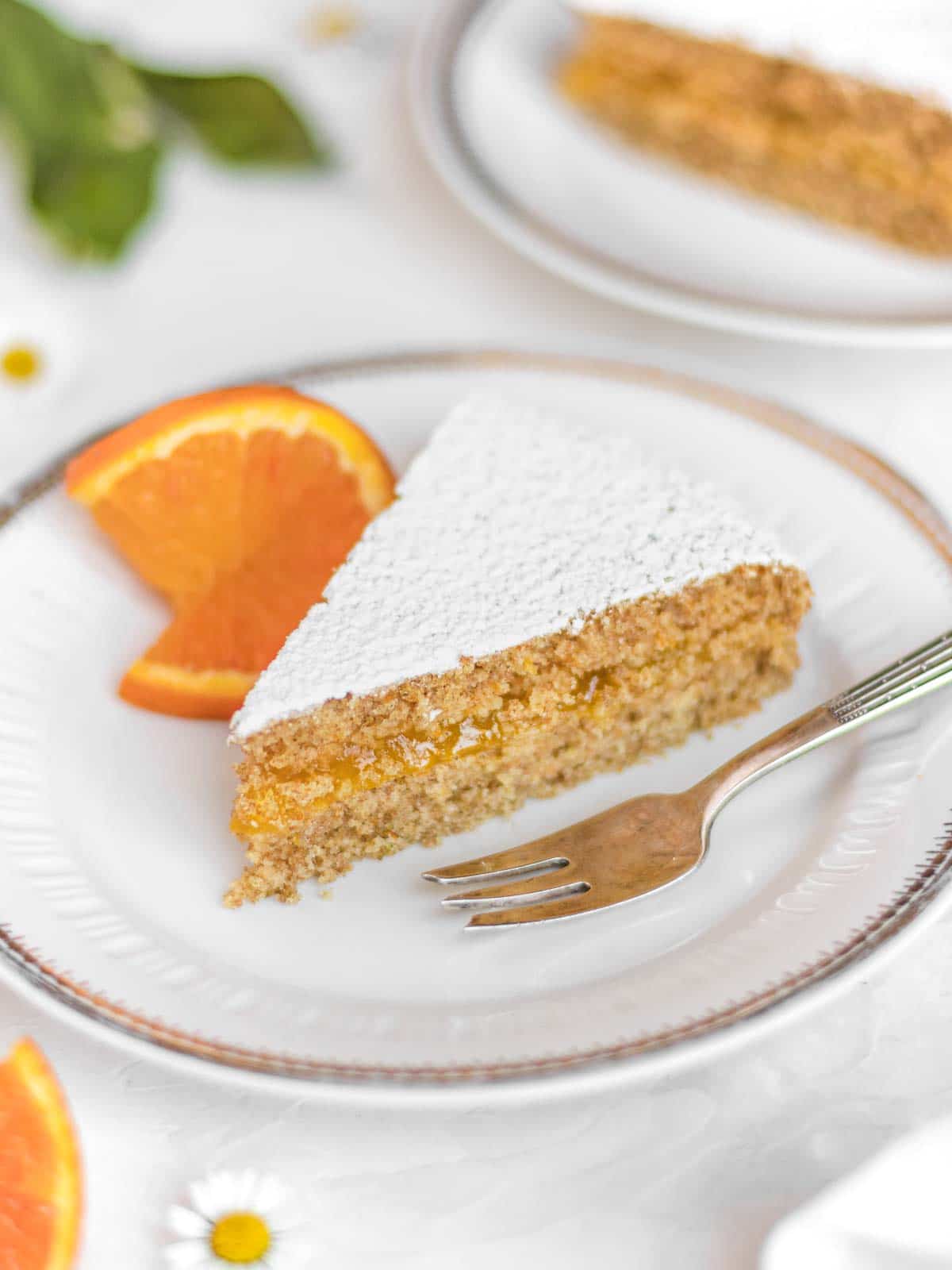 Jump to:
Our eggless orange cake can be eaten for breakfast, mid-morning or mid-afternoon snack. We make it extra healthy and tasty by using wholegrain flour. We also reduced the amount of oil and sugar compared to traditional Italian cakes.

Since we make this vegan orange curd cake without butter, without eggs and without milk, this cake is healthy and easy to make. It can be whipped up in 5 minutes and cooked in 25. If you follow our recipe you'll have a delicious orange curd cake in just about 30 minutes.

For other delicious vegan Italian cakes, check out our:
Ingredients & Substitutions
For the base
Flour: we recommend wholegrain flour for this cake to give the best texture and flavour. Also, wholegrain flour is healthier than regular all-purpose flour thanks to its higher amount of dietary fiber and nutrients. We also tested this cake with cake flour and all-purpose flour and it works great too.
Plant-milk: we use it to replace eggs in most of our vegan cakes. Our plant-milk of choice is unsweetened organic soy milk because it has better nutrition than most other plant-milks. For this orange cake you can substitute soy milk with any other plant-milk.
Vegetable oil: we like to use refined sunflower oil because it doesn't add flavour to the cake. You can use your vegetable oil of choice, just make sure it doesn't have a strong flavour. We do not recommend using coconut oil.
Sugar: plain sugar works great. Unrefined cane sugar works well too. If you use coconut sugar, then you need to multiply our sugar amount by 1.25 as coconut sugar is less sweet than regular sugar.
Baking powder: we use this to make the cake lighter and taller.
Orange: we use the juice and the grated zest of one large Sicilian orange. Better if the orange is organic.
Vanilla aroma: this is optional but it adds a nice layer of vanilla flavour to the cake that goes well with the orange flavour.
For the eggless orange curd
Orange juice: we like to use freshly squeezed orange juice from Sicilian oranges, then we filter out the pulp and only use the smooth part of the juice. You can also use packaged orange juice.
Potato starch: this is used to thicken the curd. You can replace this with corn starch, but for this recipe we prefer the consistency of potato starch.
Sugar: any type will work. You can add more or less based on your preference. The orange curd is usually tangy and sour, so if you don't like that add more sugar.
Equipment
You'll need a springform baking pan with a diameter of 9 inches (24 cm). If you don't have that follow our conversion table below. You'll also need a bowl to mix all the ingredients, a grater to grate the orange zest and a whisk to make the orange curd.
How to scale this recipe?
How to scale ingredients?
This recipe is easy to scale. We calculated the scaling number for you. Pick the springform pan that you want to use for your cake, then multiply all the ingredients in our recipe box by the scaling number in this table.
| Springform pan size | Scaling Number |
| --- | --- |
| 4 inch springform pan (10 cm) | 0.22 |
| 5 inch springform pan (13 cm) | 0.31 |
| 6 inch springform pan (15 cm) | 0.44 |
| 7 inch springform pan (18 cm) | 0.60 |
| 8 inch springform pan (20 cm) | 0.79 |
| 9 inch springform pan (23 cm) | 1 |
| 10 inch springform pan (25 cm) | 1.23 |
springform pan sizes and how to scale recipe
How to scale cooking time?
The cooking time suggested in this recipe is for a springform pan that is 9 inches (23 cm) in diameter. Depending on the size of your springform pan, you might need to adjust temperature and cooking time.

Smaller springform pan: if you use a smaller springform pan (less than 9 inches / 23 cm), keep the same temperature but bake for shorter time. About 5 minutes less per inch. Always check with a toothpick if the cake is fully baked inside.

Bigger springform pan: if you use a bigger springform pan (more than 9 inches / 23 cm), you need to reduce the temperature and increase the baking time. My advice is to bake at 170C / 338F for the first 20 minutes, then reduce temperature to 160C / 320F until your cake is fully baked inside. Always check with a toothpick if the cake is fully baked inside.
How do I know if my cake is fully baked?
Depending on the type of oven, type of milk, and type of flour, your cake will take more or less time to cook than our cake. For this reason, when baking ANY cake, you should always check the core of the cake with a clean toothpick or skewer before you take your cake out of the oven.

To do that, just insert the toothpick or the skewer in the centre of the cake. If the toothpick comes out clean and dry it means that you cake is ready. If the toothpick comes out wet, then bake for a few minutes longer, then check again.
Mistakes I made
I over-mixed the cake batter: the first time I made this vegan orange curd cake I mixed the cake batter with a whisk for a long time trying to remove all the lumps. This is wrong. Over-mixing will activate the gluten that will make the cake heavy and more compact.
I overcooked the eggless orange curd: citrus tend to get bitter if you cook it too much. So use gentle heat and don't over-cook.
I didn't add enough sugar to the curd: I tried to orange curd without sugar but it's just too sour.
Tips
Don't be afraid of wholegrain flour: wholegrain flour is really the best for this cake because it adds flavour and also some structure. I prefer it to all-purpose flour for this preparation.
Don't grate the white flesh of the orange: only grate the orange-coloured zest of the orange. The white flesh under the peel is bitter.
Do not over-mix the batter: I repeat this again. Only stir the cake batter with a spatula for a few seconds and don't worry too much about the lumps.
Wait for the cake to cool down: this is a very light and soft cake that should NOT be cut while warm. Wait until it cools completely before cutting it open.
Bake the cake immediately: to keep your cake soft and fluffy you should bake it as soon as you mixed all the ingredients together. To do that always preheat the oven in advance and also prepare your springform pan in advance so you are ready to bake.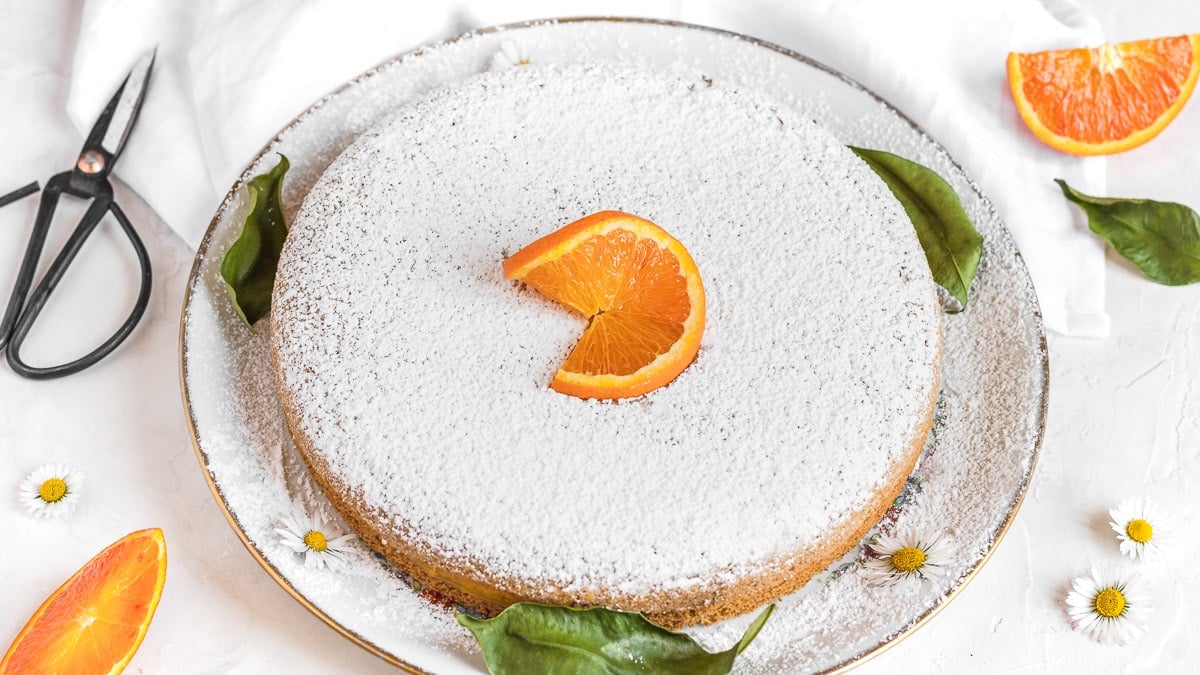 Frequently asked questions
Can I use another flour?
Yes. You can use any wheat flour for this cake like cake flour, all-purpose flour, semi-wholewheat and wholewheat flour like we did. It also works with spelt flour.
How can I make my cake soft and fluffy?
1) Do not use eggs. They make the cake heavier.
2) Do not use butter, but just a little vegetable oil.
3) Do not over-mix the batter. Just mix it together with a spatula. Don't worry about lumps.
4) Add the baking powder last.
5) Prep a springform pan and preheat the oven so you can bake your cake immediately after mixing the ingredients together.
Storage
Store this orange cake on a plate, covered, in a dry corner of your kitchen. It'll stay nice and soft for up to 4 days. If you want to extend its shelf-life, then store it in a reusable plastic bag - like one for freezing food.

You can also freeze this cake for up to 3 months, but we do not recommend it. It stays softer and fluffier when it's fresh.
Variations
You can fill this orange cake with any filling you like. For a quicker version you can use orange jam, or even any other jams.

Alternatively you can fill it with one of our vegan custards. Our favourite is to fill it with our delicious vegan pistachio custard, but regular eggless custard, or coffee custard works too.
Recipe
Orange cake
This orange cake is based on a popular Italian cake recipe that is often eaten in Italy for breakfast. The cake is very light, soft, airy, and with just the right amount of moistness. It's filled with a tangy, zesty, and citrusy eggless orange curd that literally melts in your mouth.
Equipment
Springform pan 9 inches (23 - 24 cm)
Ingredients
For the cake
150

g

(

0.6

cups

)

soy milk

or almond milk

90

g

(

0.5

cups

)

sugar

90

g

(

0.4

cups

)

orange juice

40

g

(

0.2

cups

)

sunflower oil

or other vegetable oil

zest of 1 orange

vanilla extract + pinch of salt

optional

250

g

(

2

cups

)

wholegrain flour

or all-purpose

16

g

(

1.1

tbsp

)

baking powder
For the eggless orange curd
250

g

(

1

cups

)

orange juice

smooth

20

g

(

2.7

tbsp

)

potato starch

or corn starch

2 to 3

tbsp

sugar
Instructions
For the cake
Preheat the oven to 340F or 170C. Then with a piece of kitchen paper lightly grease your springform with some vegetable oil, then dust it with flour. Set aside.

In a bowl add soy milk, sugar, orange juice, sunflower oil, grated zest of 1 orange, and vanilla extract. Give it a stir with a spatula.

Add wholegrain flour, baking powder, and a pinch of salt into the same bowl and mix with a spatula.TIP: do NOT over-mix the cake batter. Mix only for 30 seconds. Lumps are fine here. Over-mixing will activate the gluten and your cake will turn out heavier.

Transfer the cake batter into the springform and bake for 25 minutes at 340F or 170C then set aside to cool completely.
For the orange curd
In a pot add smooth orange juice, sugar and potato starch. Stir with a whisk to dissolve the sugar and the starch.

On medium-low heat cook the liquid for one to two minutes, while stirring. As soon as the liquid thickens take it out of the heat and keep stirring for another minute.
Fill the cake
With a serrated knife, cut the orange cake open in half. Make sure the cake has cooled completely.

Add the orange curd and spread evenly on the base layer of the cake.

Cover with the top layer and sprinkle with powdered sugar and enjoy. You can eat your cake immediately.
Full video on youtube @theplantbasedschool
Notes
If you can, use a digital scale for our recipes. This way you'll get the best results.
We use
calculateme.com
to convert grams to US volume measurements. We believe they have the most accurate conversion algorithm. If must use cups and spoons, then use the "spoon and level" method. That is, spoon the ingredients into the measuring cup, or measuring spoon. Then level the excess with a knife.
Nutritional Values
Nutrition Facts
Orange cake
Amount Per Serving
Calories 163
Calories from Fat 36
% Daily Value*
Fat 4g6%
Potassium 301mg9%
Carbohydrates 30g10%
Protein 3g6%
Vitamin A 108IU2%
Vitamin B6 1mg50%
Vitamin C 15mg18%
Vitamin E 2mg13%
Vitamin K 1µg1%
Calcium 87mg9%
Folate 22µg6%
Iron 1mg6%
Manganese 1mg50%
Magnesium 33mg8%
Zinc 1mg7%
* Percent Daily Values are based on a 2000 calorie diet.
Did you make this recipe?
Tag us on Instagram @theplantbasedschool
Related recipes
Will you be cooking this orange cake at home? Let us know in the comments below!