This vegan chocolate strawberry cake is soft, fluffy, moist, creamy, sweet, and packed with plenty of strawberry and chocolate flavour. This cake is also very easy to make, in a sheet pan, and with a few simple ingredients.

No-one will be able to tell that this is a vegan cake, even-though it's made without eggs and without dairy. It's a fulfilling, flavourful, and yet light cake that everyone will love.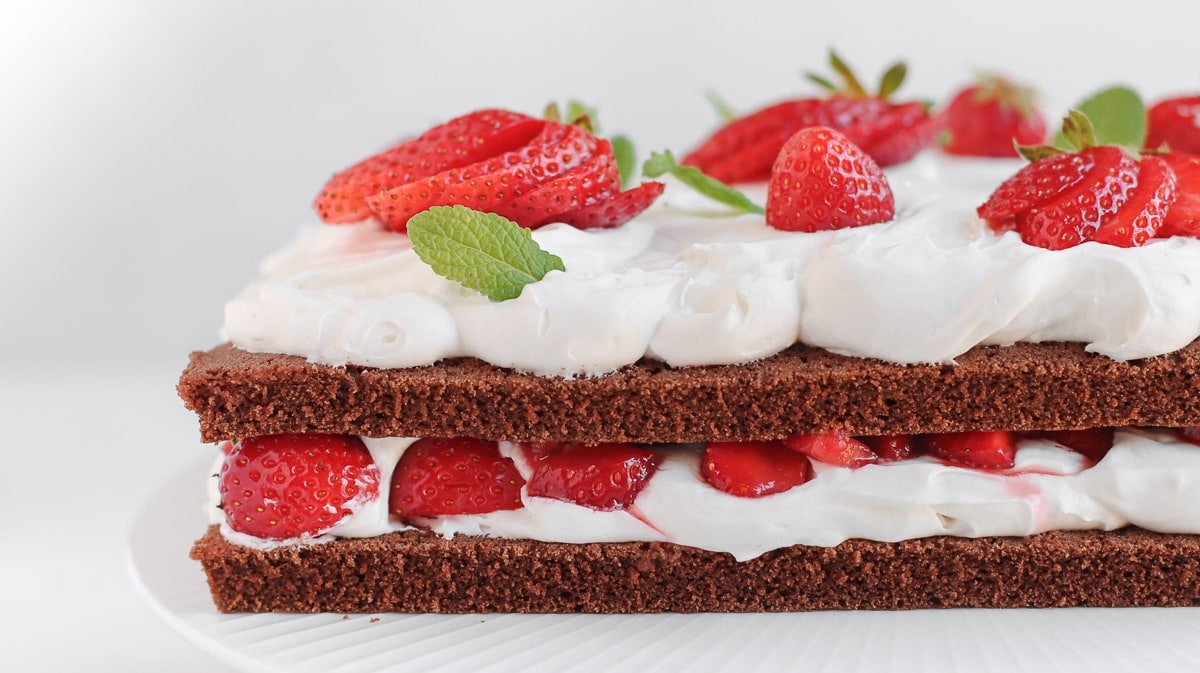 What is this chocolate strawberry cake?
Our vegan chocolate strawberry cake is made with two thin, soft, and moist layers of vegan chocolate sponge cake. It's kind of a double sheet chocolate and strawberry cake, made without eggs, without milk and without butter.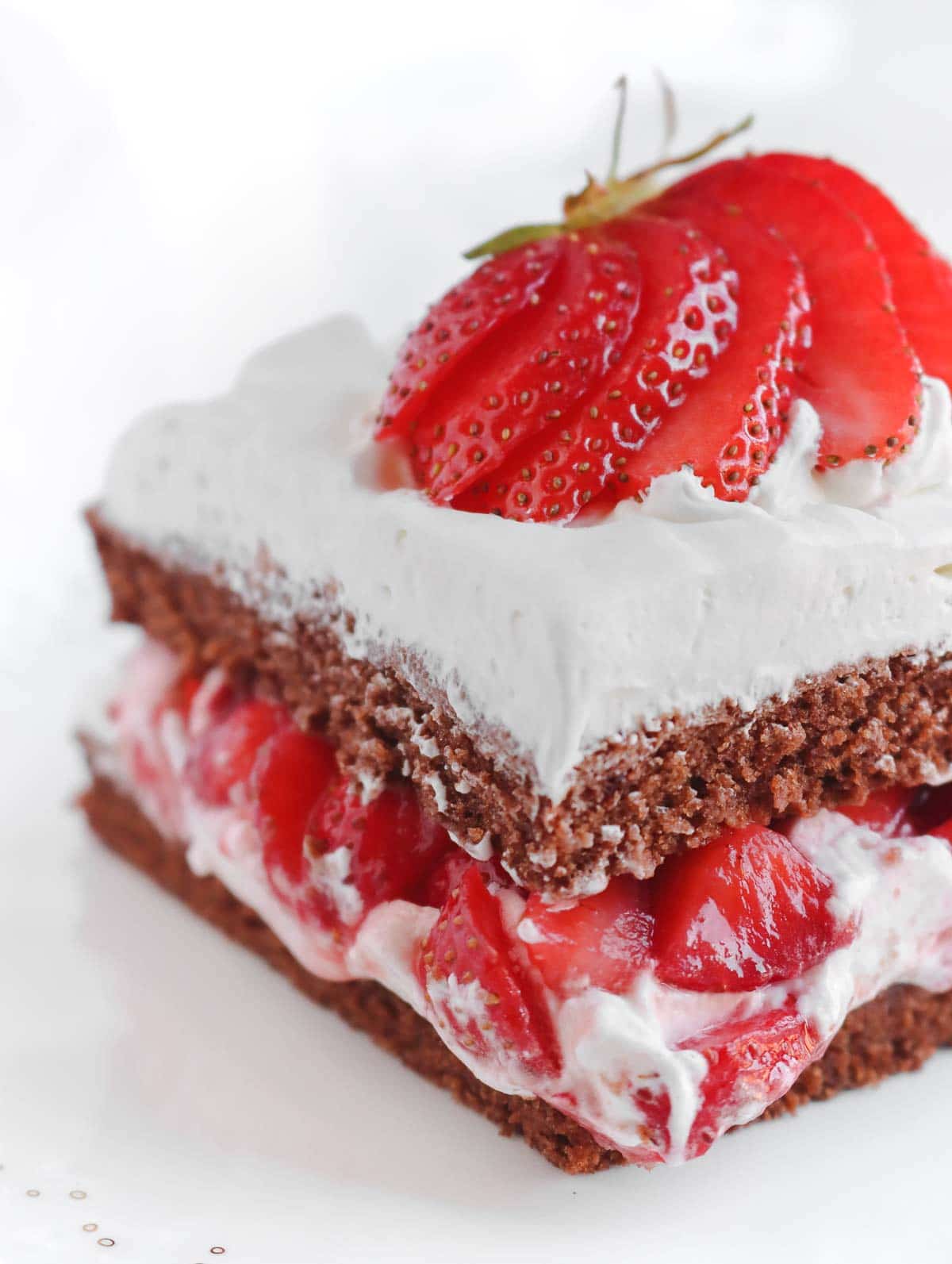 We make the vegan cream filling by combining vegan whipped cream and homemade vegan condensed milk. Don't worry, both are super easy to make at home in a few minutes.

We decided to use strawberries because they are in season and because they go great with chocolate. But other delicious fruits suitable for this cake are mango, peach or pears. We marinate the strawberries with sugar first, so that they'll release a sweet strawberry juice that we then use to moisten the sponge.
Ingredients & Substitutions
For the chocolate sponge
Plant milk: we use almond milk. You can replace it with any other plant milk.
Sugar: we use granulated sugar. You may replace that with another sugar, including coconut sugar. The texture and taste will change slightly.
Vegetable oil: we use sunflower oil. You can replace it with any other vegetable oil, best if refined, so you won't taste the flavour of the oil.
Flour: we use all-purpose flour. You can replace it with whole-grain, bread, and spelt flour. To make this cake gluten free, use a ready-made flour mix suitable for cakes.
Cornstarch: we use this as an egg replacement to bind the sponge cake together and be able to cut it easily.
Cacao powder: we use unsweetened, dutch processed, cacao powder. You can replace it with any other cacao or cocoa powder.
Baking powder: we use a small amount to help the cake rise a little. Don't add too much or your sponge cake will crumble.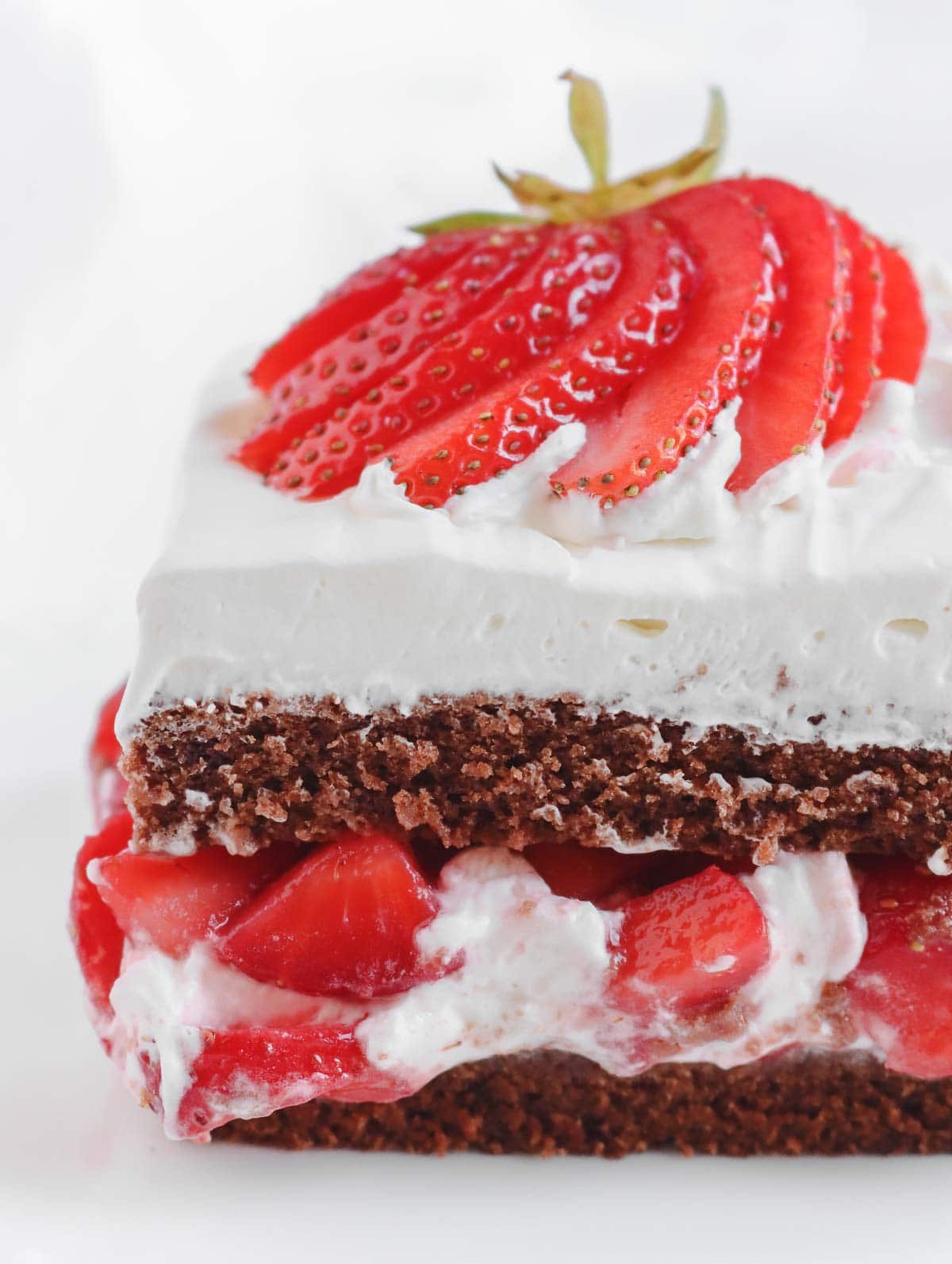 For the cream filling
Almond milk: we recommend using almond milk if you can to give the best flavour. But you can also use any other plant milk, and add a tsp of vanilla extract.
Sugar: we use granulated sugar. You can use any other sweetener of your choice.
Cornstarch: we use this as a thickening agent to make the condensed milk.
Vegan whipping cream: we use a ready-made vegan whipping cream. Here's a list of vegan friendly brands. If you can't find that, you can replace it with the same amount of full fat coconut milk or coconut cream – just the solid part, not the watery part – whipped together with 2 tbsps of icing sugar.
Strawberries: we use fresh strawberries. You can replace them with mango, peach, nectarines, or pears.
Equipment
Electric mixer/beater: we use it to mix the cake batter and to make the vegan whipping cream.
Baking tray, baking sheet, or sheet pan: we use a 11 x 17 inches (30cm x 40cm) baking tray.
What size pan do I need?
We bake this cake in a half sheet pan, which is basically a baking tray that in the US is generally 11 x 17 inches long, while in Europe is generally 40 x 30 cm.

If you want to change the size of the pan you need to do this simple calculation:
Multiply the length by the width of your sheet pan (to find the area).
Example: 13 x 18 = 234

Divide the result by 187. That is the area of the sheet pan that I used (11 x 17).
Example: 234 : 187 = 1.25

Multiply all ingredients by 1.25. Example: 200g of flour x 1.25 = 250g of flour.
Mistakes I made
Too much baking powder: when I added 1 tbsp of baking powder the cake was too crumbly and the sheets were not able to support the cake. With 1/2 tbsp the sponge is firmer and more suitable for this recipe.

Did not stir the condensed milk: I tried letting the condensed milk cool down on its own, without me stirring it. It's fine if you do so, however, the condensed milk will be a lot clumpier and it will be harder to mix with the whipped cream if you don't cool it down while stirring it.
Tips
Distribute the cake batter evenly: try to do this to avoid an uneven sheet of cake. I do that with a spatula, but a spoon works too.
Cool down the condensed milk: I do this by filling up the sink with cold water, then I put the pot with the condensed milk in the cold water and I stir for a few minutes, until the condensed milk reaches room temperature. This way you'll get a smooth, lump-free condensed milk.
Prepare all the elements before building the cake: it's going to be a lot easier to build your vegan chocolate strawberry cake if everything is prepared in front of you.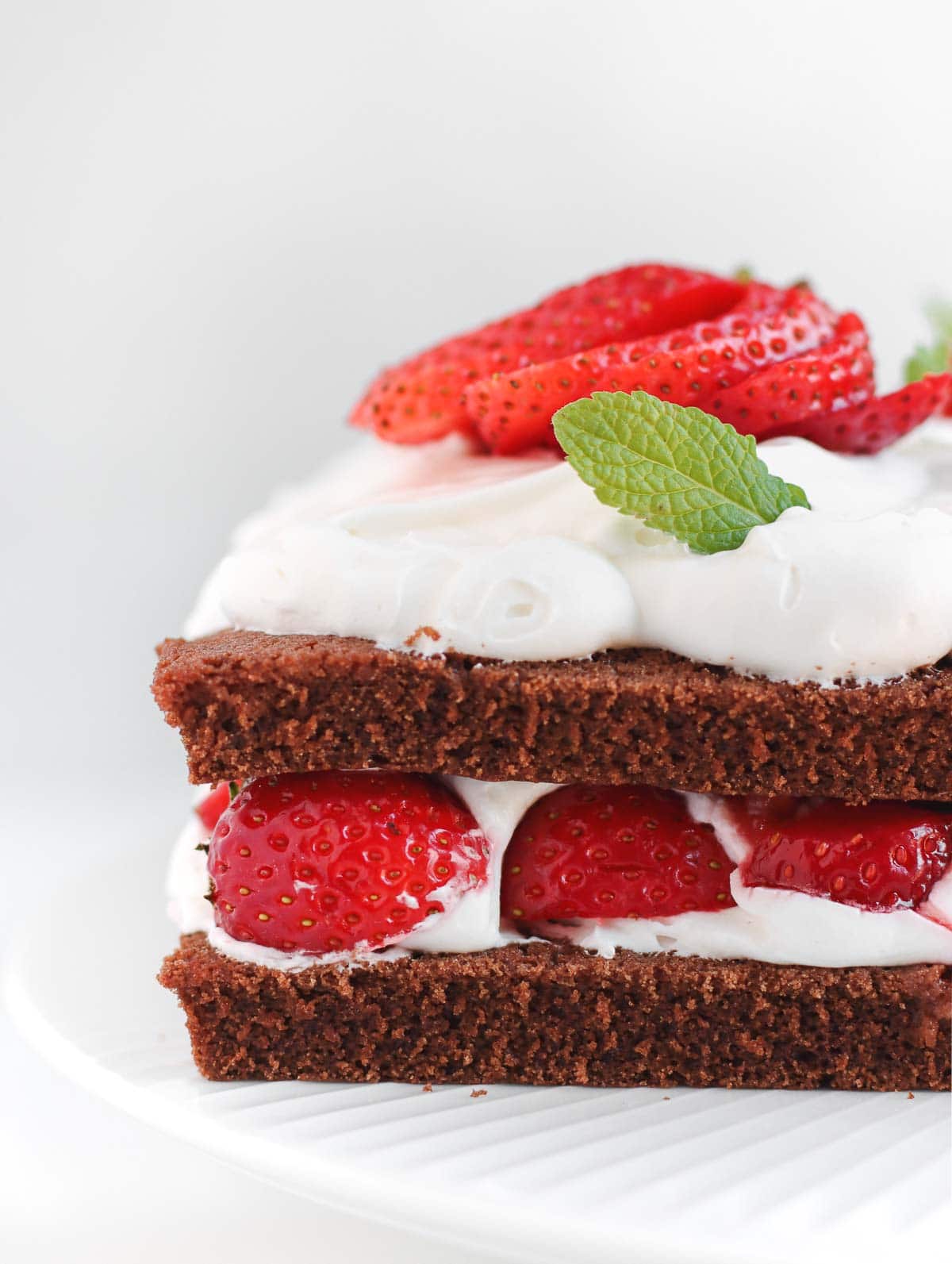 Frequently asked questions
Can I make this cake white, without chocolate?
Yes. In this case, replace the cacao powder with 40 grams extra of AP flour.
Can I replace make this gluten free?
Yes. We recommend using a ready made gluten free mix made specifically for cakes.
Can I use a different fruit?
Yes. Chocolate works great with mango, peaches, nectarines and pears.
Storage
Store the cake in the refrigerator for up to 3 days. We do not recommend freezing the finished cake. You can freeze the chocolate sponge/sheet for up to three months.

To do that, let the sponge cool down completely, then put it in a freezing bag or freezing container and freeze. To thaw it, put it in the refrigerator for half a day before decorating it.
Variations
Vegan Chocolate Strawberry Cake
This vegan chocolate strawberry cake is soft, fluffy, moist, creamy, sweet, pretty and packed with plenty of strawberry and chocolate flavour. This cake is also very easy to make, on a baking sheet, and with a few simple ingredients.
Equipment
Electric Beater

Baking tray 11 x 17 inches or 30 x 40 cm
Ingredients
For the chocolate sponge
300

g

almond milk

or other plant milk

150

g

sugar

70

g

sunflower oil

200

g

flour

50

g

cornstarch

40

g

cacao powder

dutch processed

8

g

baking powder
For the cream filling
300

g

almond milk

40

g

sugar

40

g

cornstarch

250

g

vegan whipping cream
For the strawberries
500

g

strawberries

3

tbsp

sugar

½

cup

water
Instructions
MARINATE STRAWBERRIES
Rinse and cut the strawberries in small dice. Put them in a bowl, then add sugar and water, mix gently with a spoon, and set aside. Keep 5 – 6 whole strawberries aside to use as decoration on top of the cake.Note: you can add lemon juice instead of water if you like. We tested both ways and the difference in taste is minimal.
MAKE THE SPONGE CAKE
Preheat the oven to 360F or 180C. Line your baking tray with parchment paper.

In bowl add sugar, oil, and almond-milk. Give it a quick stir, then add flour, cacao powder, cornstarch and baking powder. Mix with an electric hand mixer for about 1 minute, until till you have a smooth batter. Note: you should either sift the dry ingredients, or mix them together in a bowl first, before adding them to the liquids. This helps spread the cacao and the baking powder evenly.

Transfer the cake batter onto the baking tray, spread it evenly with a spoon, then bake for 15 minutes at 360F or 180C. While it cools down follow the next steps.
STRAWBERRY JUICE
With a strainer, separate the strawberries from their liquid. Taste the liquid, if too sour for your taste, add more sugar.
VEGAN WHIPPED CREAM
With an electric beater, whip up the vegan whipping cream until stiff. If you can't find vegan whipping cream you can make a homemade whipped cream with full-fat coconut milk or coconut cream.

To do this, refrigerate the canned coconut milk for about 10 hours. Then scoop out the solid part from the can and add it to a cold bowl. Add powdered sugar – about 2 to 3 tbsp – and whip with a hand mixer till smooth. Set aside in the refrigerator. To make the coconut whipped cream more stable you can add ½ tsp of xanthan gum, then keep whipping at full speed till it thickens up.
VEGAN CONDENSED MILK
In a pot, add almond milk, cornstarch and sugar. Whisk until the lumps are gone, then put on medium heat and stir until it thickens. Take off the heat and stir until cool. To speed things up, fill up your sink with cold water, and dip ¾ of the sauce pan with the vegan condensed milk in it while stirring. This will accelerate cooling.
VEGAN CREAM FILLING
Add the cooled condensed milk, one spoon at a time, to the whipped cream, and keep whipping with an electric mixer until they are fully combined. You should get a smooth, lump-free cream filling.
BUILD THE CAKE
Take the sponge cake out of the baking tray, remove the parchment paper, and cut the sponge in half. Put the two pieces of sponge on top of each other and trim the edges to make them of the same size.At this point you should have in front of you: 1) vegan cream filling 2) diced strawberries 3) strawberry juice 4) two pieces of chocolate sponge.

Place the first sponge piece on a serving platter. Make sure to put the sponge upside down. Then with a spoon, wet it with about ½ of the strawberry juice.

This is a common step in Italian cake making. It adds flavour and moisture to the cake. If you don't like the cake too moist, add less strawberry juice.

Add about ½ of the cream filling on top of the sponge, spread it with a spoon, then cover with all the diced strawberries.

Add the second layer of sponge on top, upside down. Press it down gently with your hands to put it in place. Add the remaining strawberry juice on top.

Cover with the remaining vegan cream filling, and top with some sliced strawberries (and optional mint leaves). Set aside in the refrigerator to cool for at least 1 hour before slicing and serving.
Notes
Measurements: we recommend using the metric system for this recipe.
Nutrition
Calories:
622
kcal
,
Carbohydrates:
91
g
,
Protein:
7
g
,
Fat:
29
g
,
Saturated Fat:
15
g
,
Potassium:
536
mg
,
Dietary Fiber:
6
g
,
Sugar:
42
g
,
Vitamin A:
10
IU
,
Vitamin B6:
1
mg
,
Vitamin C:
50
mg
,
Vitamin E:
5
mg
,
Vitamin K:
3
µg
,
Calcium:
210
mg
,
Folate:
93
µg
,
Iron:
4
mg
,
Manganese:
1
mg
,
Magnesium:
64
mg
,
Zinc:
1
mg
Tried this recipe?
Leave a comment below or mention @theplantbasedschool on Instagram. We are also on Facebook, Pinterest, YouTube, and TikTok.
Related recipes
Did you try this recipe at home? Let us know in the comments below, we love to hear from you!