This Vegan Tiramisu has fluffy layers consisting of a homemade sponge cake dipped in freshly brewed coffee. On top, we put a soft cream made from yogurt and tofu, completely nut-free, cheese-free and egg-free. Tiramisu is an indulgent dessert served in single-portion cups and covered with a sprinkle of cacao powder.
Jump to:
🎥 YouTube Video
<div class="youtube-responsive-container"><iframe src="https://www.youtube.com/embed/wCpmpDZUJpo" width="640" height="360" frameborder="0" allowfullscreen=""></iframe></div>
📋 Recipe
Vegan Tiramisù | Nut-free
Ingredients
250

ml

coffee (black)

30

grams

cacao powder
Vegan Mascarpone Cream
400

grams

unsweetened soy yogurt

200

grams

silken tofu (soft)

100

grams

vegan butter

100

grams

sugar

50

grams

soy milk
Vegan Sponge Cake
200

grams

all-purpose flour

200

grams

water

180

grams

sugar

100

grams

corn starch

100

grams

refined coconut oil or vegan butter

16

grams

baking powder

1

whole

vanilla bean
Instructions
Vegan Mascarpone Cream
put the yoghurt to drain for at least 8 hours in a sieve wrapped in a cheese cloth with weights on top (better if the night before)

with an immersion blender, emulsify the soy milk with the melted vegetable butter

blend together all the ingredients for the mascarpone cream (drained yoghurt, tofu, butter and milk emulsion, and sugar). If you use whole-wheat sugar, blend it first separately
Vegan Sponge Cake
in a bowl, mix water, refined coconut oil, vanilla and sugar

pass the all-purpose flour, cornstarch and baking powder through a sieve and add them to the liquid mixture, stirring with a spatula until the mixture is smooth

 bake in the oven for about 30 / 40 minutes at 180˚C [360˚F]
Assemble the Tiramisu
arrange in a small glass or in a glass baking tray

repeat layers of sponge cake soaked in sweetened coffee with a topping of vegan mascarpone cream, finalise with cacao powder

store the tiramisu in the refrigerator for a couple of hours before consuming it, this makes the flavour more intense
Notes
Try to use the metric system as your recipes will come out better and more consistent. It's very easy, you can get a scale on amazon for a few bucks.
We hope you love this vegan and nut-free, yet classic tiramisu 🙂
Nutritional Values
Nutrition Facts
Vegan Tiramisù | Nut-free
Amount Per Serving
Calories 684.56
Calories from Fat 277
% Daily Value*
Fat 30.73g47%
Carbohydrates 97.98g33%
Protein 8.14g16%
Calcium 121.4mg12%
Iron 2.63mg15%
* Percent Daily Values are based on a 2000 calorie diet.
Did you make this recipe?
Tag us on Instagram @Italiaplantbased
👨🏻‍🍳 Tips
Tiramisu is the most emblematic dessert of Italian cuisine. It is served cold and it is adored for its creaminess and bitter sweet taste. The perfect mixture of contrasts in each layer make this dessert a true delight for your palate.
How to serve Tiramisu: Use cacao powder as a sprinkle, or decorate the surface with coffee beans covered in dark chocolate. If you want a fruity finish, it is beautiful and refreshing with candied orange peel or fresh orange zest.
Tiramisu with fruit: For a tasty and summery variety, replace the coffee with rum-flavored fruit syrup. After arranging the tiramisu, use fresh strawberries or raspberries on top, these go well with the rich "mascarpone" cream.
If you like coffee flavoured desserts, try our Vegan Coffee Custard. It is soft and creamy and works perfectly in birthday cakes and pastries.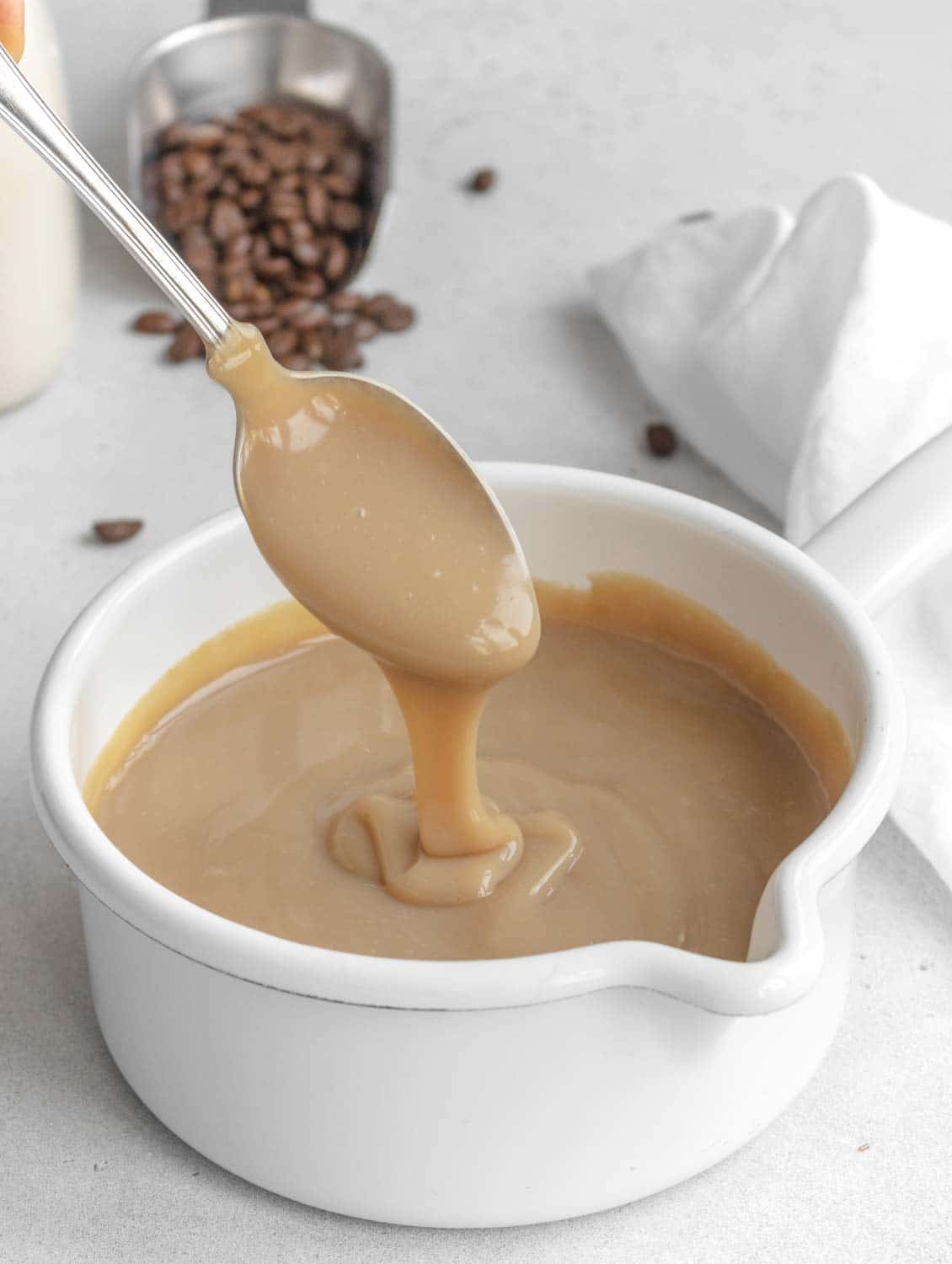 🥫 Storage
This tiramisu without mascarpone or eggs can be kept in the fridge wrapped in foil or covered with an air-tight lid for 3 days.
🍰 Related recipes
We hope you liked this luxurious vegan tiramisu. It's rich, creamy, sweet, and our favourite dessert for special occasions. Will you be making Tiramisu at home? If you have any tips or questions, we would love to hear from you in our comment section below.