This beautiful and delicious fruit tart with lemon custard is a classic Italian pastry recipe that everyone loves. And of course we veganized it and made it extra healthy without compromising its taste. The result is a vegan fruit tart with vegan custard that is egg-free, dairy-free, made with wholegrain flour and plenty of fresh seasonal fruit. Trust us, it will 100% blow your mind!
Jump to:
🎥 Video
Fresh, colourful, sweet, and nutritious, with a shell of vegan shortcake pastry, filled with a vegan lemon custard and tons of seasonal fresh fruit on top - strawberries, raspberries, blueberries, nectarines, kiwis, cherries and mint leaves. Are you ready to be blown away by this veganized Italian classic?

Fruit tart with fresh fruit and custard is a traditional Italian pastry that can be found in pretty much any pastry shop from the north to the south of Italy. Growing up I ate hundreds of those colourful cakes, and their flavour is still impressed in my memory.

This is why you've got to trust me when I tell you that this veganized version of fresh fruit tart with our homemade vegan lemon custard is just as delicious as the traditional recipes....but...a lot healthier and environment-friendly as it's made with no eggs, no milk and no butter.
🥬 Ingredients
Wholegrain flour: we love the wholesome taste of wholegrain flour for this sweet tart. It fits perfectly with the sweetness of the fruit and of the custard. If you prefer a more traditional flavour you can use all-purpose flour.

Sugar: we use unrefined sugar, but any sugar will work here.

Sunflower + Coconut Oil: vegetable oils will replace the butter of the original shortcrust pastry. While still fat, they are a lot healthier than butter and eggs. Try to use a mix between sunflower oil and coconut oil. If you want a neutral flavour, go for refined sunflower oil and refined coconut oil.
Very cold water: in this recipe is the perfect substitute for milk.

Lemon zest: to add some aroma to the base. Orange and lime work too. Citrus enhances the fruit flavour. We recommend organic since you will eat the zest.

Vanilla extract or vanilla sugar: any will work. Goes well with the fruit and lemon flavour.

Baking powder: this will help make the tart fragrant.

Vegan custard: made with turmeric, sugar, cornstarch, plant milk, lemon and vanilla. See full recipe with tips in our upcoming blog post.
🔪 Equipment
We recommend using a pie dish with removable base so that it will be easy for you to remove the tart out of the dish once it's baked. For this recipe we used a 10 inch, 24 cm one.

We also recommend a rolling pin to roll the shortcrust pastry.
📋 Recipe card
Fruit tart with vegan custard
This beautiful and delicious fruit tart with lemon custard is a classic Italian pastry recipe that everyone loves. And of course we veganized it and made it extra healthy without compromising its taste. The result is a vegan fruit tart with vegan custard that is egg-free, dairy-free, made with wholegrain flour and plenty of fresh seasonal fruit. Trust us, it will 100% blow your mind!
Equipment
Pie dish with removable base (10 inch, 24 cm)
Ingredients
For the shortcrust pastry base
3

cups

wholegrain flour

(375 grams)

0.9

cup

sugar

(190 grams)

0.4

cup

sunflower oil

(75 grams)

0.20

cup

coconut oil

(30 grams)

0.4

cup

cold water

(90 grams)

zest

of half lemon

1

tbsp

vanilla sugar

(8 grams)

2.5

tsp

baking powder

(9 grams)

1

pinch

salt
For the vegan custard
3

cups

unsweetened soy milk

(690 grams)

6

tbsp

cornstarch

(70 grams)

5

tbsp

sugar

(100 grams)

1

pinch

turmeric

zest

of 1 lemon

vanilla extract
For the fruit topping
8

strawberries

2

kiwis

1

nectarine

5

cherries

9

raspberries

9

blueberries

9

mint leaves
Instructions
For the vegan custard
In a saucepan, whisk together the milk, cornstarch, sugar, turmeric until well combined

Add the lemon zest, or thin lemon peel, making sure you only use the yellow part of the lemon, and not the white flesh under the skin. That part is bitter.

Set the sauce pan on high heat and bring to a simmer while whisking continuously.

Keep stirring fast and vigorously to avoid any lumps. Stop when you reach your desired consistency. If you like a smooth custard you should pass it through a sieve half way through this step to filter out the lemon zest.

Let cool the custard at room temperature. Whisk occasionally to prevent the formation of skin on the surface. If you want to cool it down faster, you can submerge the pan in cold water while whisking until the custard is cold.
For the wholegrain shortcrust pastry base
In a bowl, add lemon zest, vanilla extract, sunflower oil, coconut oil, water, salt, sugar, and stir well.

Add the wholegrain flour and the baking powder all at once and mix with a spoon.

When the dough comes together, mix a few more times with your hands until smooth. Don't over-mix.

Shape the dough into a ball.

Wrap in foil and let rest in the fridge for an hour, or in the freezer for 15 minutes. This is a very important step as the dough needs to cool down or else it will be very hard to roll.

Prep the pie dish by greasing it with some oil. We use a 10 inch (24 cm) pie dish. 9 inch is easier if it's your first pie.

Then dust it with some flour. This will make it easier to remove the tart once baked.

Start flattening the dough, first with your hands, then with the help of a rolling pin. Make it ⅛ of an inch thick (4mm). Also, make sure you sprinkle your rolling pin and your work table with some flour. You need to work fast here as you want to keep the dough as cold as possible so that it's easier to move.

Roll the dough around the rolling pin and carefully un-roll it over the pie dish.

Make sure the dough covers the whole dish and fits in it tightly.

With a fork, make some holes into the base of the tart.

Pour your homemade custard into the dish and spread it around evenly with a spoon.

Bake at 360˚F / 180˚C for about 30 min. The tart is ready when slightly golden on top.

Let the tart cool down completely before adding the fruit on top.
Nutritional Values
Nutrition Facts
Fruit tart with vegan custard
Amount Per Serving
Calories 403
Calories from Fat 135
% Daily Value*
Fat 15g23%
Carbohydrates 63g21%
Protein 7g14%
Calcium 167mg17%
Iron 2mg11%
* Percent Daily Values are based on a 2000 calorie diet.
Did you like this recipe?
Share it with your friends, or leave us a comment 🙂
👨🏻‍🍳 Top tips
Start from liquids and sugar
The best and easiest way to do a vegan shortcrust pastry is to mix all the wet ingredients in a bowl, then add the sugar, and then stir well with a whisk or spatula until the sugar is well mixed in.

Use very cold water
We recommend using very cold, almost iced water for this tart. Cold water will make the fats in the pastry less runny and it will be easier for you to work it, especially when you have to roll it flat.

Wholegrain vs standard all purpose flour
We really love and prefer the flavour of wholegrain flour to all purpose flour for this vegan fruit tart. If you don't like the richer flavour and prefer a more neutral base, then feel free to use standard all purpose flour (Tipo 0 in Italy, 550 in Germany).
Add the flour all at once
As soon as your wet ingredients are mixed together you can add the flour and the baking powder all at once. Then start mixing the ingredients together with a spatula. Try to be fast so that your ingredients won't stay too long at room temperature and warm up.
Use your hands, but not too much
We recommend kneading the dough with your hands for just a minute to make sure that all the ingredients are properly mixed together. However, do not over-knead this dough as it will become warm at the touch of your hands, and it will be harder to work with.
Let it rest! Freezer vs Refrigerator?
If you are short on time you can let this vegan shortcrust pastry rest in the freezer for 15 to 20 minutes. If you have more time, let it rest in the fridge for a couple of hours. You can also make this pastry the night before and let it rest in the fridge overnight.
In all cases, make sure you shape the dough into a ball and wrap it tightly in film. You don't want air to touch the surface of your pastry or else it'll dry out and it won't easy to work with it later on.
Use a pie dish with removable base
Since we are going to bake the tart filled with custard it's going to be a lot easier to remove it from its dish if you use a pie dish with removable base. They are not expensive and quite easy to find.

Oil the pie dish and dust it with flour
This step will make it super easy for you to get the tart out of the dish. Even if it adds a bit of fat, we strongly recommend this step.
Roll it down to 4 to 8 mm (⅛ to 2/8 of an inch)
Usually fruit tart has a thicker base than pie or tart with jam. In this case, we prefer to keep the base quite thin at about ⅛ of an inch (4mm) as we are using wholegrain flour. If you are doing the base with all purpose flour you might want to make the base slightly thicker than 4mm.
Use your rolling pin to lift the pastry
Gently and loosely roll the pastry around your rolling pin. Then slowly un-roll it over your pie dish. You'll see the pastry fall into place by itself. Use your finger tips to fit the pastry tightly to the pie dish. Then fix the edges with some extra pastry.
Pierce with a fork
This is necessary to let the steam that will form during baking escape from the bottom of the tart without creating bubbles
Add cold vegan custard
Make sure that your homemade vegan custard has cooled down completely before pouring it into the tart. Don't fill up the tart completely with custard but instead leave about 1cm (0.4 inches) of space between the custard and the edge of your tart. With baking, the tart and the custard will expand.
Let cool completely before adding the fruit
We recommend letting the tart cool down completely after baking before you add the fruit. The custard will release a lot of steam while cooling down, and it will also thicken up, making it a better base for your fruit.
Use seasonal fruit, but avoid apples, bananas, and watery fruit
We love to make this tart in summer as we can go completely crazy with fresh fruit. Berries, strawberries, plums, pineapple, nectarines, grapes, kiwis, etc. But since we don't use any gelatine on top of this cake, we recommend avoiding fruit that turns black (oxidises) quickly like apples and bananas. Also, we recommend avoiding watery fruit like watermelon and melons as they will make the cake soggy.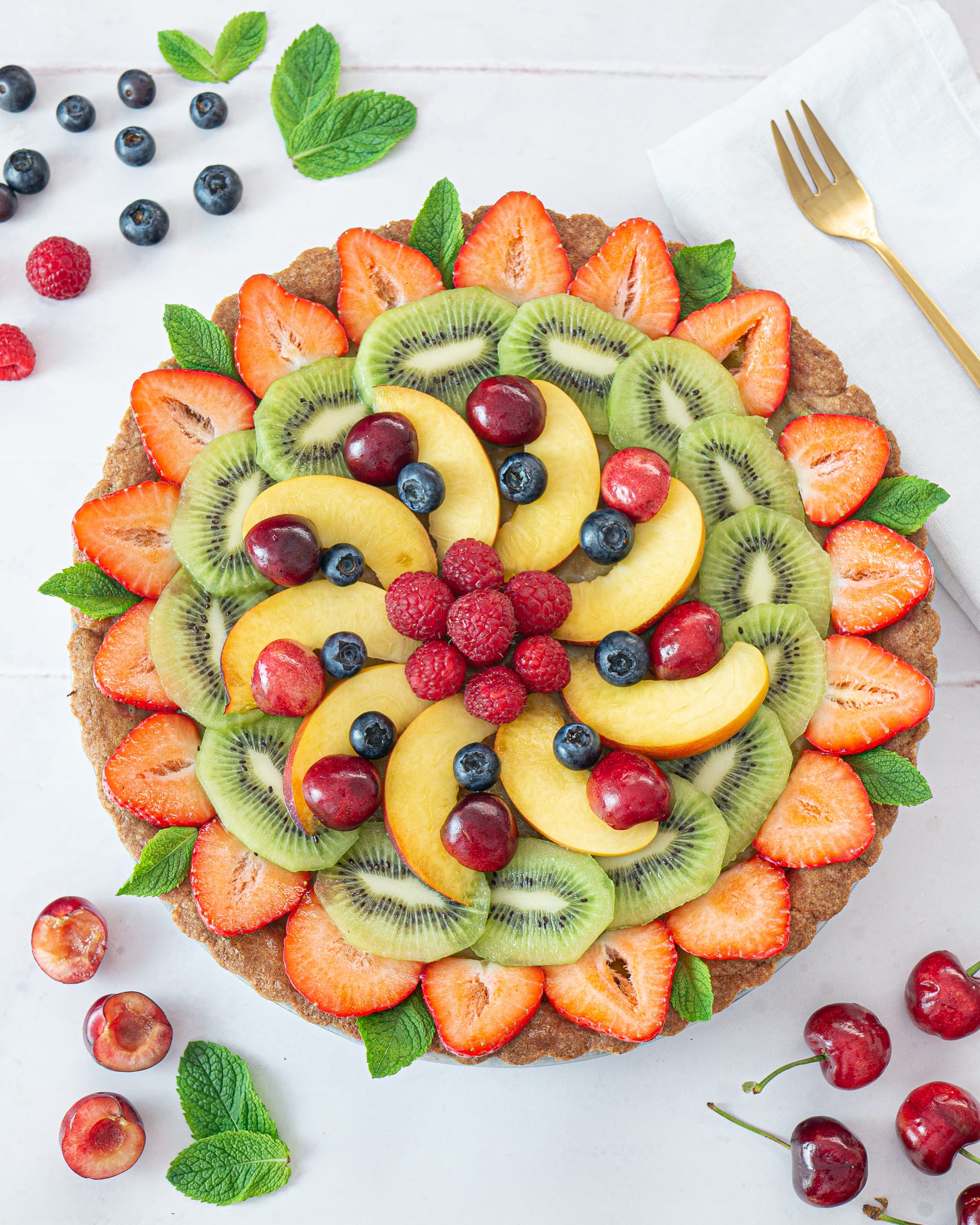 Use a layer of apricot jam instead of gelatine
If you want the fruit on the cake to stay fresh for longer, or if you want to add apples and bananas, then you should add a layer of gelatine made with apricot jam. Normal gelatine is not vegan (even though you can now find vegan options) and it doesn't taste very natural.

Our tip is to warm up some apricot jam with a spoon or two of water, bring to boil for a minute, and then brush over the fruit. It will add a shiny and protective layer to your vegan fruit tart.
Add some mint leaves
Please, please, please, remember to add some mint leaves to your tart. Mint is perfect with this vegan custard and it is also perfect with our selection of fruit. It also add some freshness that cuts through the custard and the sweetness of the tart.
📖 Questions & answers
Help! My dough is too sticky. What do i do?
Don't panic. Depending on temperature and humidity levels in your town the dough will be more or less sticky. To fix it, just add a bit more flour into the mix, or if you are already done kneading, sprinkle some extra flour on the board before and while rolling the dough. Also, don't forget to dust your rolling pin with flour too.
Can I use different fruit?
Yes, you can use most fruit for this tart. We recommend going with the season. You can even do a themed tart, for instance, a tropical one with mango, pineapple, papaya, dragon fruit and passion fruit. Or a fall one with apples, pears, grapes, figs, and walnuts. We would recommend avoiding watery fruit like melons and watermelons.
How to glaze fruit tarts?
If you want to glaze a fruit tart you can either use some off the shelf vegan gelatine, or you can just use some apricot jam. In this case, just boil a couple of spoons of apricot jam with a spoon of tap water. Then brush it over the fruit, et voilà. You've got your shiny, tasty and protective tart cover. We recommend using a glaze if you pick fruit that oxidises quickly like bananas, apples and pears.


How to make fruit tart custard?
If you follow our recipe above you won't go wrong. You'll just need a few ingredients: sugar, cornstarch, plant milk, lemon zest, vanilla and turmeric. We promise that you won't taste the turmeric. It's just there to give the yellow colour. If you want a thicker custard you can add a teaspoon of agar agar. This will make for prettier slices.
Can you make fruit tart in advance?
You can make all the pieces of the tart in advance. For instance, you could make the pastry ready in the pie dish and freeze it before cooking it. You can make the vegan custard and store it the fridge for a couple of days. Then on the day you want to serve the tart, just bake it and add the fruit on top. We wouldn't recommend however, assembling the tart and freezing it or storing it for more than a day before serving it. It'll get soggy and the fruit won't be fresh.
Is fruit tart healthy?
Our vegan fruit tart with wholegrain flour and vegan custard is probably the healthiest version of a fruit tart you can find. It's loaded with fibre and fresh fruit, it has no eggs, milk, butter, or any other animal based ingredients. It has very little saturated fat from the coconut oil - if you prefer you can replace that with some olive oil. The only unhealthy ingredient is the sugar. But if you go for a brisk walk before eating the cake you'll be fine.


How long can fruit tart sit out?
This vegan fruit tart can sit out for about a day if covered with pie dome.
Where is fruit tart from?
For this recipe I took inspiration from classic Italian cuisine, more precisely from crostata di frutta con crema pasticcera. I believe that similar fruit tarts are also popular in the French cuisine.
Can fruit tart be frozen?
No, we wouldn't recommend it. It would absorb moisture and get soggy. You can however prepare the vegan shortcrust pastry base in advance, place it into the pie dish and then freeze it before cooking it.
What if I don't have a pie dish with removable base?
Then you can either cut the fruit tart into the tray and only take out the slice you serve. Alternatively, you can cut 2 long and thick stripes of parchment paper and place them in a cross position into the pie dish under the dough. When the tart is baked, let it cool completely and then you'll be able to lift it out of the tray by pulling up the parchment paper stripes.
🍰 Related recipes
If you have any tips or questions let us know in the comments below!