Cambia lingua / Switch language: ITA
Vegan castagnole are sweet deep-fried or oven baked donut holes or dough balls, that can be filled with vegan custard or coated with sugar. They are sweet, crunchy, aromatic, and easy to make. In Italy we eat castagnole as a traditional Italian dessert during carnival season. Some Italians call them Favette, others call them Strufoli.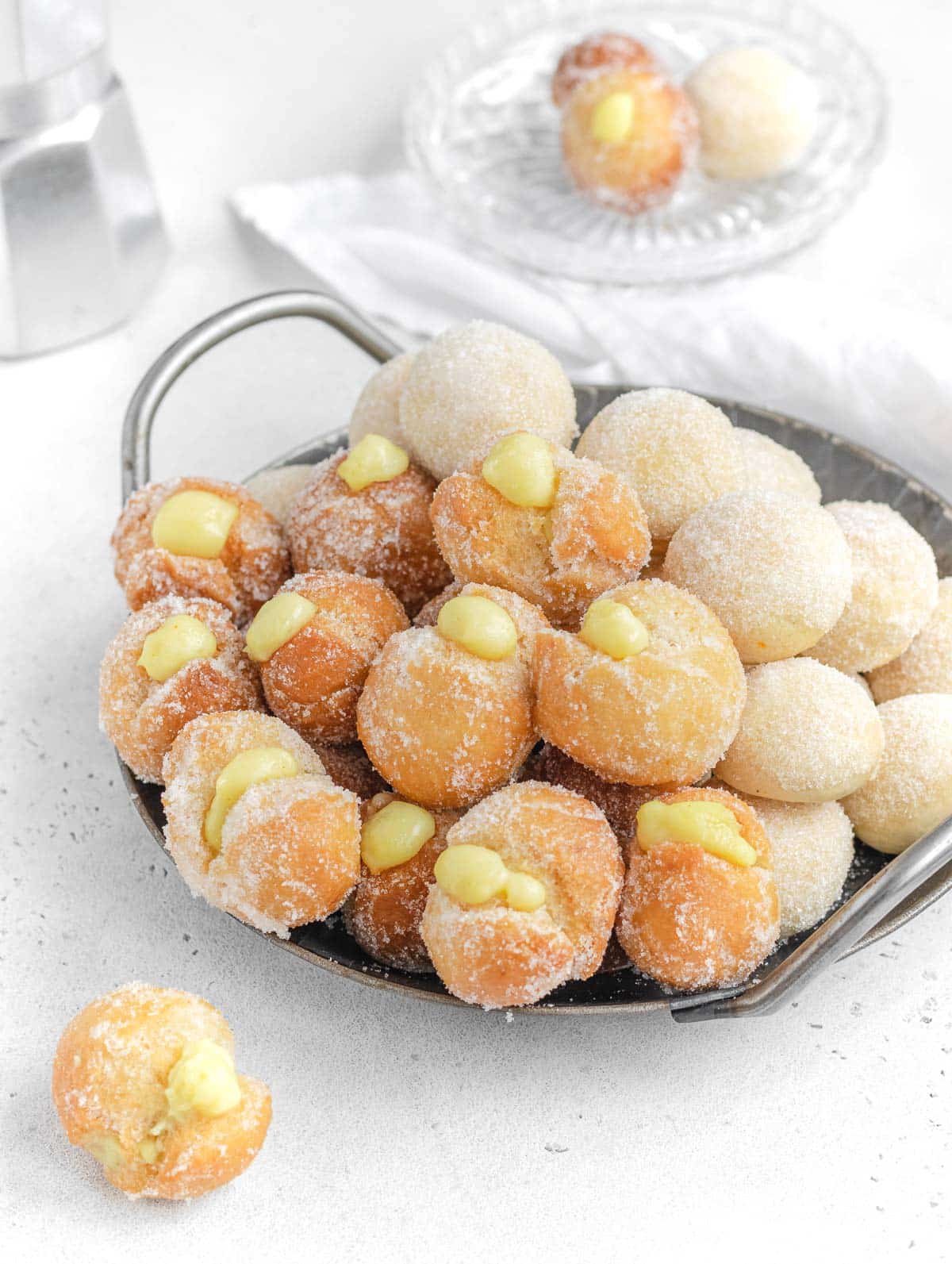 Jump to:
We usually prepare them in 4 different ways: oven baked, deep-fried, filled with custard, and drizzled with alchermes (a red liqueur). Castagnole are easy to make, with simple ingredients, crisp on the outside and soft on the inside.

In this post we show you how to do all of them and without eggs, milk or butter. Our vegan castagnole are as tasty and delicious as the original Italian castagnole recipe.
For more Italian carnival recipes, check out our vegan chiacchiere, bomboloni, apple fritters, and Italian donuts.
Ingredients & Substitutions
All-purpose flour: you can replace it with cake flour or bread flour.
Sugar: plain sugar works best, but you can replace it with any other sugar.
Baking powder: to make them pop.
Salt: just a pinch for flavour.
Citrus zest: we find that a combination of lemon and orange works best.
Anise powder: this is optional, but a very nice addition.
Plant milk: we use soy milk, but you can replace soy with almond milk, oat milk, or any other plant milk.
Sunflower seed oil: this is our oil of choice for desserts because it's light, it has little flavour, and it's quite affordable. You can replace it with any other flavourless vegetable oil. We do not recommend olive oil or coconut oil.
White wine: to make them light and aromatic. You can replace with a spirit.
Vanilla extract: for aroma. You can replace with real vanilla beans.
Mistakes I made
The oil temperature: I admit that the first time I made these castagnole I did not use a thermometer to check the temperature of the oil. The castagnole turned out fine, or at least that's what I thought. The second time I made them, I used a thermometer, and the castagnole turned out incredible! Oil temperature really is important.
Tips
Get the cooking right: making castagnole is very easy. However, the tricky part is actually coking them right, so pay attention to that.
Oven-baked: to keep them moist on the inside, you basically need to slightly undercook them. In my experience 12 to 13 minutes is the right time. Don't let them colour on top and they'll be fine.
Deep-Fry: oil temperature is everything here. 155C (310F) is the optimal oil temperature. At this temperature, the hot oil will activate the baking powder in the dough balls without destroying it too fast. Also, the dough ball will crisp up just enough, so that you have crispy shell but still a puffy castagnola thanks to the baking powder.
Oil too hot? Turn the heat off immediately and put a metal spoon in the oil to lower the temperature. If the oil is too hot the dough will crisp up too fast. The outer shell will be too hard for the baking powder to break and your castagnole will not puff up, will be too hard, heavy and burned.
Oil not hot enough? Never let the oil get below 150C (300F). The dough balls will absorb too much oil and they'll be soggy and heavy.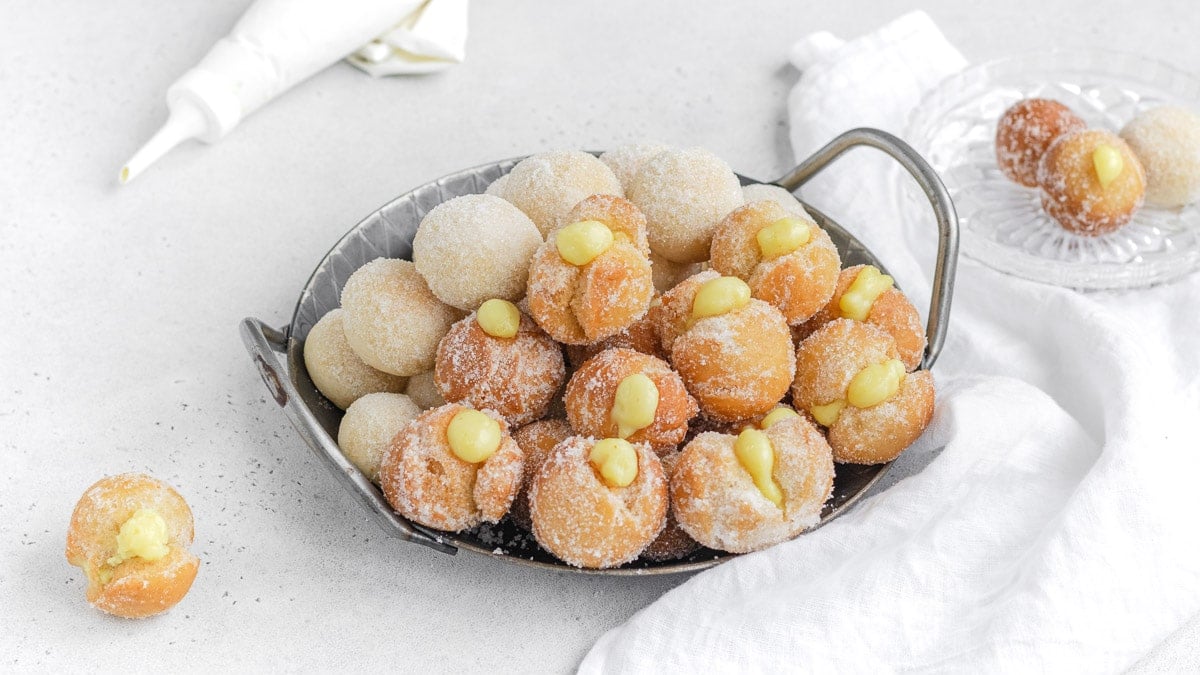 Frequently asked questions
Where are castagnole from?
Castagnole are typical Italian dessert that date back hundreds of years. They are eaten during carnival season in Italy.
Can I oven-bake castagnole?
Yes! Oven-baked castagnole are as authentic and traditional as deep-fried ones and appear in Italian cook books that date back to the 18th century.
What does castagnole mean?
Castagnola means little chestnut, due to their small round shape.
Storage
Deep fried castagnole don't store very well and they are best eaten on the same day. You can store oven-baked ones for up to 3 days in a reusable plastic bag. You can also freeze the dough already shaped, but before cooking it.
Variations
Strufoli di carnevale (in Umbria)
My favourite version of sweet dough balls is the one made in Umbria, where this dessert is actually called Strufoli. In Umbria strufoli are puffier than in other regions and they are served either drizzled with honey (use agave syrup as a vegan substitute) and orange zest, or with Alchermes, a red liqueur (make sure your alchermes is made with E124 colouring and not E120 because E120 is not vegan).
Custard-filled castagnole
These are puffy castagnole that are stuffed with our vegan custard. The most important thing when making this version is that they become puffy when you cook them, or else it will be impossible to filled them with custard. See all our tips above to make this variation.
Oven-baked castagnole
Oven-baked castagnole are the healthiest and easiest of all castagnole. If you cook them right they are still delicious. The secret is to not overcook them. See all our tips above. You can also dip them in Alchermes or just dip them in sugar.
Frappe, bugie or chiacchiere are another typical Italian carnival dish that we serve in Italy with castagnole during carnival season. We make them with a similar dough, then we flatten them very thinly and fry them. They are crispy, light and just delicious!
Struffoli (around the Naples region)
Struffoli also known as Honey Balls is a Neapolitan dish made of deep fried balls of sweet dough. The dough is similar to the one used in chiacchiere or in castagnole, but shaped into small balls, deep-fried, and coated in honey. A very similar variation of this dish is called cicerchiata in the regions of Umbria and Marche.
Recipe
Italian Castagnole - Sweet Dough Balls
Vegan castagnole are sweet deep-fried or oven baked donut holes or dough balls, that can be filled with vegan custard or coated with sugar. They are sweet, crunchy, aromatic, and easy to make. In Italy we eat castagnole as a traditional Italian dessert during carnival season. Some Italians call them Favette, others call them Strufoli.
Ingredients
Dry Ingredients
200

g

(

1⅓

cups

)

all-purpose flour

60

g

(

⅓

cups

)

sugar

12

g

(

2½

tsp

)

baking powder

1

pinch

salt

½

orange + lemon

zest

½

tsp

anise powder
Wet Ingredients
70

g

(

⅓

cups

)

plant milk

any

30

g

(

⅛

cups

)

sunflower seed oil

30

g

(

⅛

cups

)

white wine

vanilla extract
Frying + Optional Toppings
1

L

(

⅓

gal

)

sunflower seed oil

½

cup

plant milk

any

4

tbsp

sugar

200

g

(

1

cup

) vegan custard
Instructions
In a bowl, add the dry ingredients: flour, sugar, salt, baking powder, anise, orange zest and lemon zest. Stir with a whisk to mix.

Now add the wet ingredients: milk, sunflower seed oil, white wine, vanilla extract. Mix with a spatula till you get a dough ball.

Transfer the dough ball onto a worktop and knead with your hands for about 5 minutes. Then put the dough into a bowl, coat it with a drop or two of oil, cover with a cloth, and let rest for 30 minutes. The oil is to prevent the dough from drying out.NOTE: you need to get to a dough ball that is smooth on the surface, moist and soft, but not sticky. If too sticky, add some flour to your worktop.

With your hands, shape the dough into small balls. You should be able to make 22 dough balls.
Oven-Baked Castagnole
Place the small dough balls on a baking tray lined with parchment paper or with a silicon baking mat.

Bake in a preheated oven at 180C / 356F for 12 to 14 minutes. NOTE: do not over-bake. Oven-baked castagnole should not be golden. They should be white on top, so that they keep their soft and moist core. If you bake them too long they'll dry out.

Let the castagnole cool for 5 minutes, then quickly dip each one of them in plant-milk, and then roll them in sugar.A second way of serving oven-baked castagnole is to dip them in Alchermes after they are coated in sugar. This will make the castagnole red, moist, and with a delicious liqueur flavour.
Deep-Fried Castagnole
In a small pot with tall edges, bring the frying oil to frying temperature. To fry castagnole your oil should be between 155C to 165C or 310F to 330F.Dip a few castagnole at the time in the oil. Turn them around while they fry and cook for about 2 minutes, until they get puffy, crispy and golden.

Let the castagnole cool down for 5 minutes on a tray lined with kitchen paper to get rid of the excess oil.Then roll them in sugar till they are fully coated.
Custard-Filled Castagnole
Prepare the vegan custard. It takes 3 minutes to make. See our recipe linked in the ingredients list.

Fill a pastry piping bag with the custard. You need a piping bag with a thin and long mouth. Now insert the pastry piping pag into the castagnole and fill them with the custard. Don't put too much custard or they'll split open.
Notes
NOTE: in some regions of Italy they use anise liqueur or rum instead of white wine. If you do that, you don't need to add the anise powder.
Measurements
We recommend using a digital scale to measure the ingredients by weight. This way you'll get the best results.
We use
calculateme.com
to convert grams to US volume measurements. We believe they have the most accurate conversion algorithm. If you must use measuring cups and spoons, then use the "spoon and level" method.
That is, spoon the ingredients into the measuring cup. Then level the excess with a knife, which means that a tablespoon or a cup has a level top, not a big round hill in the center and valleys along the edges.
Nutritional Values
Nutrition Facts
Italian Castagnole - Sweet Dough Balls
Amount Per Serving
Calories 82
Calories from Fat 36
% Daily Value*
Fat 4g6%
Cholesterol 1mg0%
Potassium 72mg2%
Carbohydrates 11g4%
Protein 1g2%
Vitamin A 9IU0%
Vitamin B6 1mg50%
Vitamin C 1mg1%
Vitamin E 2mg13%
Vitamin K 1µg1%
Calcium 30mg3%
Folate 17µg4%
Iron 1mg6%
Manganese 1mg50%
Magnesium 3mg1%
Zinc 1mg7%
* Percent Daily Values are based on a 2000 calorie diet.
Did you make this recipe?
Tag us on Instagram @theplantbasedschool
If you liked this recipe, you might also like:
Did you try this recipe at home? Let us know in the comments below, or take a picture  and tag us on Instagram @italiaplantbased.