Bomboloni are Italian doughnuts made with a soft leavened dough. They are filled with chocolate, jam, or custard, and covered in sugar. Our vegan oven-baked bomboloni are super soft, sweet, light, airy and delicious. Our recipe follows the traditional Italian method of making bomboloni, but it's free of butter, milk, and eggs.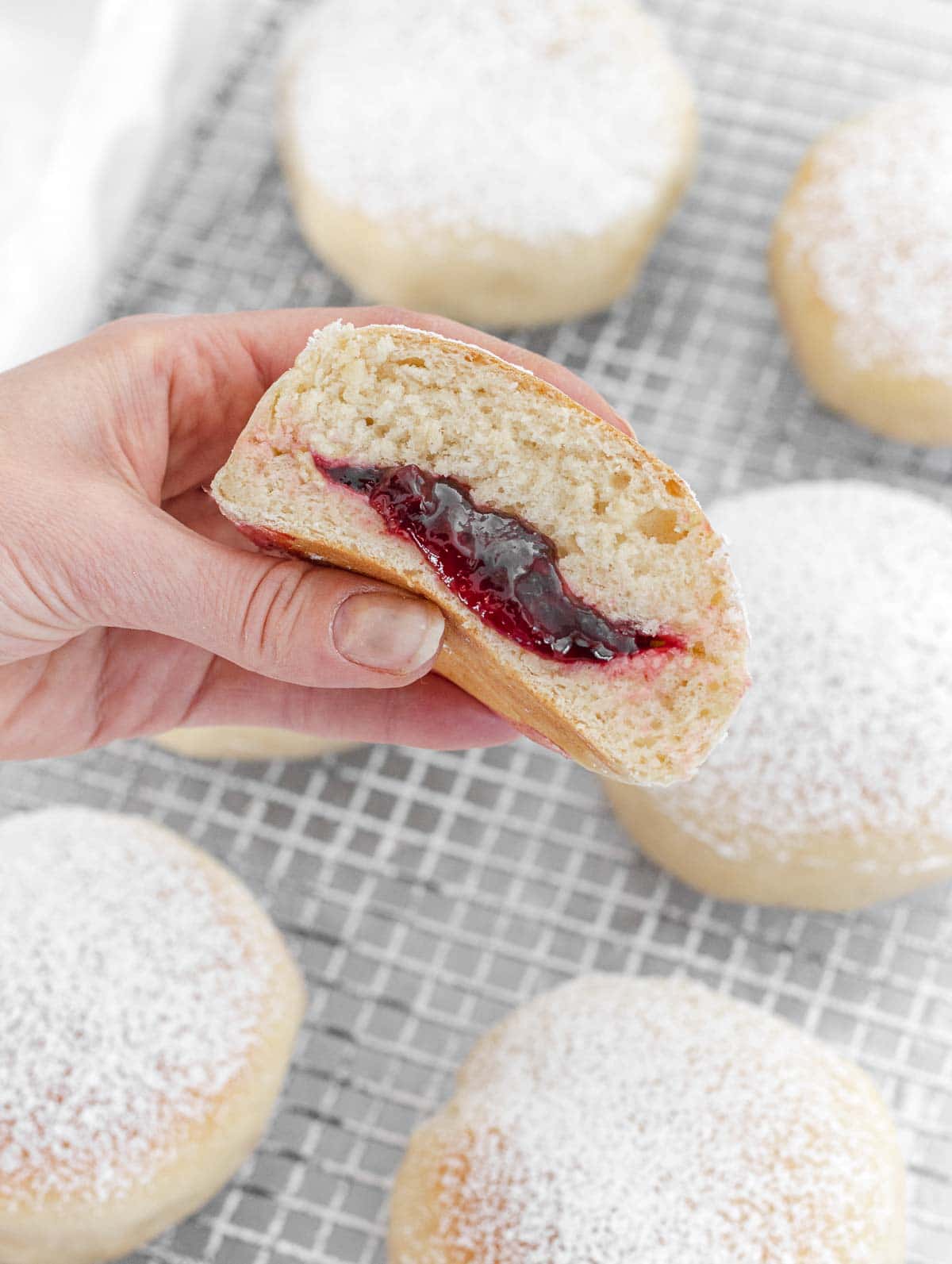 On this page:
Check out our best vegan breakfast recipe collection!
And for the healthiest among you we even made an oven-baked wholegrain version. By the way, did you know that in Italy we eat bomboloni mostly for breakfast or as an afternoon snack.

For other delicious vegan Italian leavened recipes, check out:
Ingredients & Substitutions
Flour: we tested these oven-baked bomboloni with 4 different types of flour. We used all-purpose flour, first-clear flour, wholegrain flour, and even wholegrain spelt flour. All flours work very well with our recipe.
Sugar: you can use either regular white sugar, unrefined cane sugar, or any other type of granular sugar. If you use coconut sugar, then you need to add 25% more to achieve the same sweetness.
Yeast: we recommend using instant dry yeast for this recipe.
Vegetable milk: our favourite dairy milk replacement for this recipe is unsweetened soy milk. But you can use any type of vegetable milk.
Fat: our fat of choice for our vegan bomboloni is sunflower seed oil. You can use also any other type of vegetable oil, as long as it has a neutral flavour. Coconut oil and olive oil are not recommended.
Filling: bomboloni can be filled with chocolate, vegan nutella, vegan custard, or with your favourite jam. Our favourite filling is sour cherry jam.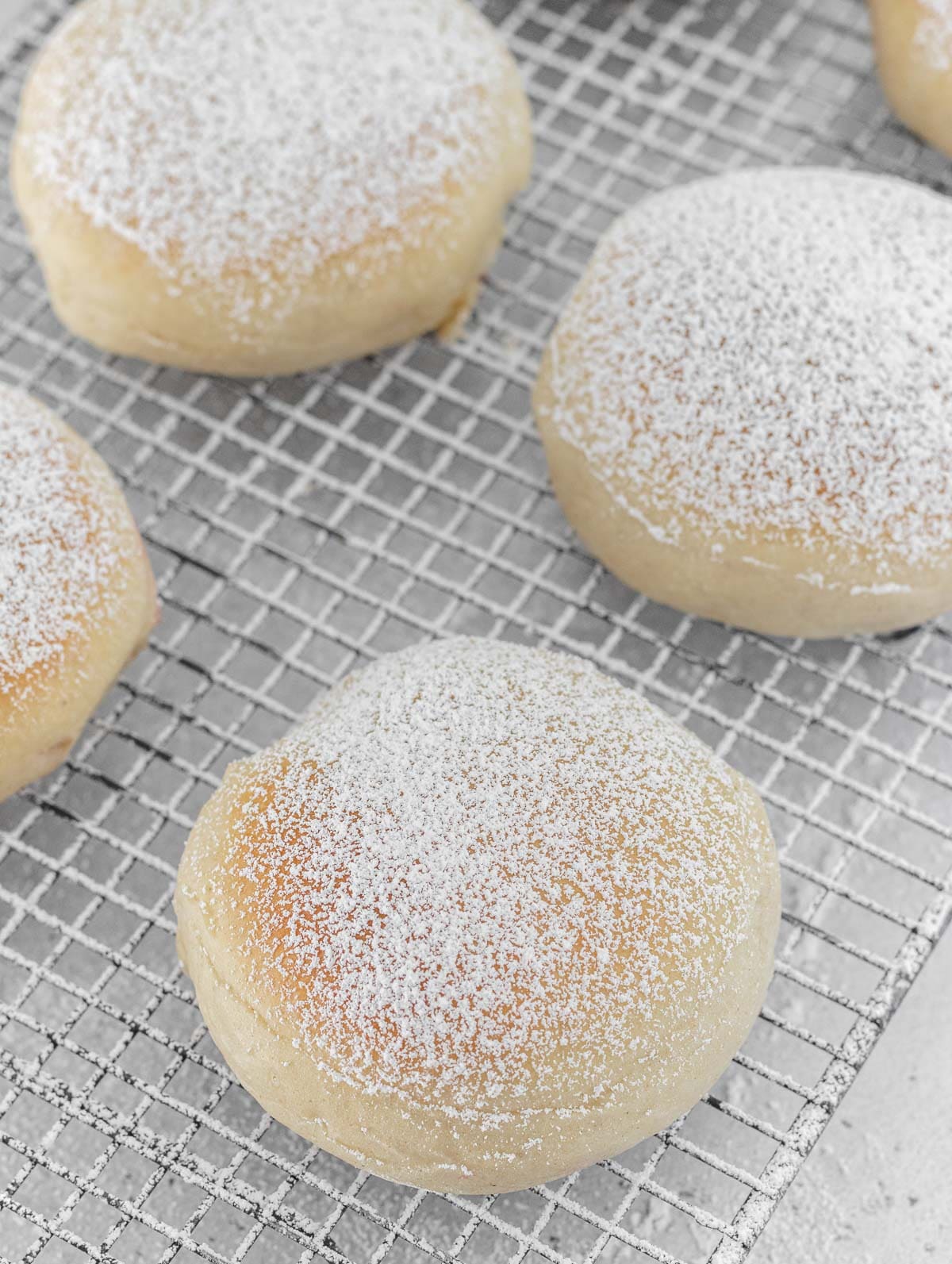 Equipment
You'll need a rolling pin and a round pastry cutter 7.5 cm / 3 inches in diameter. Also a large bowl, a clean kitchen towel, and a clean working surface to knead the dough. Since we bake these in the oven you also need a baking tray with some parchment paper.
Mistakes I made
Too-large pastry cutter: the first time I made bomboloni with a 8.5 cm / 3.34 inches pastry cutter. That is too big because the dough will proof again and will become too large. 7.5 cm / 3 inches is the perfect size.
Too much filling: another mistake I made was to put too much jam on the discs. That made it impossible to properly seal the bomboloni and the jam came out while cooking.
Not making space for the jam: before adding the jam, make sure you create a little pocket by pressing down the center of the dough with your fingers. Also, give the disc a stretch with your hands to make space for the jam.
Flattening the dough too thin: the second time I made these vegan Italian donuts I flattened the dough too thin, and the bomboloni did not turn out plumpy and fluffy as I wished. The dough should be about 1.2 cm thick, not less.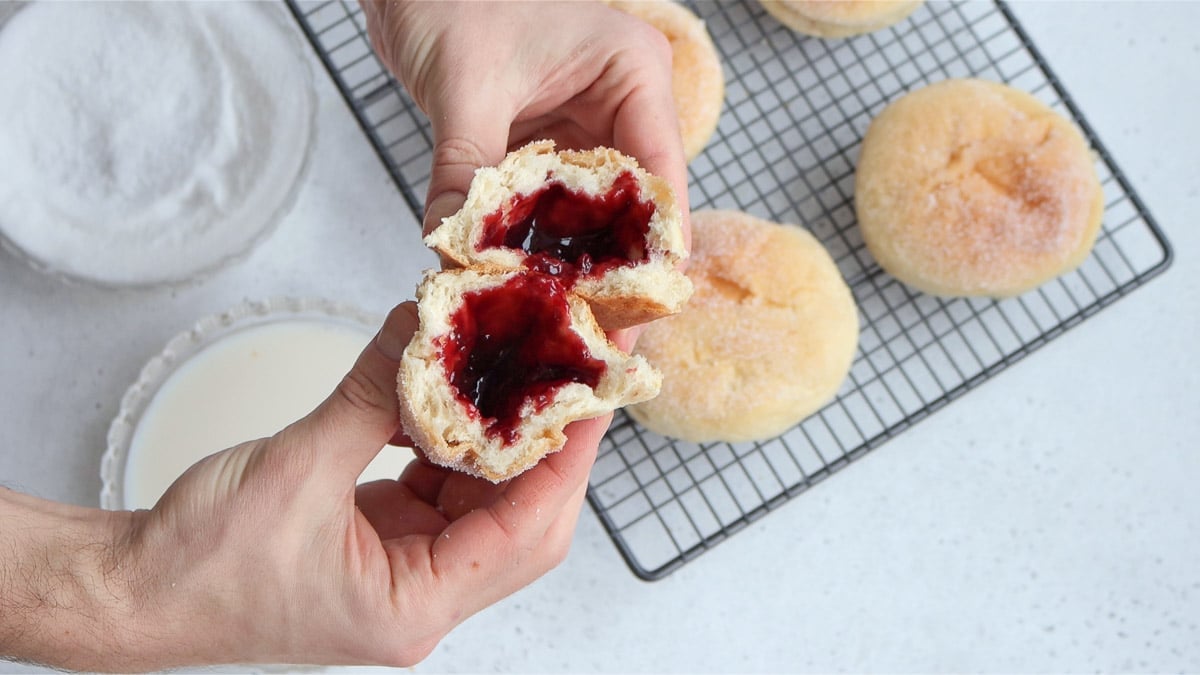 Tips
Let the dough proof. A two step proofing is what makes these oven-baked bomboloni light, airy and delicious. Proof the dough first for 2 hours. Then proof again for another 1 hour after you shaped them.
Don't use a cheap jam. Cheap jams turn into water when heated due to the low fruit content and high sugar content. Opt for a jam that has a high fruit content and fruit pieces in it.
Seal the bomboloni very well. This is essential or else the jam will go out of the bomboloni while cooking.
Don't overcook. Only bake between 15 and 18 minutes. This way they'll stay soft and moist inside. Bomboloni taste better if they are slightly undercook rather than slightly overcooked.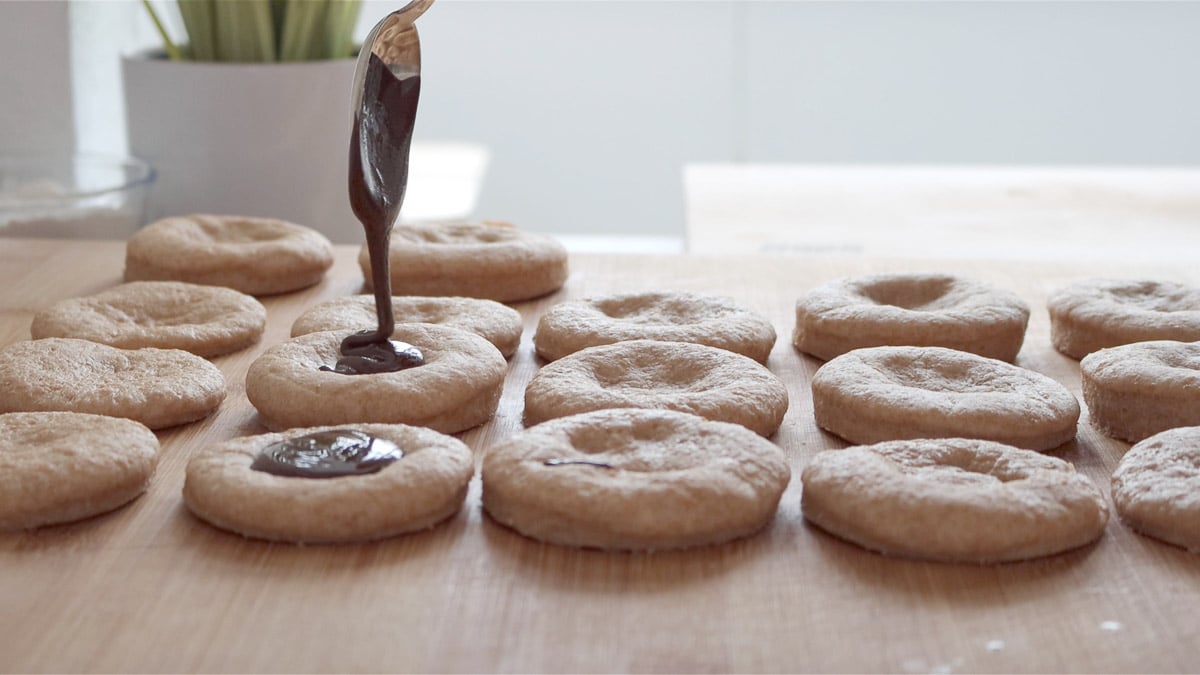 Frequently asked questions
What is the difference between doughnuts and bomboloni?
Bomboloni are basically the Italian version of donuts, or better, donuts are the American version of bomboloni. The main difference is that they do not have a hole in the center. Also, they are made with a 2 step leavened dough that makes them lighter and airier than doughnuts.
What does bomboloni mean?
Bombolone (singular form of bomboloni) means big bomb in Italian. The name probably comes from the shape of this delicious Italian donut.
Where are bomboloni from?
Italy, and especially Tuscany, seems to be the birth place of bomboloni. However, you can find bomboloni allover Italy.
Can I use a stand mixer to knead the dough?
Yes. You can use a mixer or food processor to make the dough.
Can I make bomboloni in advance?
It's possible to make bomboloni only a few hours in advance. They are best eaten soon after they are ready.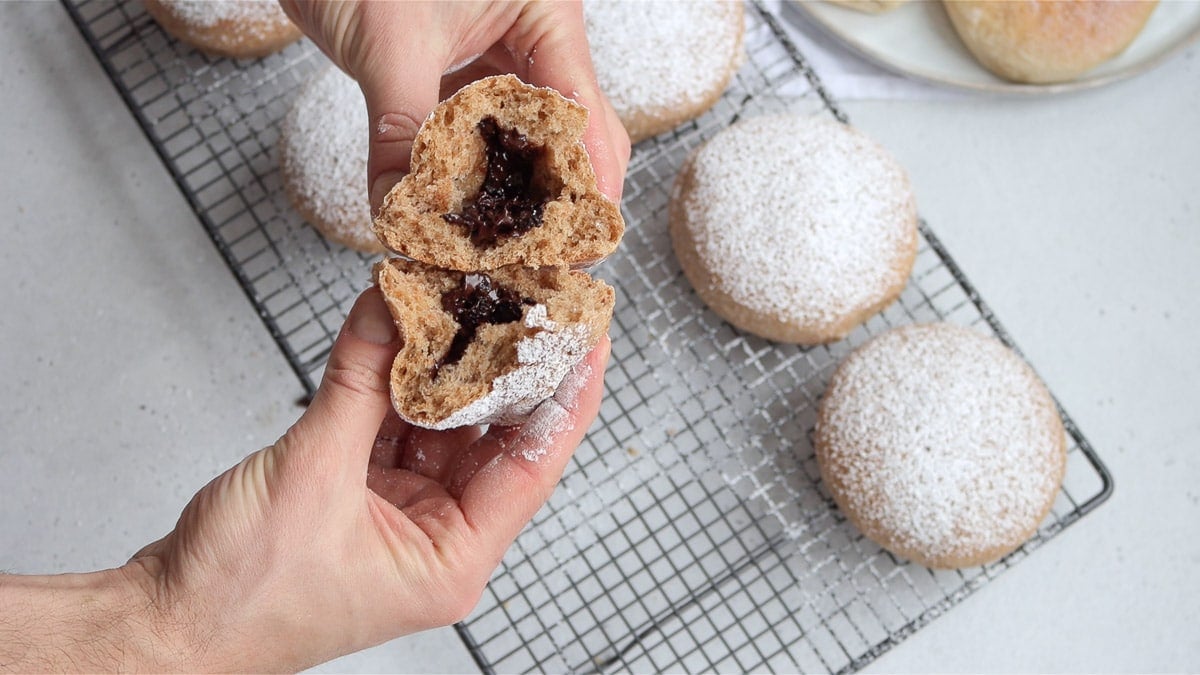 Storage
Bomboloni are best eaten as soon as ready, or at least on the same day. They do not store well and they should not be frozen.
If you have left over oven-baked bomboloni, then store them in an airtight container at room temperature for up to 2 days. If they get too dry, you can eat them dipped in a vegan latte or cappuccino.
Variations
Deep-fried bomboloni
To make deep fried bomboloni you should roll the dough a little thicker at about 2 cm / 0.8 inches thick. Then cut it into discs and deep fry it as is, without filling it. Deep fry in vegetable oil at a temperature of 170C / 338F for a couple of minutes till they are nice, puffy and golden. After frying you can fill them with jam, custard or chocolate spread, but you need to use a pastry piping bag to do so. Sprinkle with sugar and enjoy
Wholegrain Bomboloni
We love wholegrain bomboloni. To make them use the exact same recipe as above, but instead of all-purpose flour use either wholewheat flour or wholegrain spelt flour. They are both delicious and the bomboloni will be even healthier. This version is not recommended for frying, only for baking.
Nutella-filled bomboloni
You can fill bomboloni with our vegan nutella spread. The result is a delicious hazelnut and chocolate-filled Italian donut that every one will love.
Custard-filled bomboloni
Pick your favourite vegan custard from our list of easy and delicious vegan pastry cream and use it to fill your oven-baked bomboloni. You can use regular custard, coffee-flavoured custard or pistachio custard.
Recipe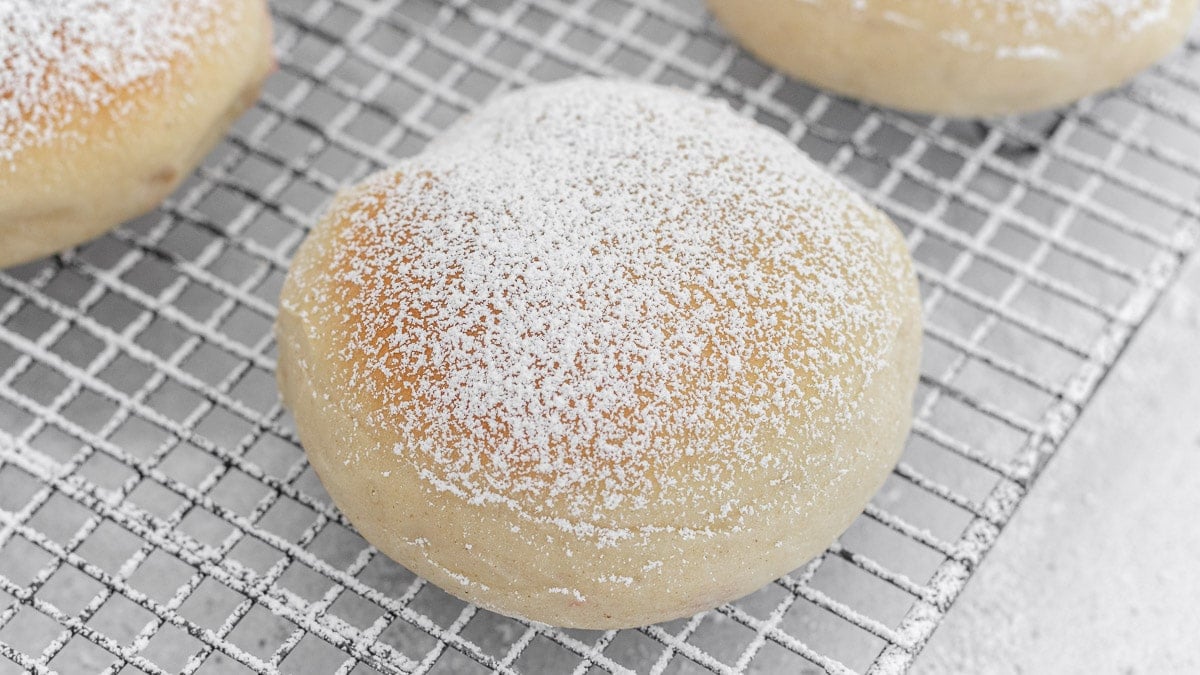 Vegan Bomboloni - Italian Doughnuts
Bomboloni are Italian doughnuts made with a soft leavened dough. They are filled with chocolate, jam, or custard, and covered in sugar. Our vegan oven-baked bomboloni are super soft, sweet, light, airy and delicious. Our recipe follows the traditional Italian method of making bomboloni, but it's free of butter, milk, and eggs.
Equipment
Rolling pin

Round pastry cutter 7.5 cm / 3 inches in diameter
Ingredients
500

g

flour

all-purpose, wholegrain, spelt

100

g

sugar

white, brown

7

g

instant dry yeast

150

g

water

100

g

soy milk

60

g

sunflower seed oil

1

teaspoon

vanilla extract

1

pinch

salt

250

g

your favourite jam

sour cherry, apricot, blueberry
Instructions
Sift the flour in a large bowl, then add sugar, yeast, and give it a stir. Add soy milk and water at a lukewarm temperature. Then sunflower seed oil and mix with a spatula.Add a pinch of salt and keep mixing until all the ingredients come together. Transfer on a worktop and knead vigorously with your hands for at least 5 minutes.Your dough should be smooth, soft, very moist and almost sticky.

Brush the inside of a large clean bowl with some oil. Then put in the dough ball, and brush it with a thin layer of the oil. Cover the bowl with a moist kitchen cloth. Let proof the dough for 2 hours in a warm space.TIP: you can turn your oven on for 40 seconds to make it slightly warm. Then turn it off and let the dough proof in it.

After proofing, transfer the dough onto a clean worktop. Flatten it with your hands and fold it on itself once or twice. Then with the help of a rolling pin, roll it down to 1.2 cm (0.5 inch) thick.TIP: your dough should be very very moist and soft. You should try not to use any flour. If your dough is too sticky just use a little flour.

With a round pasta cutter, cut as many discs as you can. We recommend using a pasta cutter that is 7.5 cm (3 inches) in diameter. This will yield bomboloni that have a 10cm diameter once cooked.

With your fingers, push down gently at the centre of each disc to create space for the jam. Fill half of the discs with a scant tablespoon of jam. If the discs shrink, you can stretch them a bit with your hands to make space for the jam.

Brush the edge of the discs with water, then put an empty dough disc on top of one with jam. Seal them well together by pinching them together with your fingers.

Once they are all well sealed, cut them again with the pasta cutter to create a perfectly round bomboloni shape. Now take all the dough scraps, put them together, and make more bomboloni until you run out of dough. You should be able to get between 9 to 12 bomboloni.

Put the bomboloni on a baking tray lined with parchment paper. Leave some some distance between them and let them proof a second time for 1 hour.

Preheat the oven to 180C / 356F. Bake the bomboloni for about 16 minutes. TIP: baking will take between 15-18 minutes depending on the oven. So keep a close eye on them, they should not be too brown on top.

Once cooked, top your bomboloni with either sugar or powder sugar and enjoy.

Sugar coating: dip you bomboloni in plant milk then dip them in regular white sugar.Powdered sugar: with a sieve, sprinkle powdered sugar on top of your bomboloni.
Notes
MEASUREMENTS
We recommend using the metric system for this recipe.
Nutritional Values
Nutrition Facts
Vegan Bomboloni - Italian Doughnuts
Amount per Serving
% Daily Value*
* Percent Daily Values are based on a 2000 calorie diet.
Did you like this recipe?
Leave us a comment below or find us on Instagram, YouTube, Pinterest, TikTok, and Facebook.