These mini apple tarts are the perfect treat for a mid-morning snack, or for a cozy tea break in the afternoon. They are pretty, crunchy, filled with fresh apples and raisins, and made with a delicious vegan shortcrust pastry that is super easy to make.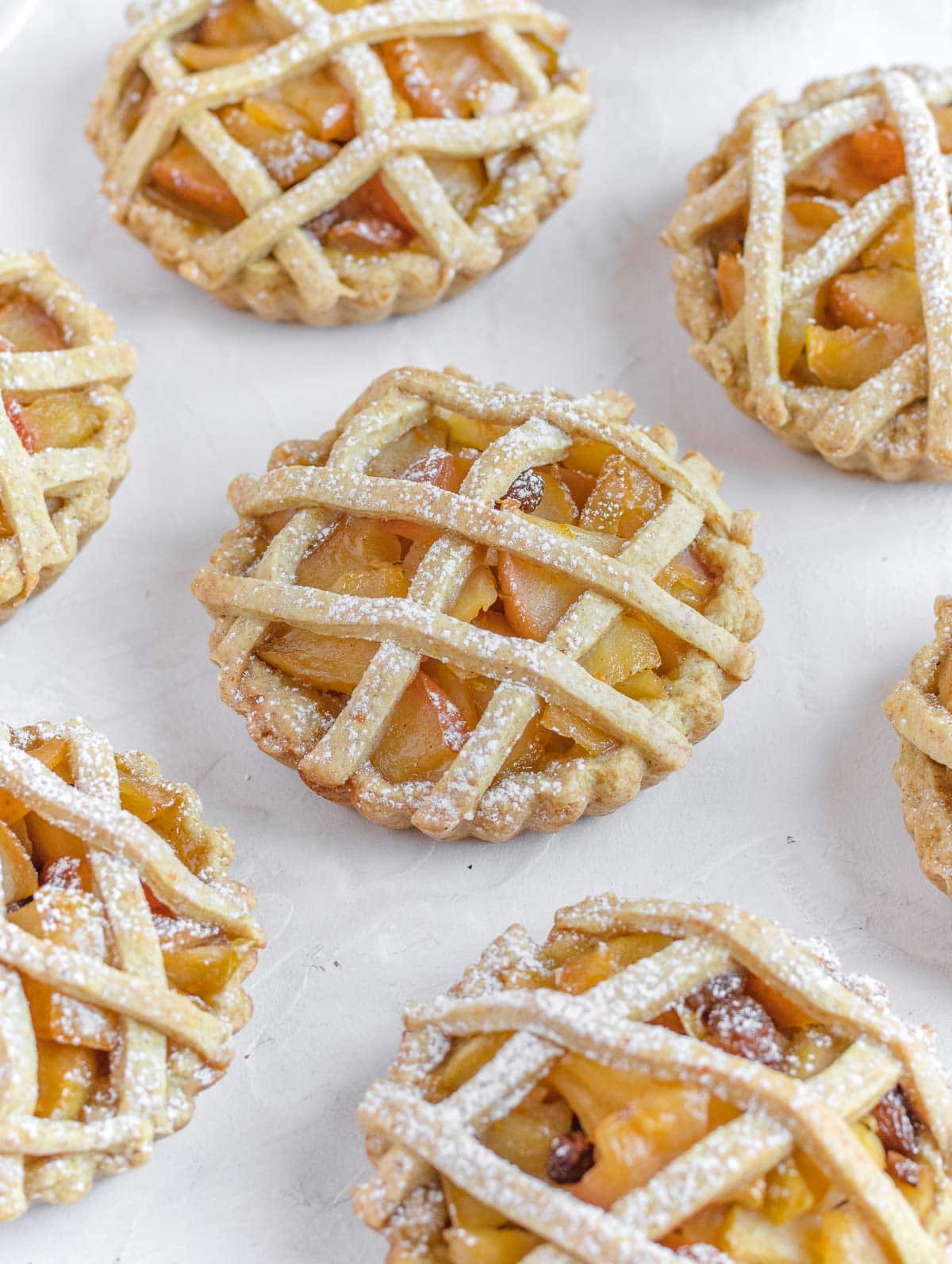 On this page:
Check out our best vegan pie and tart recipe collection!
What are mini apple tarts?
Mini apple tarts are known as "crostatine" in Italy. They are basically a small, snack-friendly version, of crostata - an Italian pie usually filled with jam. If you come to Italy you will find crostatine made with all kinds of fillings, from nutella to jams, and fresh fruits.

Since we had a ton of delicious red Italian apples lying around in our kitchen we decided to make crostatine - mini tarts - with them. If you don't have mini tart pans you can use a regular 9-inch pie dish.

In Italy, apples are mostly grown in the northern most regions of Südtirol and Trentino, and if you ever have the chance to drive around their breathtaking peaks and valleys, you won't be able to miss the tidy apple fields that stretch all around.

And the filling of our mini apple tarts is inspired by northern Italian tradition, and it's similar to the filling for apple strudel. The combination of crispy shortcrust pastry with a sweet apple, cinnamon, raisin, and orange filling is just perfect!
If you want to learn more about vegan crostatas check out our Vegan Italian Crostata recipe.
Ingredients & Substitutions
For the shortcrust pastry
Flour: you can use really any flour for these mini apple tarts. Here we use semi-wholegrain flour but you can use all-purpose, spelled, wholegrain, oat flour, and many others.
Sugar: you can use any sugar in granular form. We tested both unrefined cane sugar and regular white sugar. They both work.
Sunflower seed oil: that's our favorite vegetable oil for baking. It's affordable and it doesn't have much flavor. You can replace it with any other vegetable oil.
Water: for vegan crostata we prefer to make our shortcrust pastry with water rather than plant milk because it yields a crunchier shortcrust pastry.
Citrus zest: orange, lemon, or lime. Grate their zest to add flavor to the base of the crostata. We prefer orange here.
Vanilla: extract, essence, aroma, or real vanilla beans, anything will work in this recipe. We use it to flavor the base of the crostata.
Baking powder: this will help make the pie a tiny bit more fragrant. Do not leave it out.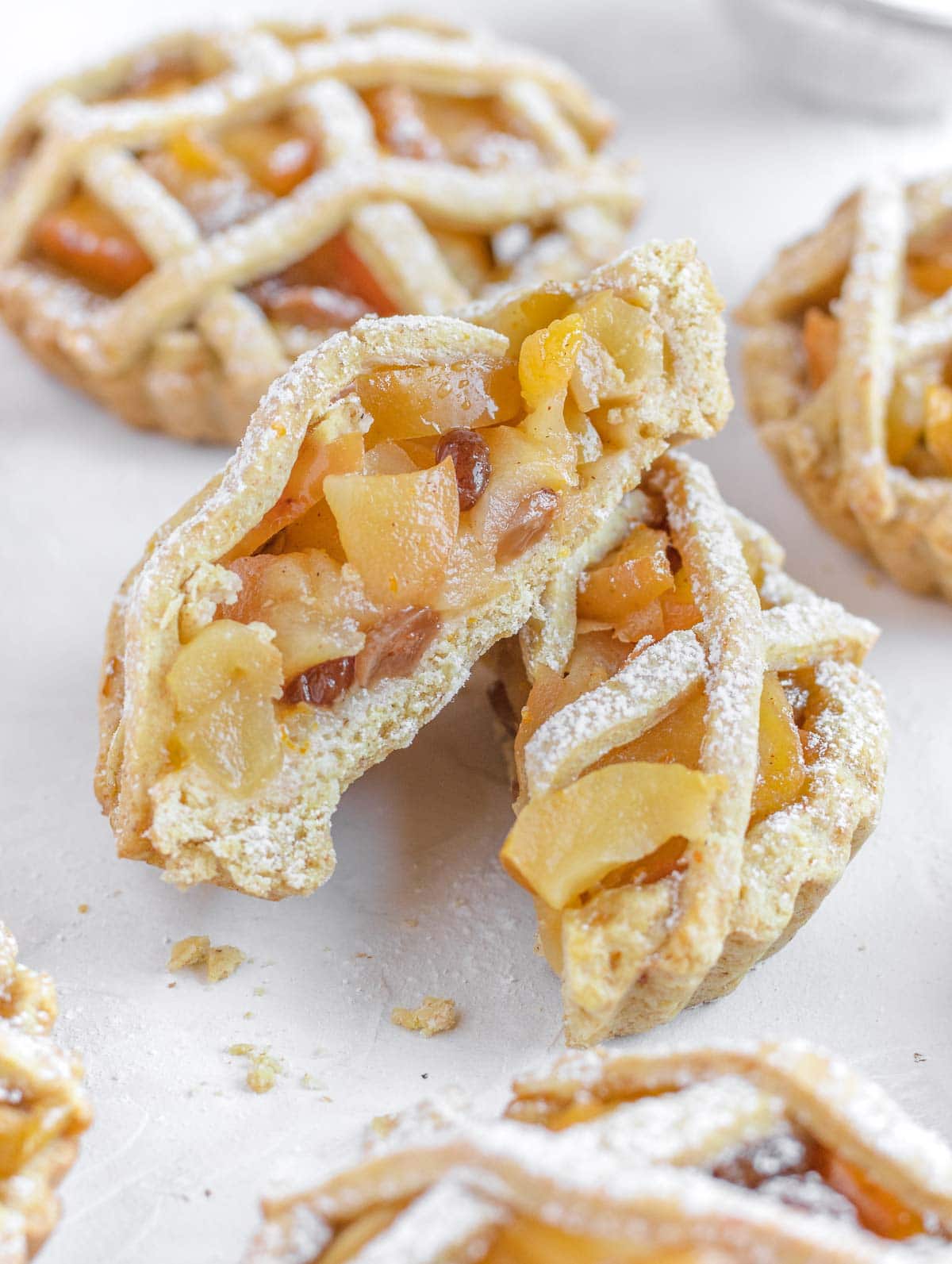 For the apple filling
Apples: any sort will work. We use organic ones since we keep the peel on.
Raisins: to add texture and sweetness to the filling.
Sugar: just a bit to add sweetness. The amount depends on how sweet your apples are. Our apples are quite sweet so we only add a scant tablespoon.
Cinnamon: our favorite spice to combine with apples.
Orange: we use both the juice of 1 orange and the zest of ½ of the same orange. It really works well in this recipe. It adds both flavor and a touch of natural sweetness.
Water: to help the apples cook.
Equipment
For this recipe, you'll need either 9 mini tart pans 4-inch (10cm) each in diameter, or the more common 9-inch pie dish. We got our mini tart pans off amazon and the crostatine are super cute and fun to eat in this shape. But the larger pie dish works great too, and 1 large crostata is faster to make than 9 small ones.
Mistakes I made
Kneading too much: the biggest mistake I made the first time around was to knead the dough too much. Please DO NOT knead the dough for more than a few seconds. Kneading will develop the gluten network and your mini apple tart won't be as fragrant and crisp.
Too much sugar: I added too much sugar to the apple filling. Before adding sugar, make sure you know your apples. If they are sweet you won't need more than a tablespoon of sugar. Also, keep in mind that the raisins add quite a bit of sweetness too.
Tips
Use fresh apples: if you can, don't use jams for this crostata. Jams are packed with soo much sugar, and very little fruit. Making your own apple filling is a much healthier and much more delicious alternative. Apples are full of fiber, vitamins, and antioxidants that will help slow down the absorption of sugar in your tarts.
Use a less refined flour: if you can, try to avoid using cake flour or all-purpose flour as they contain pretty much zero flavor, little nutrition and very little fibre. Fibre helps slowing down sugar absorption and keeps your digestive system healthy. Opt for a semi-whole-wheat flour or even for a full whole-wheat flour. They both work great in our recipe.
Frequently asked questions
Can I make crostata gluten-free?
Yes. You can sub the flour with gluten free flour. The base of your crostata might not be as sturdy as with regular flour, but it will still taste good and you'll be able to eat it with a fork.
Can I use a different fruit?
Yes, you can use any type of fruit jam for your crostata. We recommend following the season. If you do it in spring/summer go for strawberry, peach or apricots. If you do it in winter go for chocolate, apples, citrus, etc. Check out our post for Italian crostata to see some options.
Can I fill the apple tarts with vegan custard?
Yes. You can add vegan custard on its own, or mix it with the apple filling for a delicious variation of this recipe.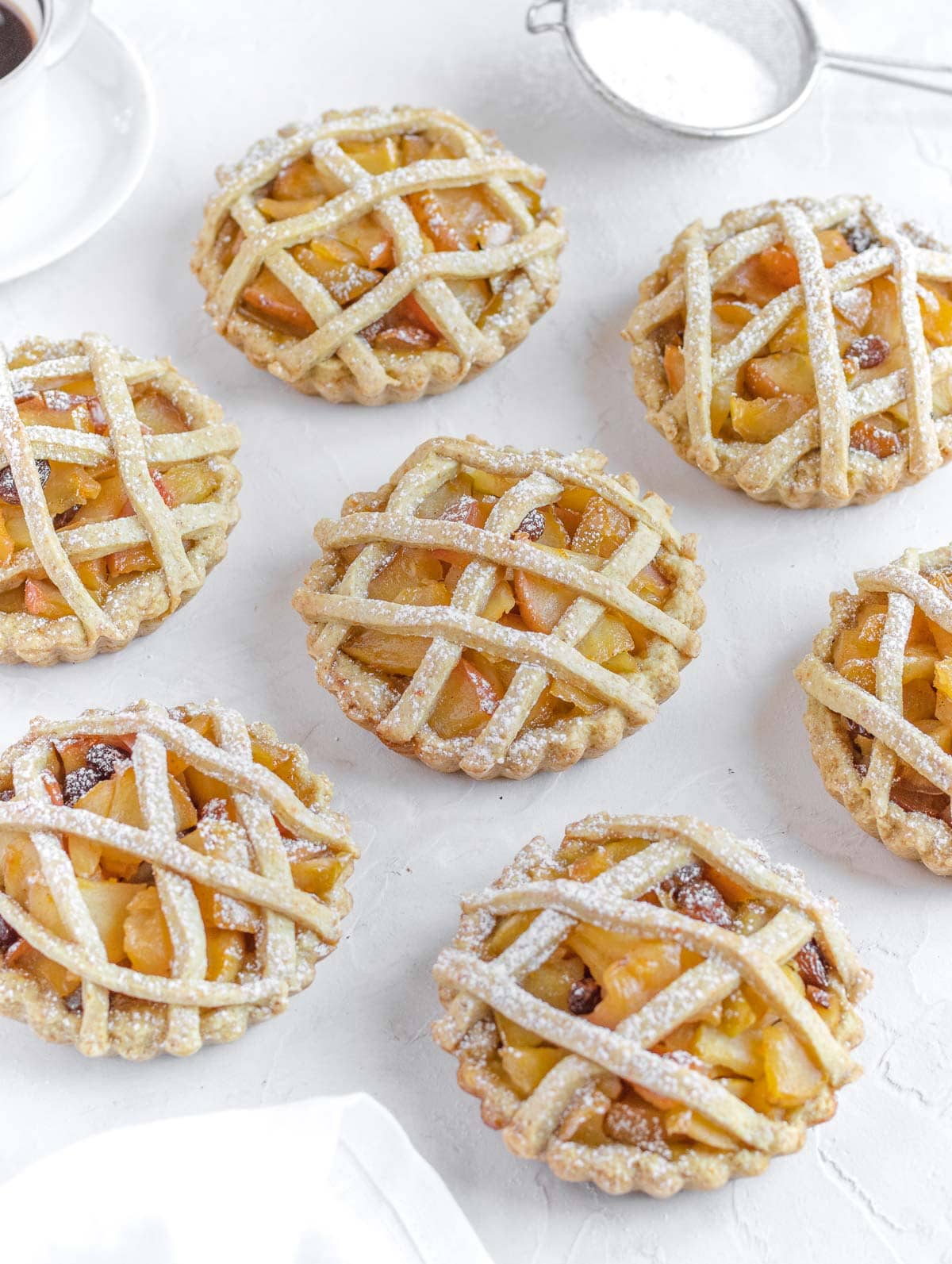 Storage
The best way is to keep them up to 4-5 days in a dry and cool place stored with a cake cover. You can also store them in the fridge for up to a week, however, make sure you wrap them up well or they'll absorb weird flavors from your fridge.

Also, it is likely that in the fridge they'll become a bit soggy as the crust tends to absorb moisture when stored in the fridge.

Can I freeze the mini apple tarts?
Yes, but we don't recommend it because it is likely that the crust will absorb moisture and won't be as fragrant as freshly made.

If however, you decide to freeze them you have two options. One, freeze raw before you bake it. Then on the day you want to bake you need to let it unfreeze for two hours before baking them.

Two, freeze it cooked. In this case, once thawed, you can warm them up in the oven for a few minutes before serving. In both cases, you can only freeze it for up to one month.
Variations
An eye-catching dessert that will wow your friends and family thanks to its popping colour and flavor. Our tart is made with a crunchy shortcrust pastry base, filled with a smooth and creamy vanilla custard, and topped with sweet fresh strawberries.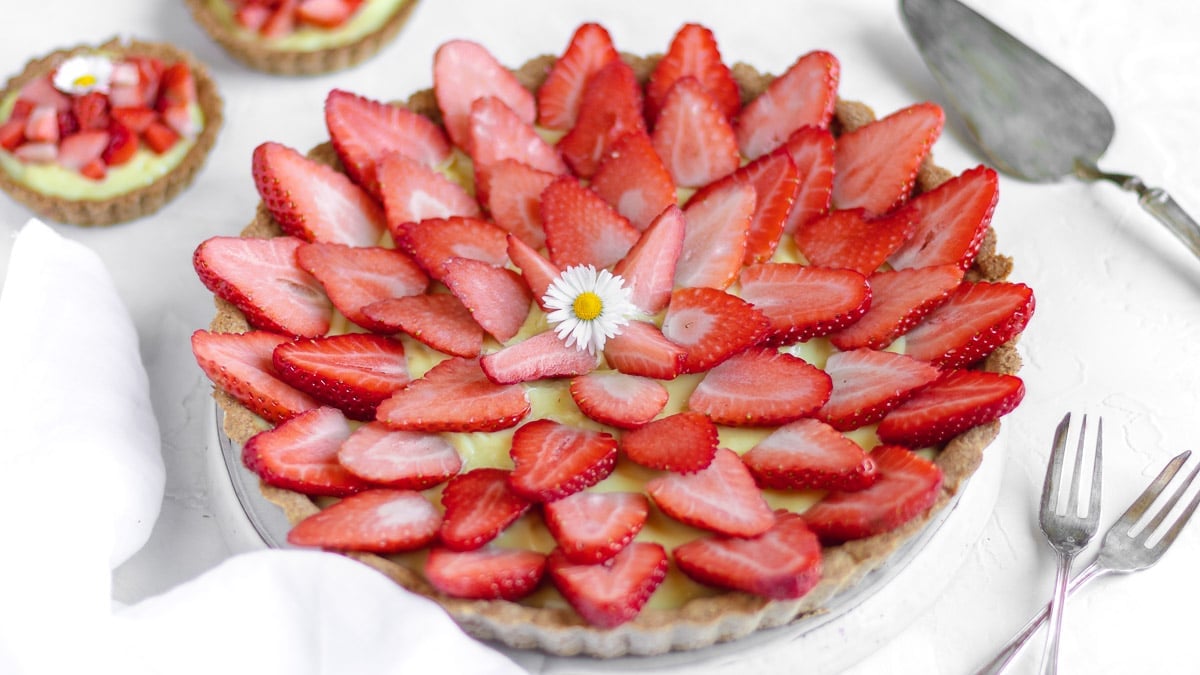 In this blog post, we will show you how to make a vegan crostata, just like the one made in Italy. And because we love crostata so much, we made 3 different variations: a classic strawberry jam crostata, a wholegrain crostata with apricot jam and an oatmeal crostata with blueberries.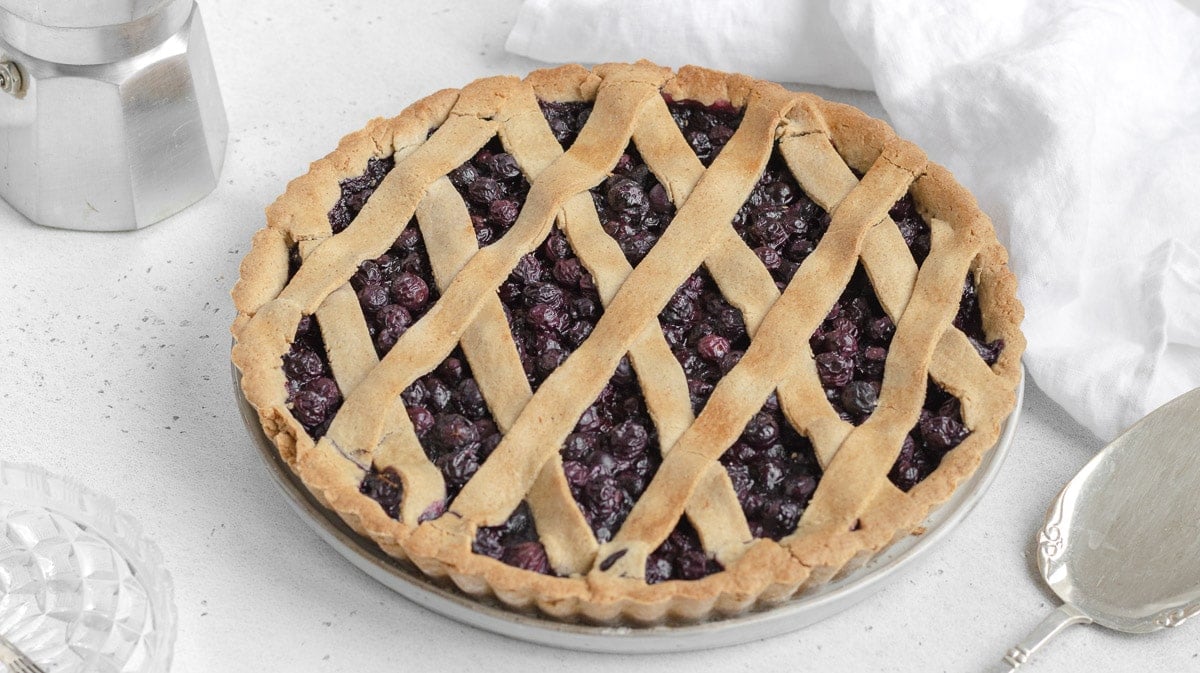 This beautiful and delicious fruit tart with lemon custard is a classic Italian pastry recipe that everyone loves. It's egg-free, dairy-free, and made with whole grain flour and plenty of fresh seasonal fruit.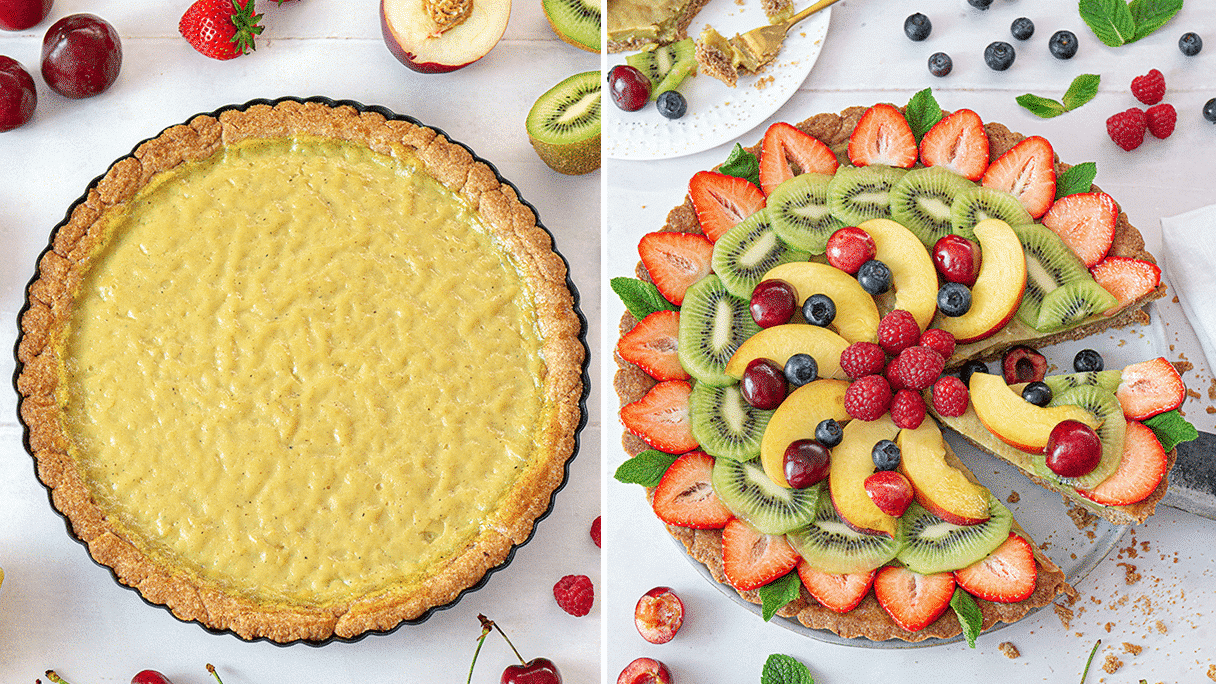 For many more easy dessert ideas, check out our desserts category page.
Recipe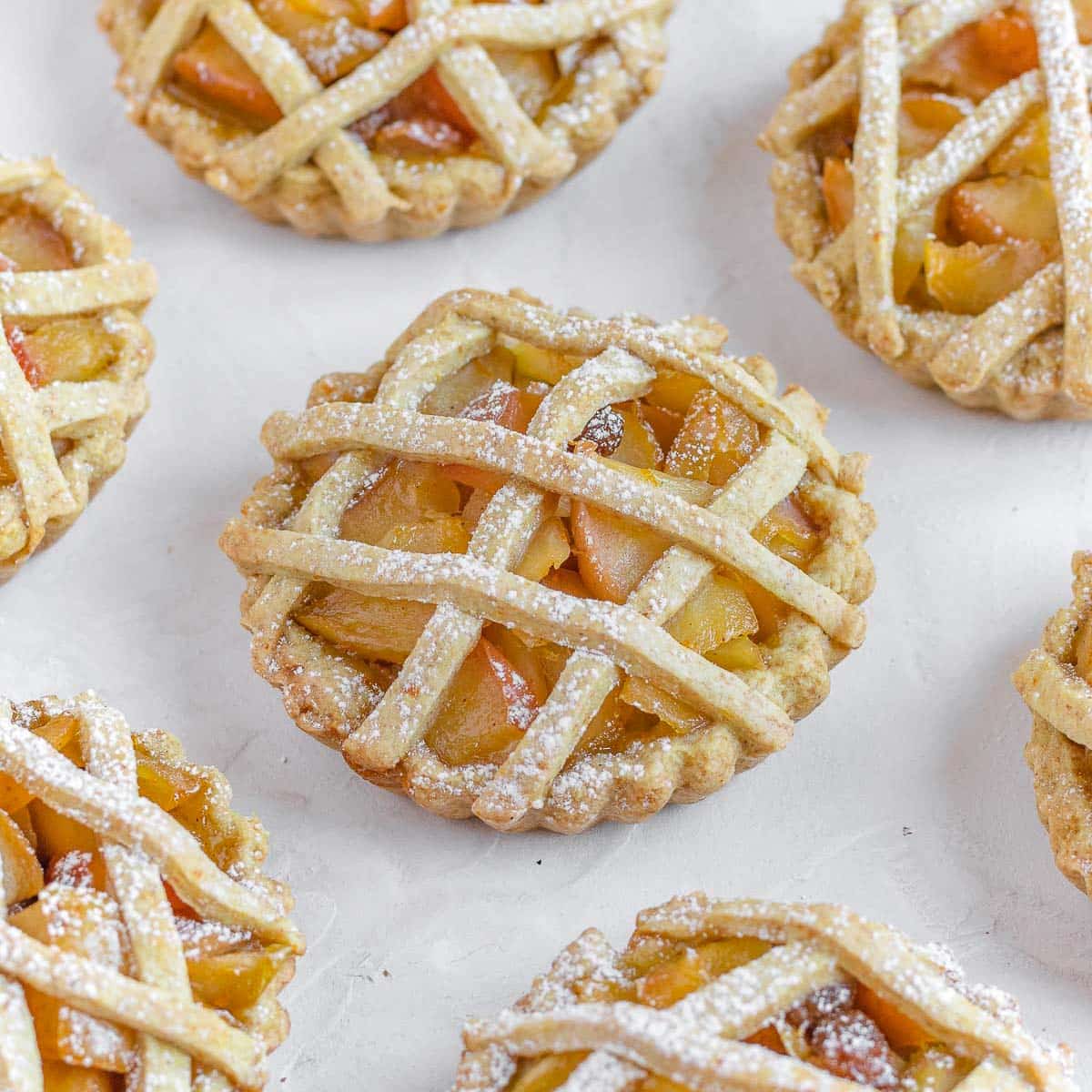 Mini apple tarts - Italian Crostatine
These mini apple tarts are the perfect treat for a mid morning snack, or for a cosy tea-break in the afternoon. They are pretty, crunchy, filled with fresh apples and raisins, and made with a delicious vegan shortcrust pastry that is super easy to make, and even easier to eat! In Italy, we call mini tarts "crostatine" and we even eat them for breakfast!
Equipment
4-inch (10 cm) mini tart pans or 1 large 9-inch (24cm) pie dish.
Ingredients
For the shortcrust pastry base
300

g

bread flour

or whole-wheat

100

g

sugar

80

g

sunflower seed oil

70

g

water

1

orange

zest

1

teaspoon

vanilla aroma

8

g

baking powder

1

pinch

salt
For the apple filling
3

big

apples

2

tablespoon

raisins

1

teaspoon

cinnamon

1

tablespoon

sugar

1

orange

the juice, and ½ orange zest

½

cup

water
Instructions
For shortcrust pastry base
To a bowl, add flour, baking powder, sugar, salt, and grated zest of an orange. Give it a stir. Then add water, oil, vanilla aroma, and mix with a spoon till the ingredients come together.

Mix the dough a few more times with your hands until it all sticks together. Don't over-mix. Set aside while you prepare the apple filling.
For the apple filling
Add chopped apples , raisins, sugar, the zest of half an orange, the juice of one orange, water and cinnamon to a pot, and simmer on medium heat for about 10 minutes. The apples should be soft but not mushy. Turn off the heat and set aside.
Build the mini apple tarts
Preheat the oven to 180C / 356F. Prep your mini tart pans by greasing them with some oil. Then dust them with a pinch of flour. We used nine 4 inches (10 cm) mini tart pans.

Flatten ¾ of the dough down to ⅛ of an inch thick (3-4mm). Roll the dough around the rolling pin then carefully un-roll it over the mini tart pans. Press the dough with your fingers so that it fits snuggly into each tart, then cut off the excess dough.

With a fork, make some holes into the base of the tarts. Then Put a couple of spoons of apple filling into each tart.

Put the leftover dough together without kneading it too much. Then flatten it very thin and cut it in thin stripes that are about 2mm thick and 3 mm wide.

Cover each mini tart with 6 stripes of dough.

Bake at 360˚F / 180˚C for about 20 to 25 min. The tart is ready when slightly golden on top. Let cool down for 10 minutes before taking them out of the tart pans, then optionally sprinkle with powdered sugar before serving.
Notes
MEASUREMENTS
We recommend using the metric system for this recipe.
Nutritional Values
Nutrition Facts
Mini apple tarts - Italian Crostatine
Amount per Serving
% Daily Value*
* Percent Daily Values are based on a 2000 calorie diet.
Did you like this recipe?
Leave us a comment below or find us on Instagram, YouTube, Pinterest, TikTok, and Facebook.
You might also like