Our spinach pesto is an easy dairy-free recipe that you can make in 5 minutes in a food processor.
We use tofu to make the spinach pesto recipe creamy and nutritious. You can use the pesto with your favorite pasta, spread it on a sandwich, or as a pizza topping.
On this page:
Check out our best tofu recipe collection!
Creamy, light, nutritious, and super easy to make. This spinach pesto made with tofu and spinach is a winner for a last-minute, quick, and easy dinner.
Honestly, vegan pesto is surprisingly simple to make and is an excellent way to use up veggies leftovers since you can make it with most veggies.
In this recipe, the fresh spinach gives a bright green color while also making the pesto tasty and nutritious. It pairs perfectly with pasta topped with grated lemon zest.
If you love pesto, give this recipe a try. For more pesto ideas, check out our basil pesto recipe, or go to our zucchini pesto, artichoke pesto, red pepper pesto, or arugula pesto. They are all simple and delicious recipes.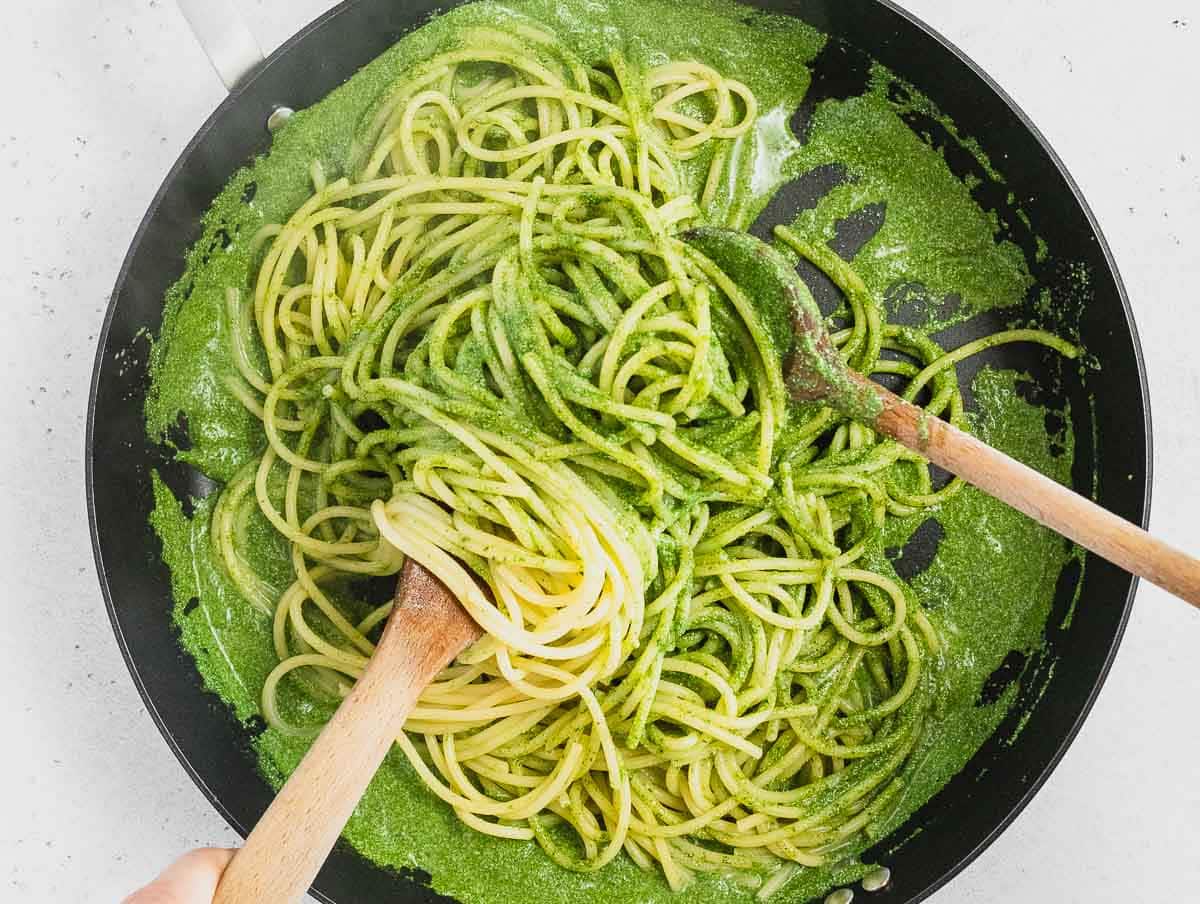 Ingredients
Spinach
We prefer to use fresh spinach leaves, such as baby spinach. However, frozen spinach work too.
Tofu
We use firm tofu to make a creamy pesto that is not too liquid.
Almonds
Almonds add healthy fats and texture. You can replace almonds with cashews, macadamia, pine nuts, and walnuts.
Water
It helps get the blender going.
Olive oil
Choose a good quality extra virgin olive oil.
Nutritional yeast
Optional, but we recommend it if you want to give the pesto a cheesy flavor. Together with the almonds, Nutritional yeast makes a good substitute for parmesan cheese.

If you are not vegan, you can replace nutritional yeast with parmesan cheese or pecorino romano.
Lemon juice
We use lemon juice for freshness and acidity.
Garlic
Fresh garlic cloves go well in most pesto recipes, including this one.
Instructions
To make spinach pesto, you'll need fresh or frozen spinach that you'll cook in a pan with a bit of oil, garlic, and a pinch of salt until most of the cooking water of the spinach has evaporated.
It'll take you about 5 minutes with the fresh spinach. 
Let them cool a bit and in the meantime, prepare the bowl of a food processor and add in firm tofu, almonds, water, extra virgin olive oil, salt, pepper, nutritional yeast, the cooked spinach, and garlic with which we cooked the spinach.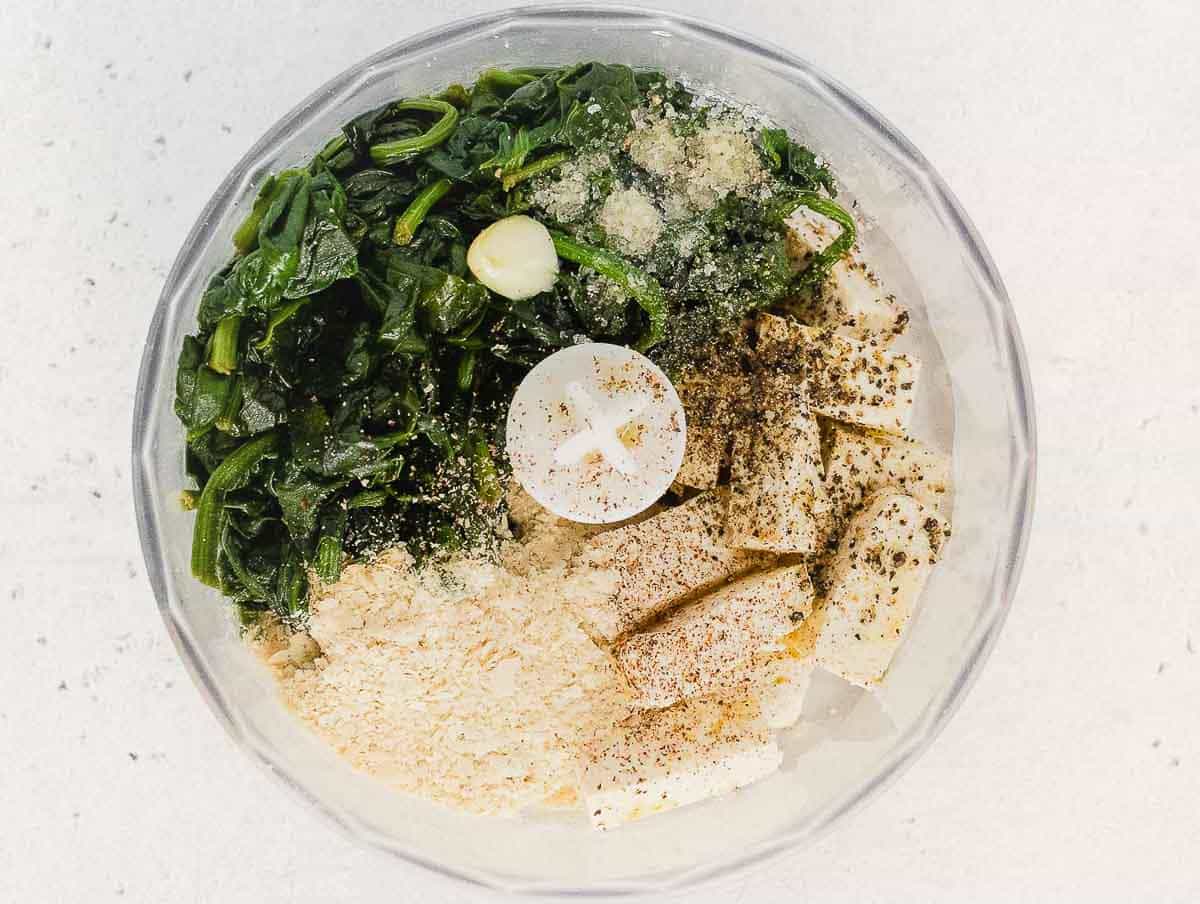 Blend for one to two minutes until you get a pesto-like consistency, then taste and adjust for olive oil and salt.
Serving suggestions
Use spinach pesto with pasta
To use this pesto in a pasta dish, heat it for two minutes in a pan with a ladleful of pasta cooking water to turn it into a spinach pesto sauce.
Cook the pasta in a large pot with plenty of salted boiling water. Then drain the pasta al dente and add it to the pan.
With our doses for the pesto, you'll serve 6 to 8 people, depending on how much you dilute it with water. 
Toss the pasta in the pan for a minute, adding a little cooking water if needed, then serve. I serve about 80 grams of pasta per person here.
Tofu is a great way to add plant-based protein to pasta, improving its nutritional profile.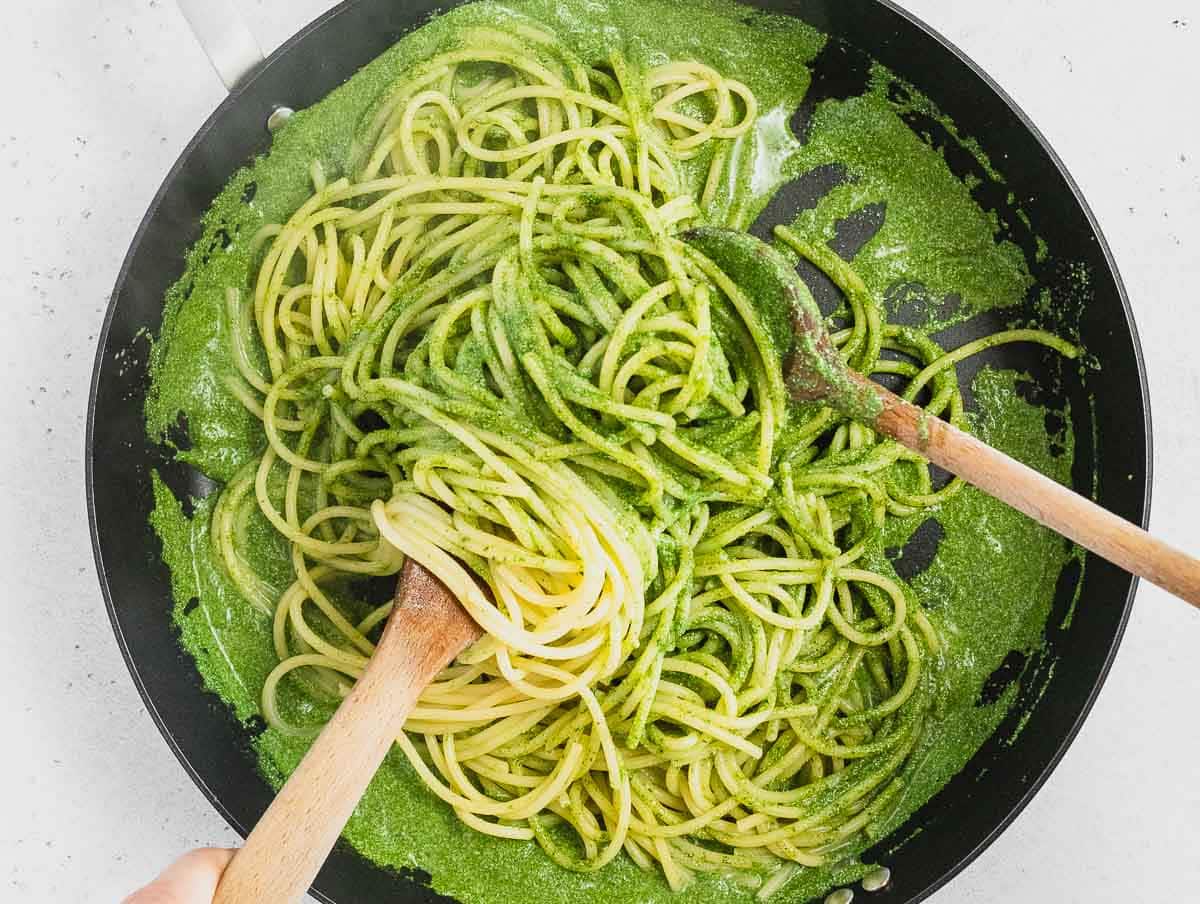 Then if you like, grate some lemon zest on top to add a touch of freshness.

This recipe is healthy and nutritious and can be prepared quickly.
Variations
Spinach basil pesto
Would you like to have a light basil flavor? Then you can add a packed cup of fresh basil leaves to the other ingredients to make turn this recipe into a beautifully aromatic spinach basil pesto recipe.

You can also choose a different vegetable to make the pesto with. Try artichokes, sun-dried tomatoes, or even arugula and zucchini.
Storage
Store whatever is leftover from the spinach pesto in the fridge for up to a week or in the freezer for up to 2 months.

To thaw, add it to a pan with a bit of pasta water to help melt it. You can also thaw it in the refrigerator, it'll take longer, but it will work.
More Pesto Recipes
This easy and protein-rich spinach pesto is an excellent addition to pasta, sandwiches, and drizzled on vegetables. For more pesto inspiration, see these other colorful condiments:
Or get more ideas for easy dressings and sauces with our best 25 vegan sauce recipes.
More Tofu Recipes
Recipe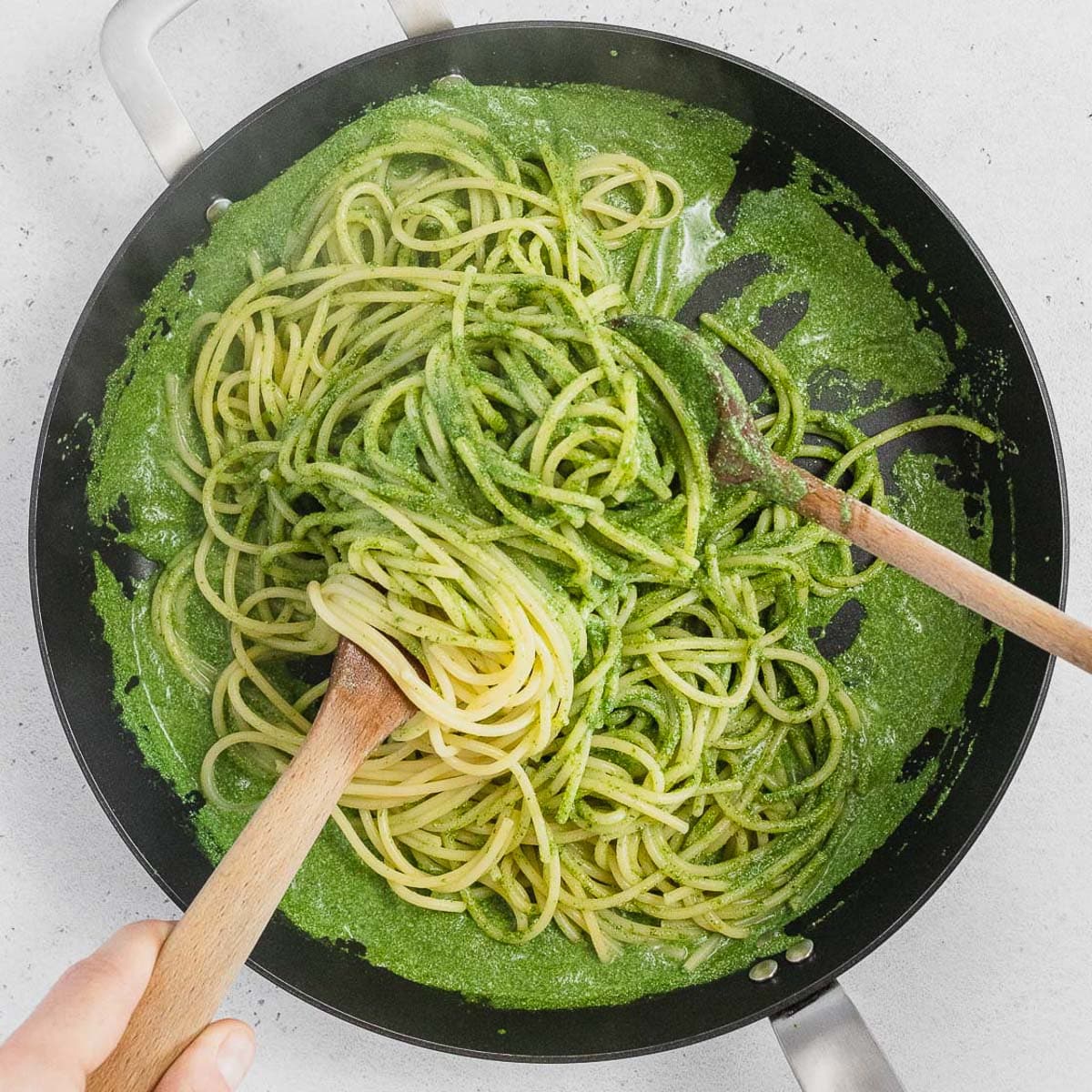 Spinach pesto
Our spinach pesto is an easy dairy-free recipe that you can make in 5 minutes in a food processor.We use tofu to make the spinach pesto creamy and nutritious. You can use the pesto with your favorite pasta, spread in a sandwich, or as a pizza topping.
Equipment
1 Blender

or food processor
Ingredients
7

ounces

spinach

2

ounces

firm tofu

⅓

cup

almonds

⅓

cup

water

4

tablespoons

olive oil

extra virgin

2

tablespoons

nutritional yeast

1

clove

garlic

1

teaspoon

salt

2

twists

pepper
Instructions
On a non-stick pan, cook the spinach till they are completely soft and their water has evaporated.

To a blender, add all the ingredients including the cooked spinach and blend till you get a a creamy pesto.Taste and add more salt or more nutritional yeast based on your taste.

Before serving the pesto, warm it up in a pan with some pasta cooking water, then add the pasta, mix well, and serve with some grated lemon zest on top.

Store in an airtight container in the refrigerator for up to a week.
Video Recipe
Nutritional Values
Nutrition Facts
Spinach pesto
Amount per Serving
% Daily Value*
* Percent Daily Values are based on a 2000 calorie diet.
Did you like this recipe?
Leave us a comment below or find us on Instagram, YouTube, Pinterest, TikTok, and Facebook.
If you liked this recipe, you might also like: