Homemade trofie with vegan basil pesto is our take on a traditional Italian dish made for centuries on the Ligurian Riviera in Genova. We show you how to make trofie at home like in Italy with just two ingredients.

Then we make a delicious, creamy basil pesto sauce that is 100% plant-based.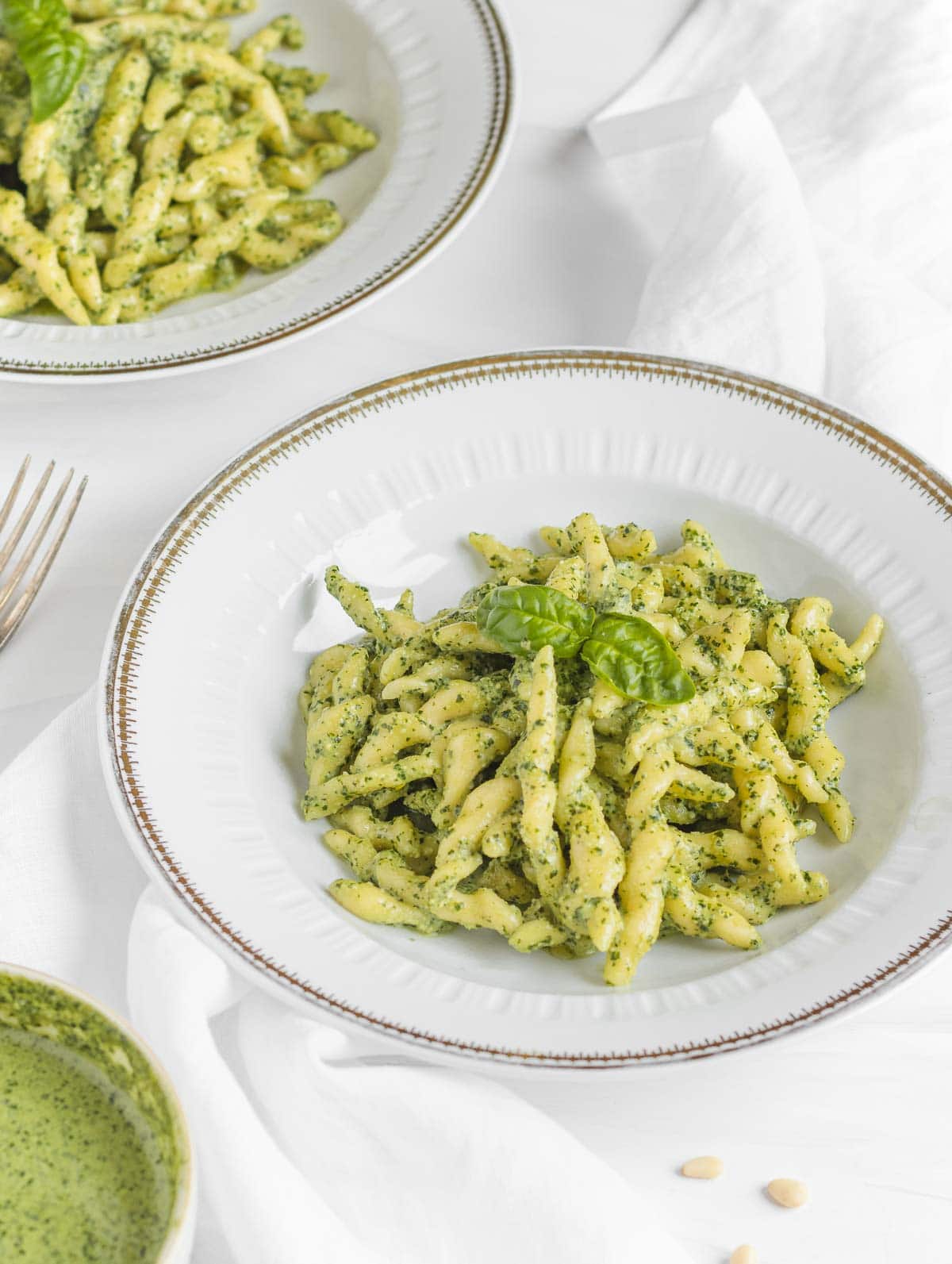 On this page:
What is trofie pasta?
Trofie is a short, thin, twisted pasta from Liguria, Northern Italy made by pushing and rolling the dough on a worktop with the palm of your hand.

Of the 350+ types of pasta we have in Italy, trofie is definitely one of our favorites because they are just too much fun to make. The technique is very simple, I show you below in a short video, and their texture is irresistible!

Over time we refined our vegan basil pesto recipe, the perfect sauce to pair with homemade trofie. Our pesto recipe is a very simple one, and despite the absence of parmesan cheese, it's still super creamy and packed with flavor.
Ingredients & Substitutions
For the homemade trofie
Semolina flour: called "semola di grano duro rimacinata" in Italian, this is basically flour made from durum wheat, rather than regular wheat. It's coarser and more yellow than regular wheat flour.
Water: hot water is best. It helps hydrate the semolina flour.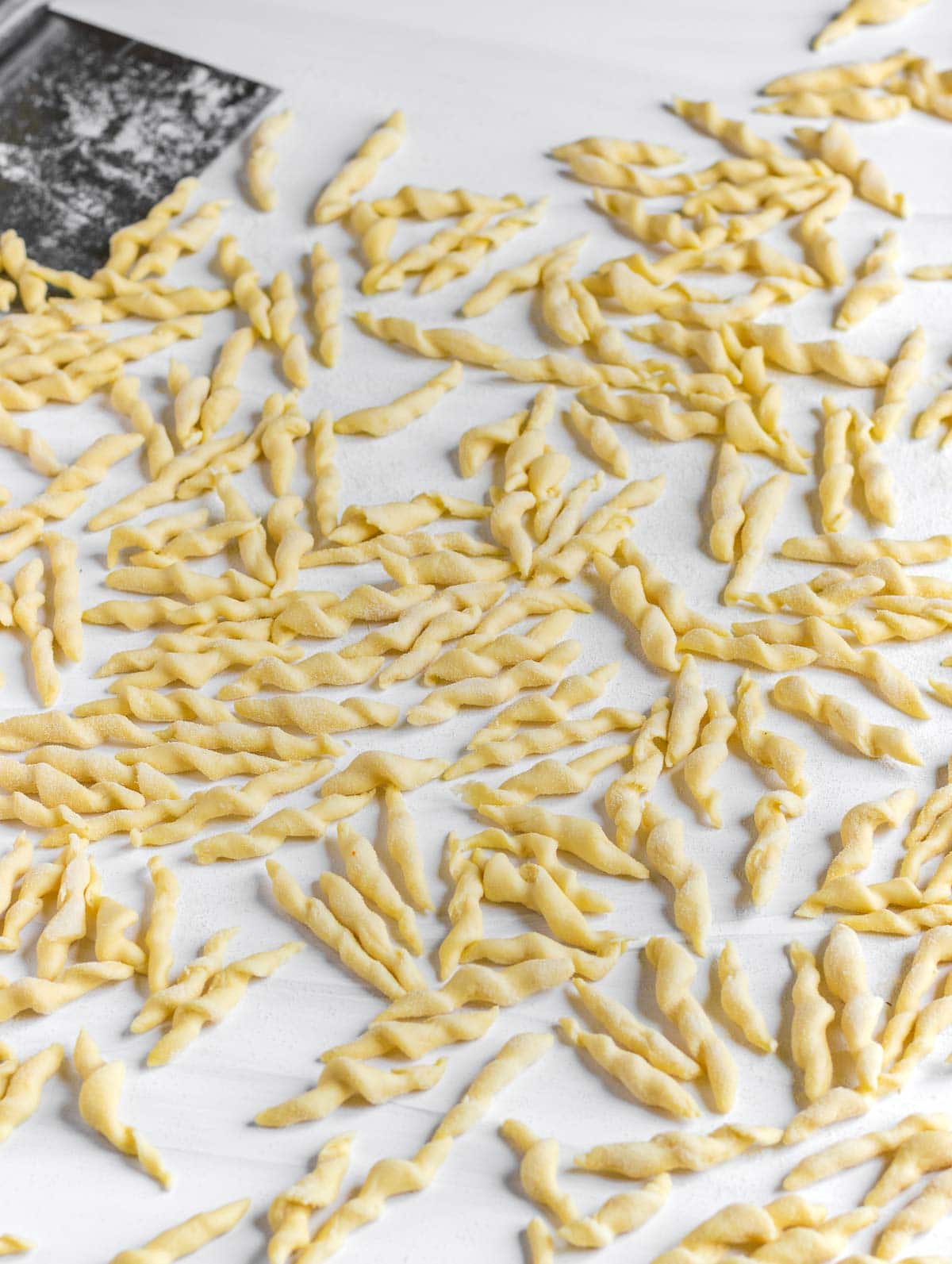 Cold water: to prevent the basil from over-heating in the blender.
Basil: fresh.
Pine nuts: to recall the flavour of the original pesto alla genovese. You can replace them with macadamia nuts.
Almonds: best if without skin. You can replace them with pine nuts or macadamia nuts.
Nutritional yeast: this is to replace the parmesan in the original pesto alla genovese recipe. This ingredient cannot be replaced.
Extra virgin olive oil: try to get a good one if you can.
Garlic and salt to taste.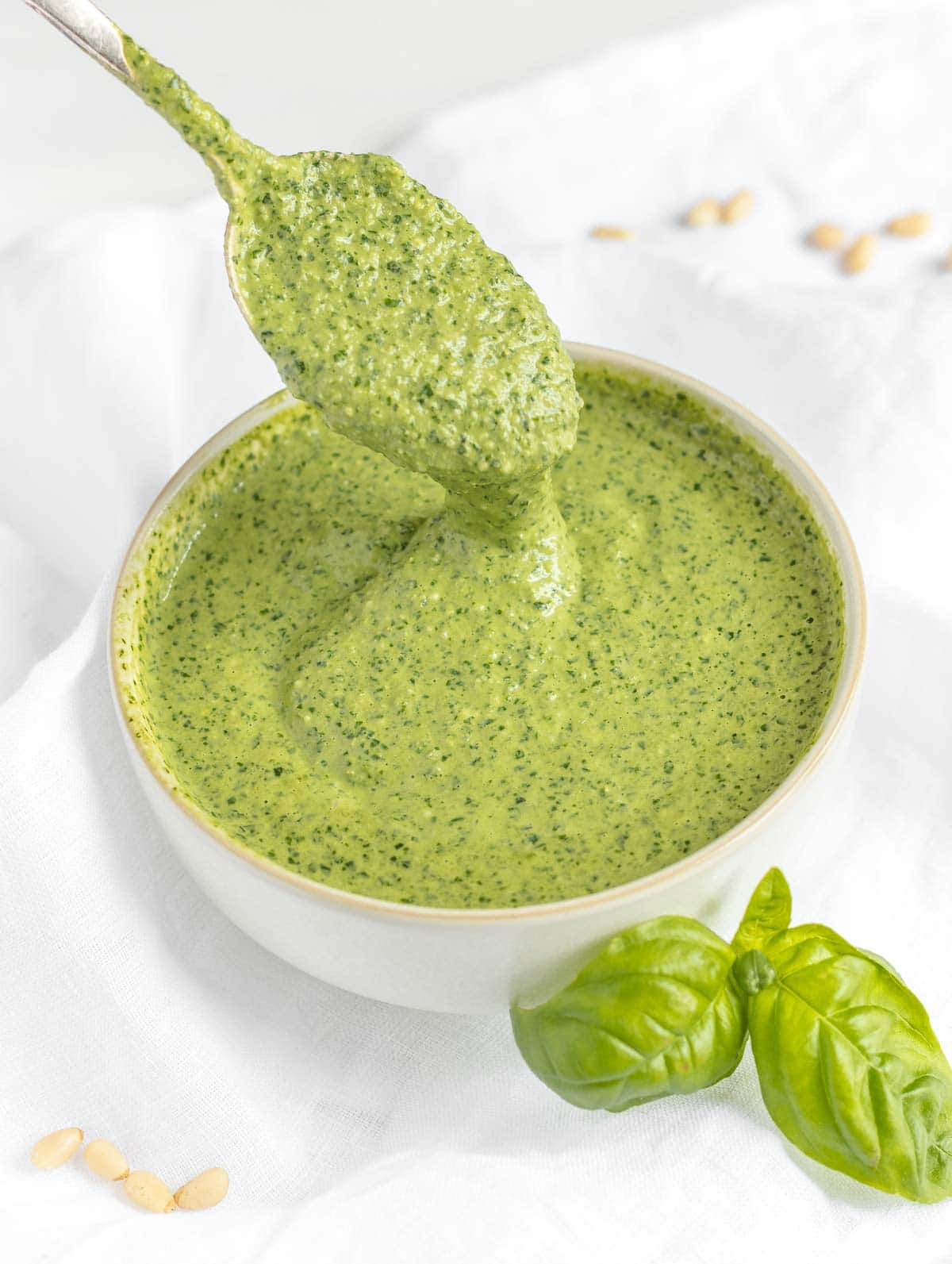 Equipment
You'll need a clean working surface. Usually, in Italy we use a wooden worktop as it has a good grip that helps when shaping the pasta. For the pesto, you need a blender.
Technique
Why do I mix the water and flour in a bowl and not on the wooden board?
Usually, people that make pasta in Italy add the flour directly onto the wooden board, make a hole in it, and add the water little by little. I used to do that too.

But now, I find it faster, less messy, and more effective to do this step in a bowl. This way it is easier to contain the water, and it is also easier to hydrate the flour.
Why don't I put salt in the dough?
I don't put salt because there is no need. When you cook the pasta in salted boiling water, that is enough salt to add flavor to the pasta. Also, adding salt to the dough will make the semolina flour coarser and harder to work with.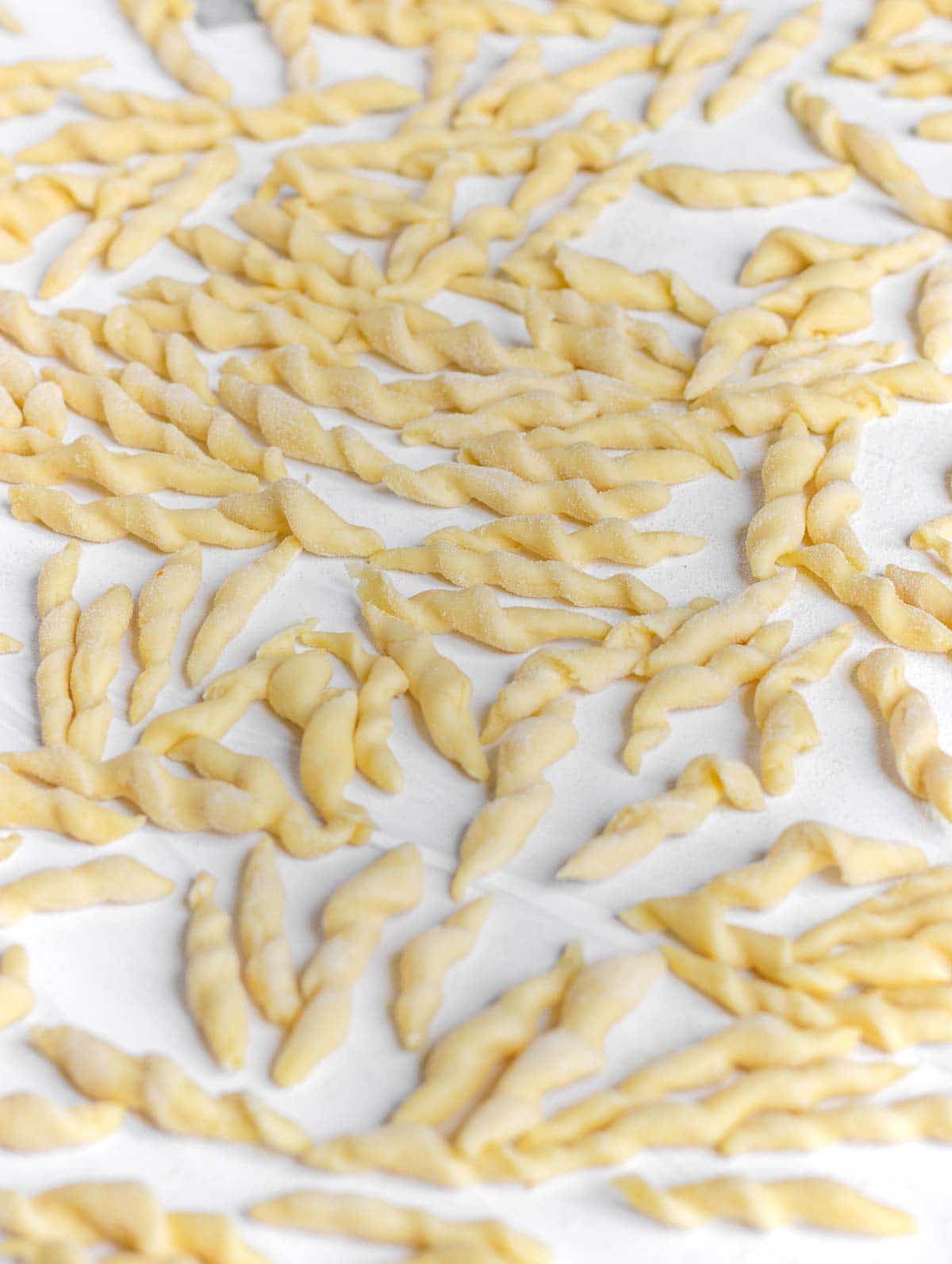 Why don't I let the dough rest?
Letting the dough rest helps relax the gluten, and this makes the dough easier to work with. That is generally true for most preparations, but in this case, there is absolutely no need to do it. On the contrary, I find it easier to shape trofie when the pasta has not rested because the dough is more humid and has more grip.
Why do I hold the pasta in my hands while shaping the trofie?
Most people first roll the dough into long snakes, then cut it into small pieces, then shape it into trofie. I don't think this is the best way to do it because:

1) It takes longer to shape the pasta twice, first in snakes, then in trofie.
2)The dough ball dries out while you leave it on the side - even if you cover it - and it becomes more complicated to shape it.
3) The small dough pieces dry out so quickly that they loose grip with the wooden board and it becomes really hard to shape them.

In conclusion my advice is to NOT let the dough rest, to keep it in your left hand at all times, while with your right hand take small pieces of dough and roll it directly into trofie. The other way around if you are left handed. Here's a short clip of how to shape homemade trofie.
Tips
Use the right flour: if you do homemade pasta without eggs, we suggest you follow the old Italian tradition of Liguria and Apulia. That is, use 100% semolina flour. You'll get a better texture, flavour and colour.

Use a wooden board: traditional pasta making in Italy is made on special wooden boards. They are very inexpensive and they work best because they have good grip when you roll and shape the pasta. If you can't find one, you can use a large cutting board instead.

Use hot water: when doing pasta without eggs and with 100% semolina flour we recommend using hot water to help the flour hydrate. If you use normal wheat flour you can use warm water instead.

Knead well: this vegan homemade trofie pasta requires vigorous kneading to work the gluten in the flour and get the right texture.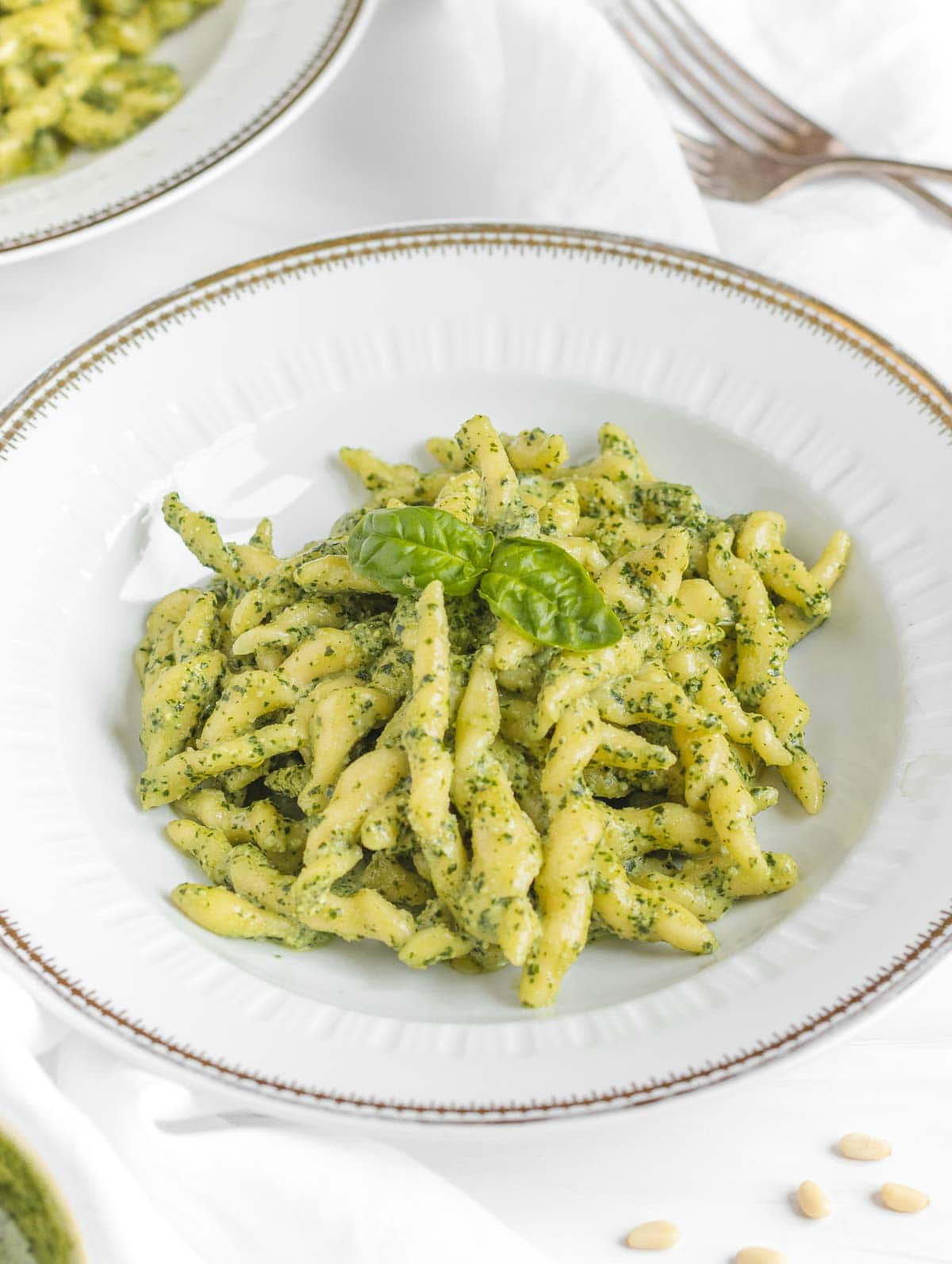 Frequently asked questions
What is semolina?
Semolina is a type of flour made from hard wheat. It is coarser than wheat flour, it's yellow, it has a stronger aroma and a higher protein content.
Why do you use semolina?
Semolina has been used in Italian pasta and bread making traditions for centuries, from the north to the south of Italy.

It is used because is inexpensive and because it allows to make pasta without adding eggs thanks to its higher protein content that gives more texture and structure to the pasta.
What does Trofie means?
No one knows really. There are many hypothesis. My favourite one is that trofie comes from the verb "strofinare" which in Italian means to rub.
Where is Trofie from?
Trofie pasta is from Liguria - Italy - more precisely the area around Golfo Paradiso and the towns of Sori, Avegno, Recco e Camogli. This is also the region where the best basil in the world is from. It's no coincidence trofie al pesto is from here.
Is trofie vegan?
Yes. Traditional trofie pasta is made with only semolina, water and salt and it is naturally vegan.
How much trofie pasta per person?
A portion of fresh pasta weighs between 80 grams to 120 grams per person.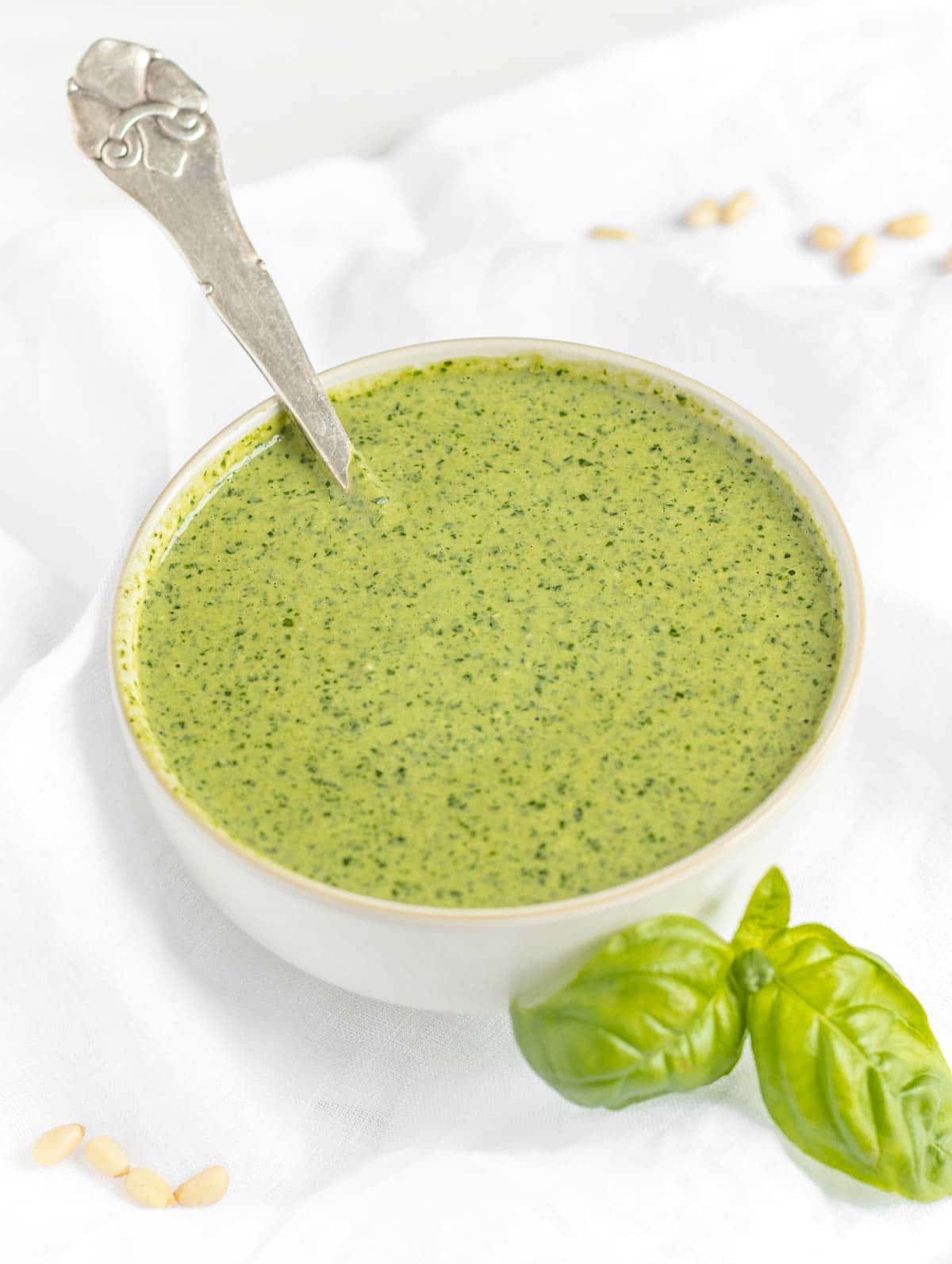 Storage
How to store homemade trofie
Refrigerate: fresh pasta without eggs can be stored in the refrigerator in an air-tight container for 36 hours max.

Dry: to extend the shelf-life of fresh trofie pasta you need to let it dry for a minimum of 12 hours to a max of 2 days. To do that, you need to place the pasta on a pasta drying cloth or rack so that the air flows around it.

You can also dry them directly on the wooden board, but if you do this, remember to turn the pasta every few hours so that it dries on all sides. If you do this right, your dry trofie can last up to 3 months wrapped in a paper bag.

Freeze: let the pasta dry for one hour first. Then place the trofie on a tray without them touching. Cover with a cloth or film and put in the freezer for 3 hours. Once frozen, take them out, transfer into freezer bags, write the date on it, and put back in the freezer for up to 3 months. Cook from frozen.
How to store basil pesto
You can refrigerate the pesto in a glass jar a store it for up to 1 week.
You can freeze this vegan basil pesto. Put it in a container that is suitable for freezing, we use an old mason jar, then freeze it for up to 3 months. To thaw it, take it out of the freezer and put it in the refrigerator. It will take about half a day to thaw.

Remember that basil doesn't like direct heat, so try not to heat it up in a microwave or on a pan. Better to warm it up with a dash of hot pasta water.
Variations
While pesto is the most traditional sauce for trofie, you can serve this pasta in many other ways. You can add string beans and potatoes to it if you want to make it even more traditional. Or you can serve it with a light fresh tomato and basil sauce.

Add some extra vegetables to your pasta and it can easily be served as a main dish for dinner, maybe with an extra side dish or a side salad.

We even paired the trofie with green pesto, dark green kale, and broccoli.

If you don't feel like making your own trofie, a good replacement for it "fusilli", the screw pasta type that you find in the supermarket.
Serving suggestions
Once you've shaped the trofie pasta, it is a perfect base for an easy dinner. You can pair it with any of your favorite sauce; from pizzaiola to sundried tomato pesto. And if you, like us, want to increase your veggie intake, take a peek at these healthy side dishes:
Similar recipes
If you love Italian pasta as much as we do, take a look at our other vegan Italian recipes:
What are your go-to pasta recipes in your home? We're curious, let us know in the comments below!
Video
Recipe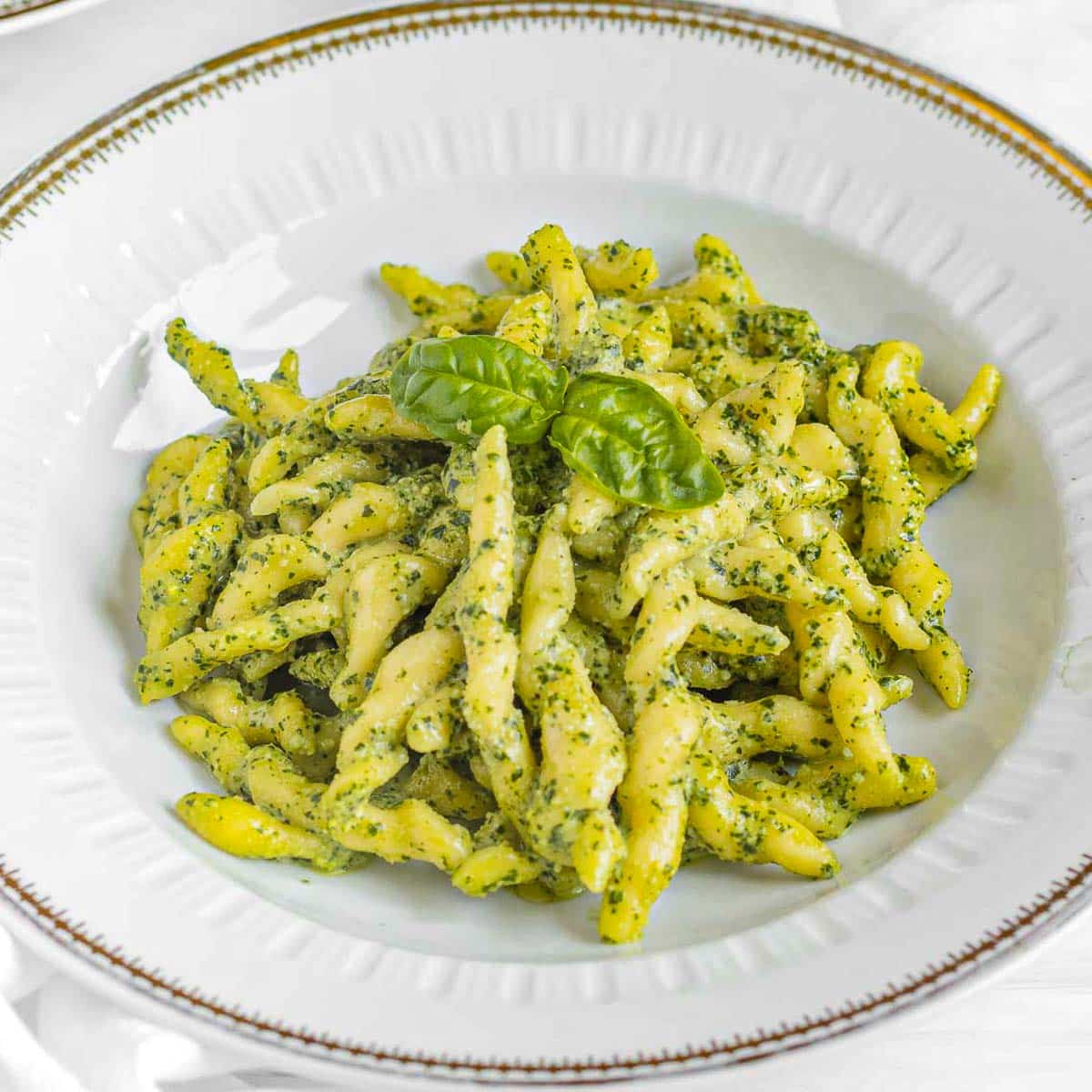 Homemade trofie with vegan basil pesto
Homemade trofie with vegan basil pesto is our take on a traditional Italian dish made for centuries on the Ligurian riviera in Genova. We show you how to make trofie at home like in Italy with just two ingredients. Then we make a delicious, creamy basil pesto sauce that is 100% plant-based.
Ingredients
For the trofie
500

g

semolina flour

250 to 300

g

hot water

The amount of water varies based on temperature, altitude, humidity and type of flour.
For the basil pesto
70

g

cold water

70

g

basil

30

g

pine nuts

30

g

almonds

30

g

nutritional yeast

30

g

olive oil

extra virgin

⅓

clove

garlic

salt to taste
Instructions
Make the trofie
In a bowl, add the semolina flour and ¾ of the water. Mix with a fork till the flour absorb all the water.

Transfer the dough onto a worktop and start kneading with your hands. If the dough is too dry, then add more water, a little at a ime.

Knead vigorously for about 10 minutes. By the end you should get a smooth, compact dough.

Start shaping the dough like shown in the youtube video below.

You can now cook the trofie in salted boiling water for about 3 minutes.

You can also store the trofie. First, let them dry on our worktop for half a day. Sprinkle them with some semolina flour so they don't stick together. When they are hard and dry, you can store them in an airtight container for weeks.
Make the pesto
Blend almonds, pine nuts, garlic, salt and nutritional yeast until you get to an almond flour consistency.Add the basil leaves, oil and cold water and start pulsing with the blender until everything turns into a creamy pesto. You might have to stop to scrape down the sides once. Taste and adjust for salt.
Serve the pasta
In a bowl, add the pesto sauce, then when the pasta is cooked take it out of the boiling water and add it to the bowl with the pesto. Add a few tablespoons of pasta water get everything creamy.

Stir with a spoon, plate, and drizzle with some extra virgin olive oil.

NB: do not warm up the pesto on a pan. It will loose its flavour.
Video Recipe
How to make TROFIE PASTA at home without machine + vegan basil pesto
Notes
MEASUREMENTS
We recommend using the metric system for this recipe.
Nutritional Values
Nutrition Facts
Homemade trofie with vegan basil pesto
Amount per Serving
% Daily Value*
* Percent Daily Values are based on a 2000 calorie diet.
Did you like this recipe?
Leave us a comment below or find us on Instagram, YouTube, Pinterest, TikTok, and Facebook.