Cambia lingua / Switch language: ITA
This pasta with chestnuts is one of the best pastas we have ever had. It's cozy, creamy, cheesy, and earthy. We created a dish with 3 popular Italian ingredients: chestnut, hazelnut, and bronze cut spaghetti. We use the chestnuts to make a creamy, smooth pesto, to coat the spaghetti.
Jump to:
For other delicious vegan Italian pasta recipes, check out our:
Ingredients & Substitutions
For the chestnut pesto
Chestnuts: we recommend getting raw, fresh chestnut in your local supermarket for best results. They are available in most places during autumn and winter in the northern hemisphere.
Hazelnuts: are the perfect flavour match to the chestnuts. Get unsalted roasted and peeled hazelnuts for best result.
Bread crumbs: 1 to 2 days old bread would work here. If you don't have it, just get some fresh bread, and add the crumb in the blender to turn it into bread crumbs.
Nutritional Yeast: to add umami and saltiness to the pesto. It goes incredibly well together with the chestnuts.
Soy milk: it's important to get unsweetened and unflavoured soy milk.
Salt.
For the pasta
Spaghetti: best if bronze cut. You can find them next to the regular spaghetti at your supermarket. They look dusty and rugged compared to the regular type. We prefer them as they hold the sauce better. They'll make the best pasta with chestnuts.
Brown mushrooms: they really elevate the flavour of the chestnuts so we recommend them. The recipe would work also without them, but the are easy to find, so try to add them in.
Flat-leaf parsley: a nice touch of freshness and colour to sprinkle on top of the pasta.
Salt: we use coarse sea salt to season the pasta water, and fine sea salt to season the mushrooms and the pesto.
Garlic: to flavour the mushrooms.
Tips
Don't undercook the chestnuts: for best results, make sure your chestnuts are cooked through. The best way to be sure the chestnuts are cooked is to set a timer to 45 minutes, then take a chestnut out, cool it down under running water, peal it and taste it. The chestnut should be very soft, and not with a bite. If not ready, boil for a further 10 minutes at a time.

Salt the pasta water: we will never get tired of writing this. Season the pasta water with a generous amount of coarse sea salt. The pasta will taste so much better.

Cook the pasta al dente: to make sure your pasta stays al dente, drain it 1 or 2 minutes before the actual cooking time that is recommended on the package. Then finish cooking the pasta in a pan with the sauce, in this case the chestnut pesto, adding some pasta cooking water.

Save the pasta cooking water: when draining the pasta, have the habit of saving at least 1 cup of pasta water. Why? Pasta cooking water is rich of starch. If added to the sauce it will make the dish creamier. When you jump the pasta in the pan with the sauce before serving it, always add a ladle or two of pasta water. It's a chef's tip that will make your pasta next level.
Frequently asked questions
What do chestnuts taste like?
Chestnuts have a sweet flavour, with earthy notes of nuts. They are super creamy and will satisfy your sweet and savoury cravings. They are an autumn and winter nut, and make for great cosy pestos, creams, and snacks.
Are chestnuts good for you?
Chestnuts are super healthy! They are rich in good carbs and low in fat, filling you with sustained energy and warmth during the cold winter days. They are also rich in antioxidants and vitamin C to help you prevent runny nose and winter colds.
Are chestnuts Italian?
While chestnuts are produced in several European countries, Italy is the largest producer, and they are very popular allover the country during the colder months of the year. If you wander the streets of Italy around Christmas you'll smell the inebriating fragrance of freshly roasted chestnuts that are being cooked on open fire and sold on many street corners.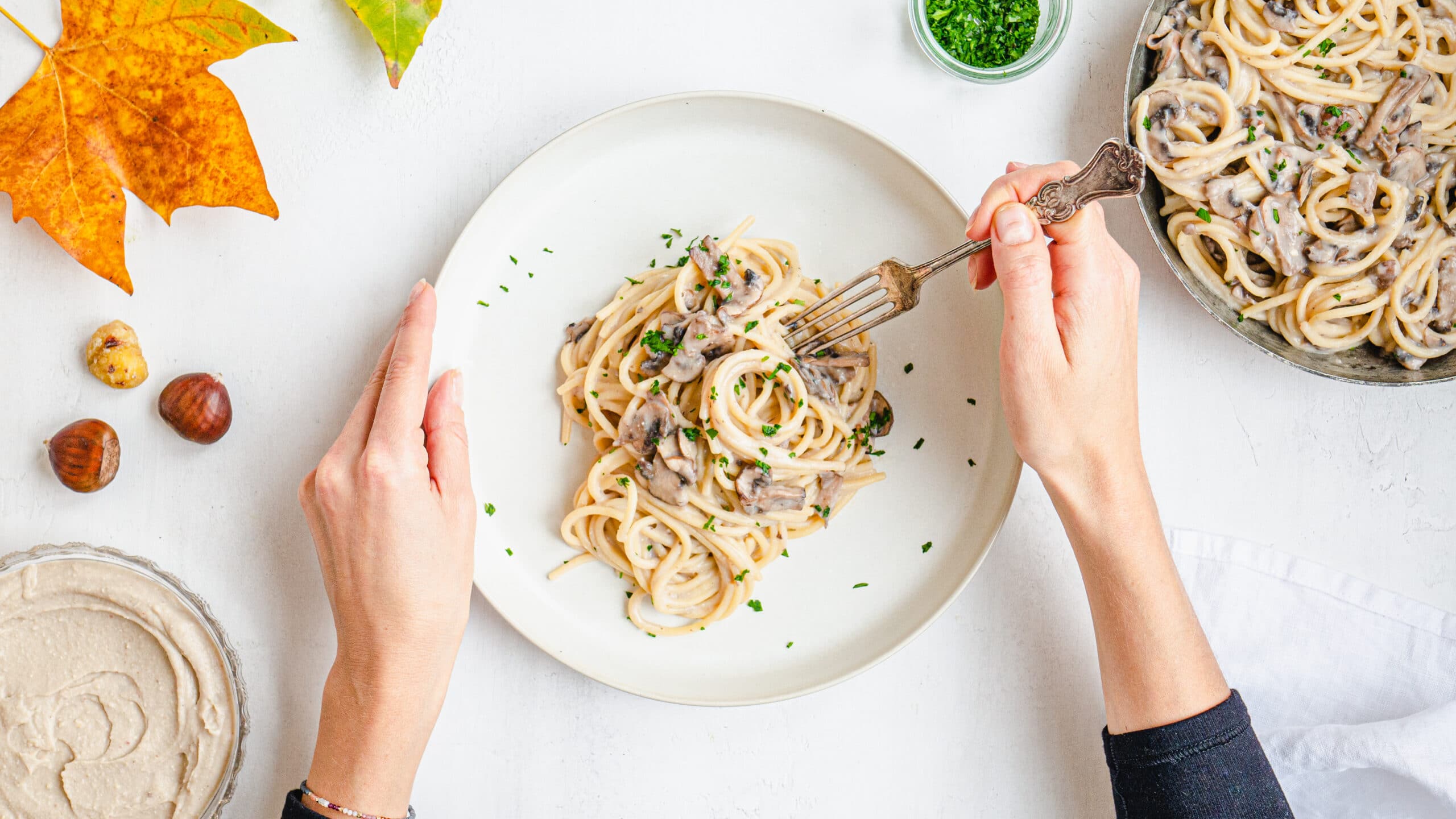 Variations
No mushrooms
For a simpler version of this pasta with chestnuts, you can remove the mushrooms, and just boil some pasta and coat it with the chestnut pesto. It will still be delicious, but we do recommend using adding the mushrooms as they complement the flavour of the chestnuts perfectly.
Chestnuts pesto with gnocchi
Another great way to eat this delicious chestnut pesto is with our vegan gnocchi. Replace the spaghetti for some delicious Italian gnocchi. They are super easy to make vegan at home. If you get store bought, make sure they are vegan, as some recipes add egg to the potato dough.
Chestnut spread on a toast
The chestnut pesto almost taste like a chocolate free version of nutella. If you want to spice things up, add a couple of teaspoons of dark cacao powder to the blender when you are preparing the pesto. The result is a guilt-free hazelnut-chestnut-chocolate spread that will be out of this world on some bread. Eat it for breakfast or as a mid-afternoon snack.
Storage
This pasta with chestnuts doesn't store well. Max 12 hours in an airtight container in the fridge. Reheat it in a pan on the stove with some water. The chestnut pesto can be stored in an airtight container in the refrigerator for up to 3 days.
Recipe
Vegan pasta with creamy chestnut pesto
This pasta with chestnuts is one of the best pastas we have ever had. It's cozy, creamy, cheesy, and earthy. We created a dish with 3 popular Italian ingredients: chestnut, hazelnut, and bronze cut spaghetti. We use the chestnuts to make a creamy, smooth pesto, to coat the spaghetti.
Ingredients
For the chestnuts & hazelnuts pesto
1

cup

chestnuts

2

tbsp

hazelnuts

2

tbsp

bread crumbs

1

tbsp

nutritional yeast

¾

cup

unsweetened soy milk

½

tsp

salt
For the pasta dish
320

g

(

11.3

oz

)

bronze cut spaghetti

3

L

(

1

gal

)

water to cook the pasta

1

tbsp

coarse salt

to salt the pasta water

250

g

brown mushrooms

1

clove

garlic

1

handful

flat-leaf parsley

⅓

tsp

salt
Instructions
Make the pesto (it can be made in advance)
Wash 1 cup of chestnuts, then in a large pot, put them to boil with plenty of water.

Boil for 50 minutes, then drain, and peel them with a paring knife. Remove the outer shell and the thin brown skin under the outer shell. Don't worry if they break, we'll blend them in a second.

Blend all the ingredients together until you have a smooth cream. You can make the cream more or less smooth based on your preference. We like it smooth but with a grainy texture. Set aside.
For the pasta dish
Wash the parsley and the mushrooms, then cut the mushrooms into small slices and finely chop the parsley. Set aside.

In a large pot, bring the water to boil, then salt it with coarse sea salt and add the spaghetti. Give it a stir. Cook as instructed on the package, minus 1 minute. Before draining it, save one cup of pasta water. This important. Do not forget.

While the pasta boils, add the oil to a non stick pan. When the oil is warm, add clove of garlic and the mushrooms. Cook the mushrooms on medium heat until the pasta is ready. Season with a pinch of salt.

When ready, add the spaghetti to the pan with the mushrooms, add 4 to 5 spoonfuls of chestnut pesto and ½ cup of pasta water. Stir well, and finish cooking the pasta until creamy and al dente. If the sauce is too thick, add more pasta water.

Potion into serving plates, sprinkle with some finely chopped parsley, serve and eat immediately.
Nutritional Values
Nutrition Facts
Vegan pasta with creamy chestnut pesto
Amount Per Serving
Calories 455
Calories from Fat 54
% Daily Value*
Fat 6g9%
Potassium 776mg22%
Carbohydrates 85g28%
Protein 16g32%
Vitamin A 189IU4%
Vitamin B6 1mg50%
Vitamin C 16mg19%
Vitamin E 1mg7%
Vitamin K 18µg17%
Calcium 110mg11%
Folate 63µg16%
Iron 3mg17%
Manganese 1mg50%
Magnesium 77mg19%
Zinc 2mg13%
* Percent Daily Values are based on a 2000 calorie diet.
Did you make this recipe?
Tag us on Instagram @theplantbasedschool
Related recipes
Did you try this recipe at home? Let us know in the comments below, or take a picture and tag us on Instagram @italiaplantbased.