Tofu with pizzaiola sauce is a simple yet delicious tofu recipe ready in just 10 mins.

We fry thinly sliced tofu and cook it in a rich tomato and oregano sauce - a perfect last-minute dinner for the whole family.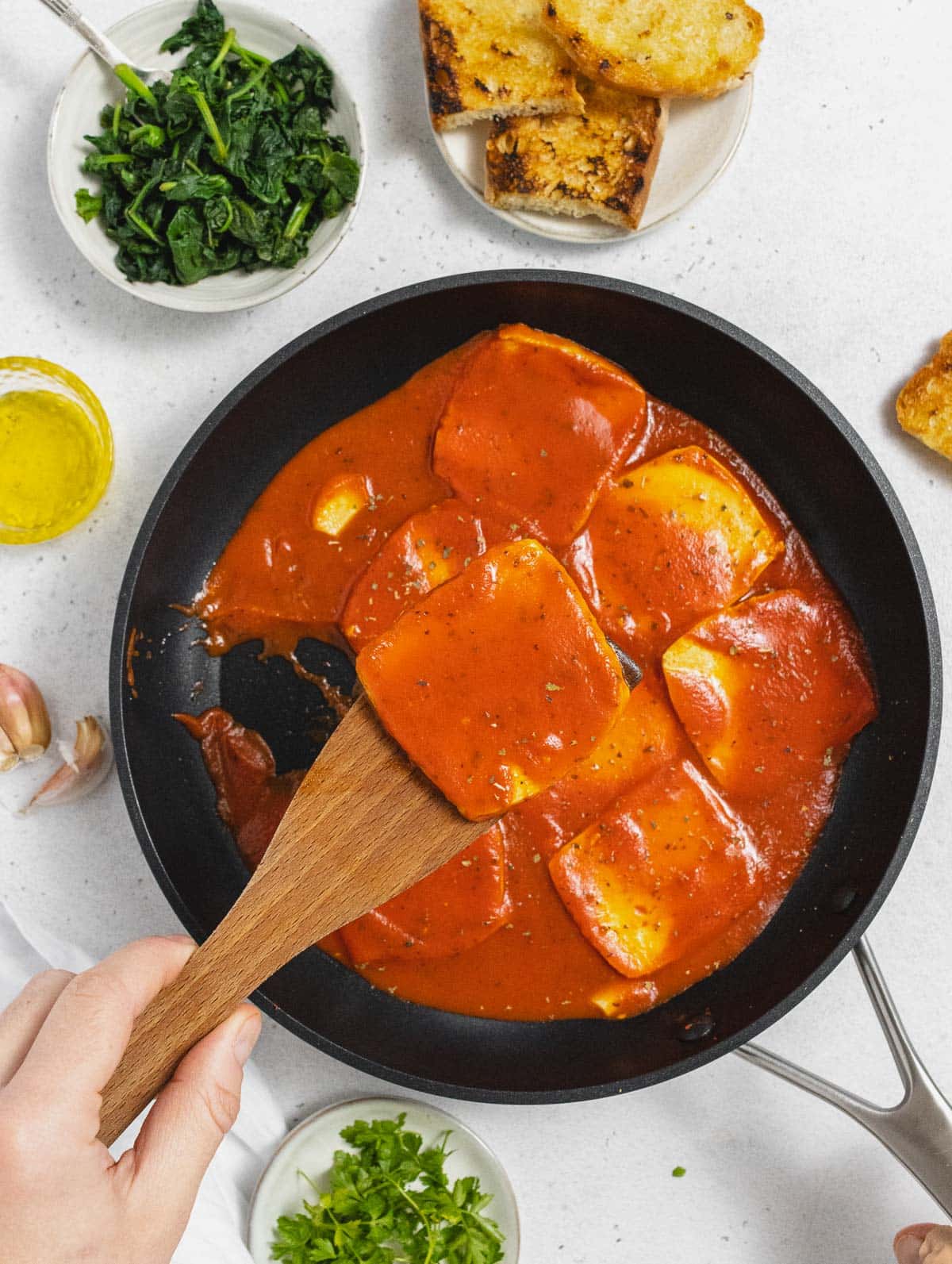 On this page:
Check out our best vegan beginner recipes collection!
What to expect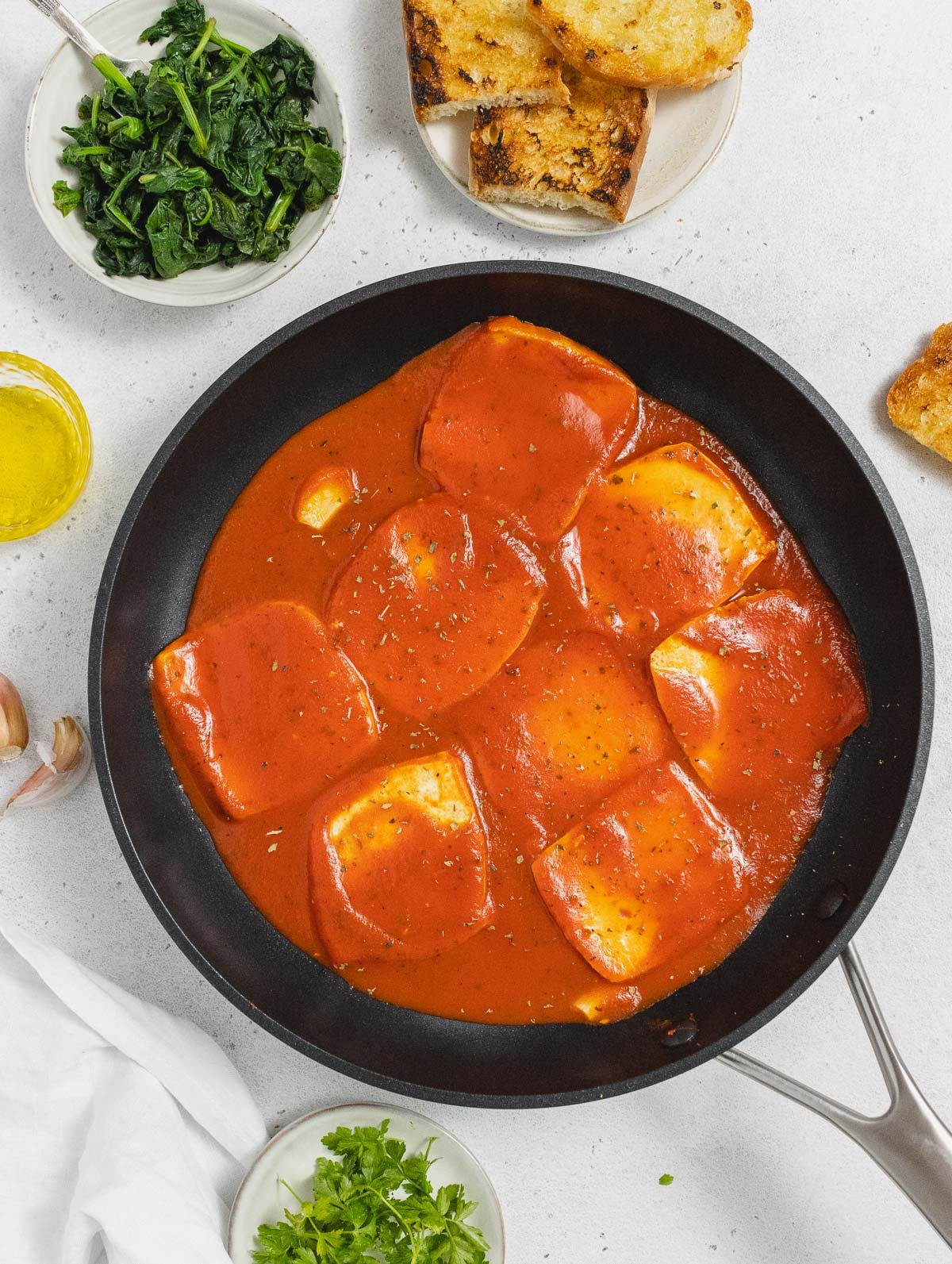 There is a recipe in Italy called "carne alla pizzaiola" which is made with thinly sliced veal cutlets, cooked in a rich tomato sauce packed with oregano and garlic flavor.

A pizzaiola sauce is very similar to a marinara sauce, it's made with tomato passata, garlic, oregano, and olive oil.
Our recipe for tofu with pizzaiola sauce uses the exact same pizzaiola sauce recipe as the original Italian one, but we then used thinly sliced firm tofu instead of meat.

The result is a delicious, light, yet flavourful dinner, truly Italian in taste. Just remember to serve it with a piece of bread to dip in the pizzaiola sauce!
Ingredients and substitutions
Tofu: we use firm tofu for this recipe
Tomato passata: you could also use tomato puree or canned tomatoes.
Garlic and oregano: both essential in any pizzaiola sauce.
Olive oil: best if extra virgin as it gives more flavor to the sauce.
Salt and pepper
Instructions
Let's start by preparing the pizzaiola sauce. In a non-stick pan over medium heat, heat two tablespoons of olive oil with two cloves of crushed garlic.
When the garlic releases its aroma add about 1¼ cups (300 grams) of tomato passata or tomato puree, two pinches of salt, a dash of pepper, and a tablespoon of dried oregano.
Give it a stir and cook over medium-low heat for about 10 minutes, stirring occasionally to keep the sauce from sticking. If the sauce dries out too much you can also add a drop of water to dilute it a bit.
While the sauce is cooking, cut the tofu into slices. For three servings I use about 9 ounces (250 grams) of firm tofu.
Cut it into thin slices about 0.2" or 0.5cm thick. I usually do 8 to 9 slices for 3 servings.
Put the slices of tofu in the pizzaiola sauce and add just a pinch of salt on the slices, very little is enough since the sauce is already seasoned.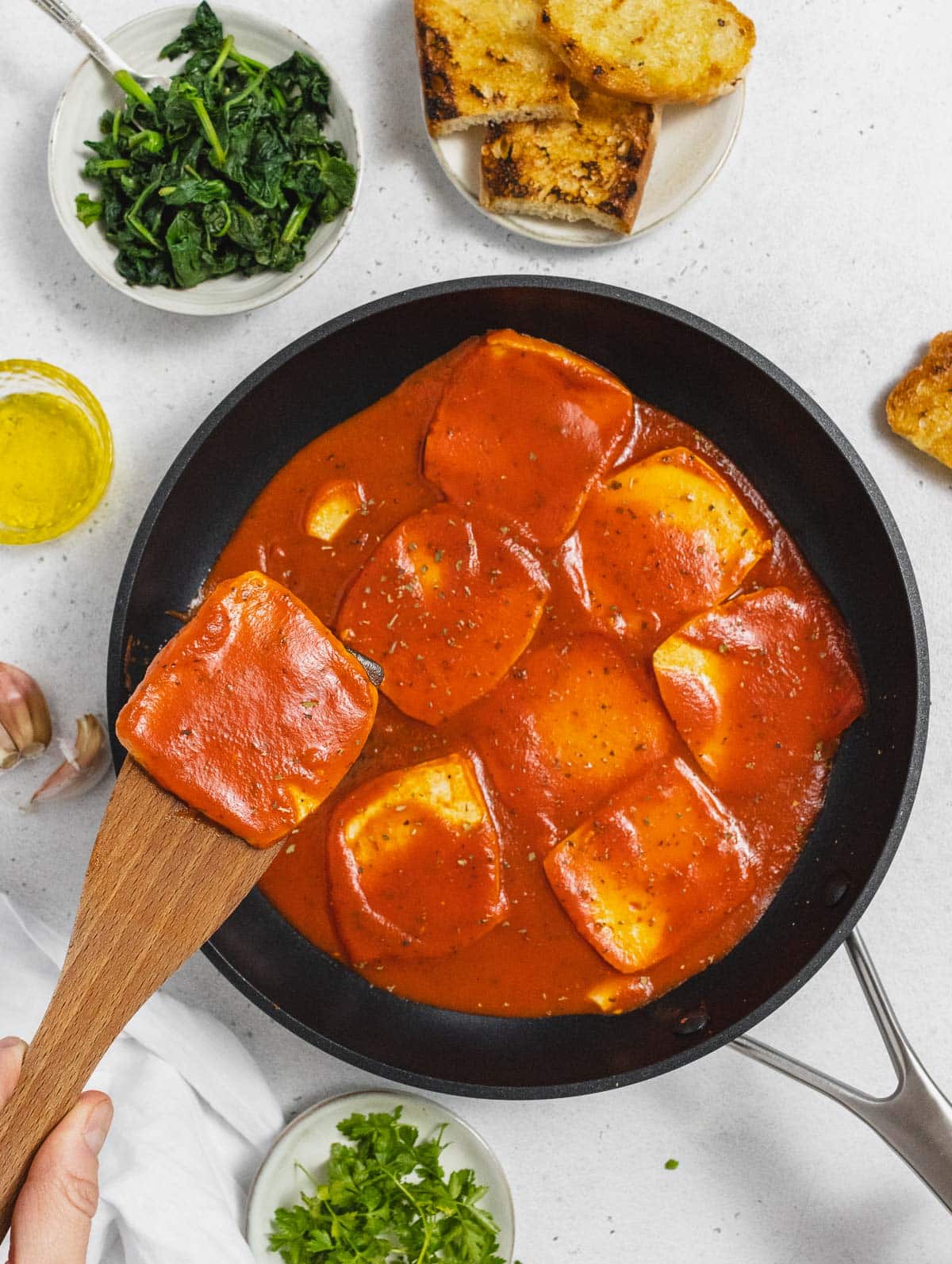 Try to submerge the tofu in the sauce and let it cook there for another 10 minutes at most to let it get some sauce flavor.
Taste the sauce and adjust the salt if necessary, then serve. We usually serve 3 or 4 slices of tofu for each serving. We add a little sauce on top and our tofu pizzaiola is ready.
Then if you want you can serve this dish with a side of vegetables such as sautéed chard or spinach or even with a simple green salad.
Serve this with a piece of bread for the "scarpetta", which in Italian means dipping the bread in the sauce and clearing the plate with it.
This dish despite being very quick and made with a few simple ingredients is delicious.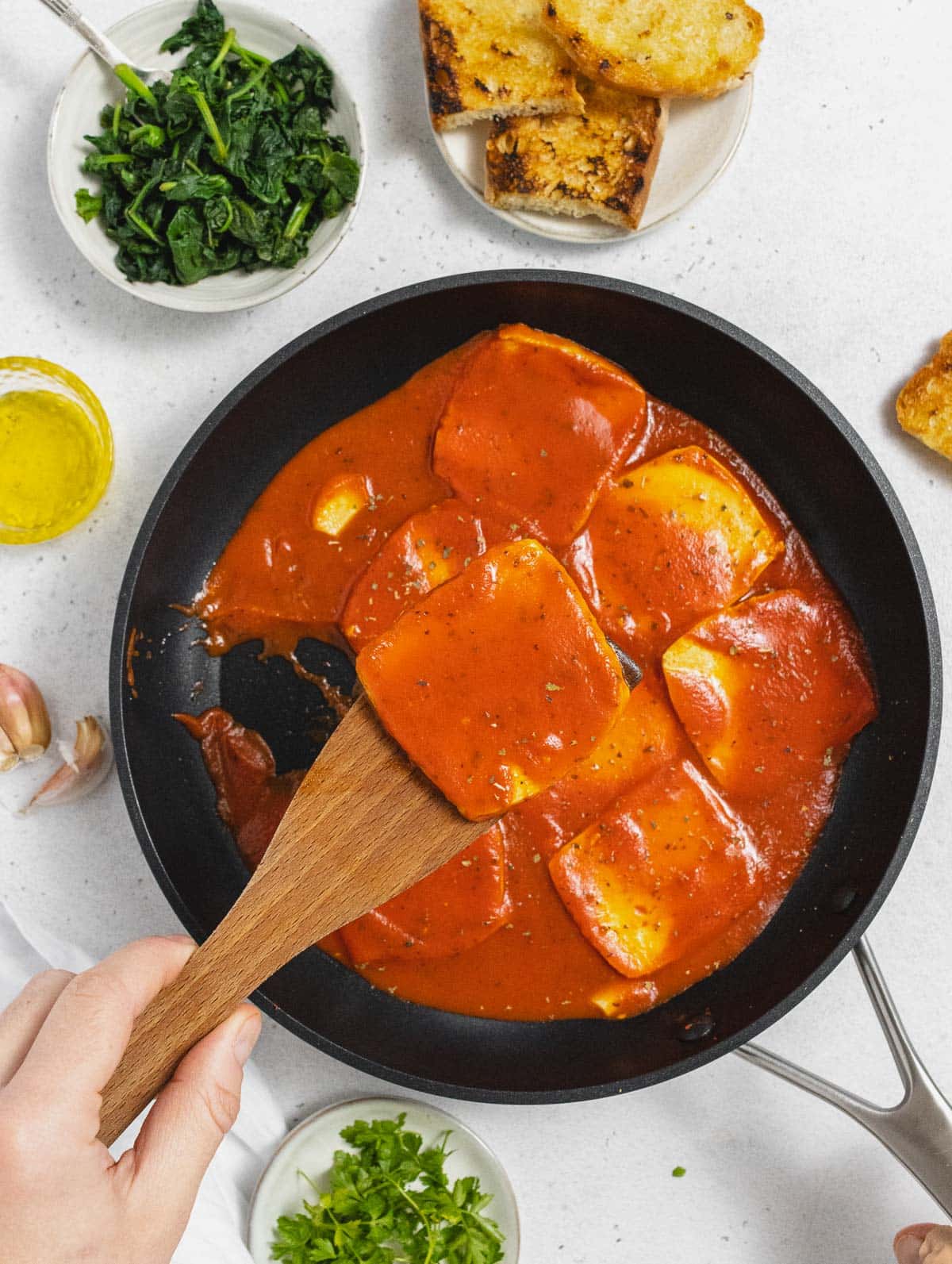 Serving suggestions
How great is tofu for a quick and easy dinner?! We love that it's protein-packed and simple to cook! If you wanna add some veggies to your meal, check out these healthy side dishes:
Similar recipes
If you enjoyed this 10 min tofu recipe, you might also enjoy these quick tofu meals:
What is your go-to cooking method for tofu? Let us know in the comments below, we would love to hear!
Storage
Store the tofu with pizzaiola sauce for up to 2 days in the refrigerator. Warm up on a pan with a dash of water before serving. You can also warm it up in the microwave.

Not suitable for freezing.
Recipe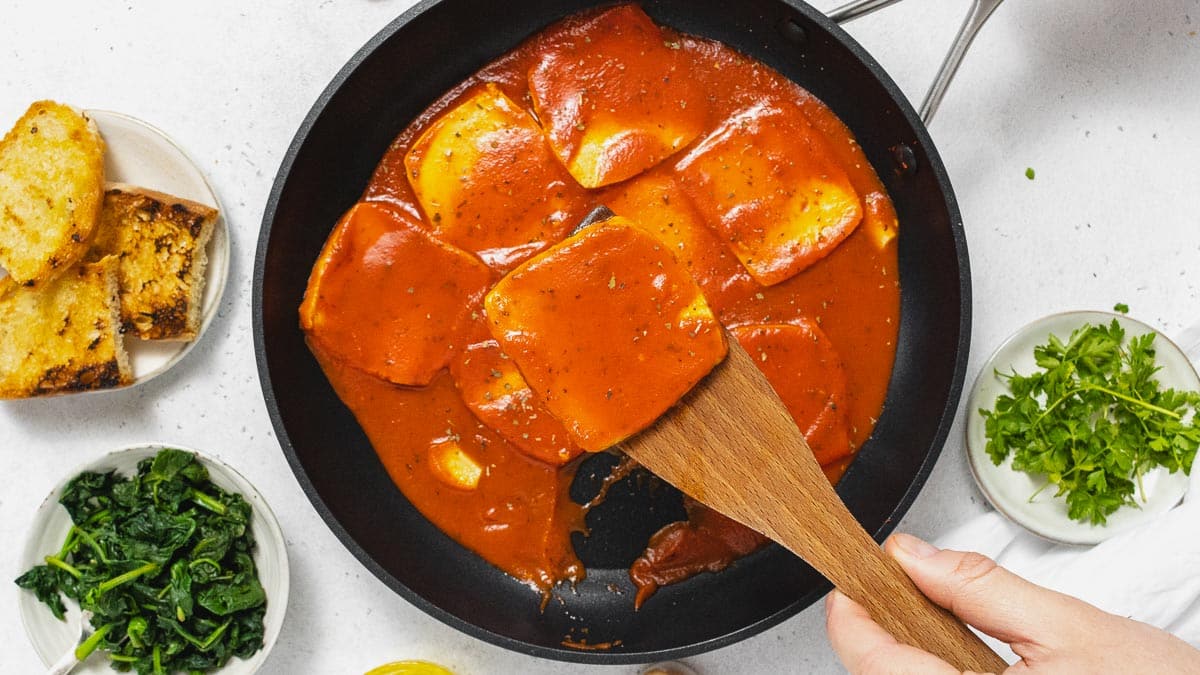 Tofu with Pizzaiola Sauce
Tofu with pizzaiola sauce is a simple and yet delicious tofu recipe inspired by the Italian recipe of meat cutlets in pizzaiola sauce. Ready in just about 15 minutes, this thinly sliced tofu, cooked in a rich tomato and oregano sauce, is a perfect last-minute dinner for the whole family.
Ingredients
9

ounces

firm tofu

1¼

cups

tomato passata

2

cloves

garlic

2

tablespoons

olive oil

extra virgin

1

tablespoon

dried oregano

1

teaspoon

salt

½

teaspoon

pepper
Instructions
To a non-stick pan, add the olive oil and crushed garlic. On medium heat, let the oil warm up and gently fry the garlic for about a minute.

Add the tomato passata, salt, pepper, and oregano, and let simmer on 10 minutes on medium-low heat. This is your pizzaiola sauce.

In the meantime, slice the tofu into thin slices (about 0.2" or 0.5cm thick).

Add the tofu to the pan with the pizzaiola sauce and arrange it so that it's covered by the sauce. Tip: if the sauce gets too thick, add 1 to 2 tablespoons of water.

Cook for another 5 to 10 minutes then serve with a side of veggies (like stir fried spinach or a salad) and a slice of bread to dip in the sauce.
Video Recipe
Nutritional Values
Nutrition Facts
Tofu with Pizzaiola Sauce
Amount Per Serving
Calories 202
Calories from Fat 117
% Daily Value*
Fat 13g20%
Potassium 491mg14%
Carbohydrates 13g4%
Protein 10g20%
Vitamin A 562IU11%
Vitamin B6 1mg50%
Vitamin C 12mg15%
Vitamin E 4mg27%
Vitamin K 20µg19%
Calcium 157mg16%
Folate 16µg4%
Iron 4mg22%
Manganese 1mg50%
Magnesium 30mg8%
Zinc 1mg7%
* Percent Daily Values are based on a 2000 calorie diet.
Did you like this recipe?
We are not much on Instagram, Facebook, and Pinterest. Leave us a comment below instead, it would mean the world to us 🙂