Cambia lingua / Switch language: Italiano
Our pasta al pomodoro is quick to make, with easy-to-find and simple ingredients. It's creamy, full of umami, and with notes of garlic and fresh basil. This Pasta recipe is a healthy and naturally vegan dish that is the perfect comfort food for a cozy night full of hygge.
Jump to:
🎥 YouTube Video
📋 Recipe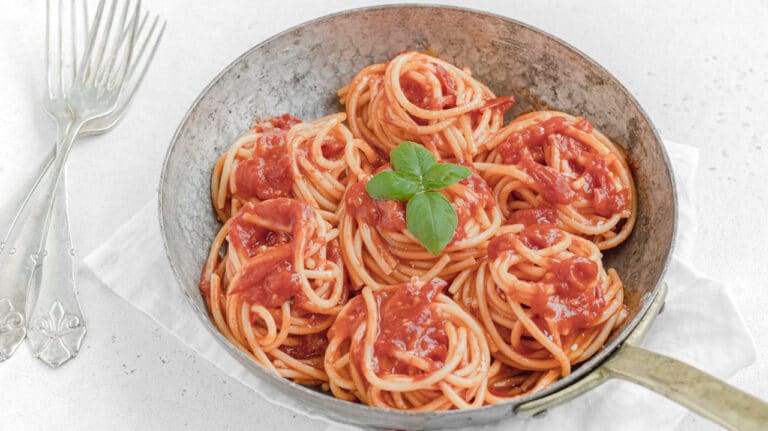 Pasta al Pomodoro
Our pasta al pomodoro is quick to make, with easy-to-find and simple ingredients. It's creamy, full of umami, and with notes of garlic and fresh basil. This Pasta recipe is a healthy and naturally vegan dish that is the perfect comfort food for a cozy night full of hygge.
Ingredients
300

g

(

10.6

oz

)

spaghetti

bronze cut

400

g

(

14.1

oz

)

whole peeled canned tomatoes

200

g

(

7.1

oz

)

plum tomatoes

3 to 5

tablespoons

extra virgin olive oil

1

clove

garlic

⅓

teaspoon

chili flakes

15

fresh

basil leaves

3

liters

(

0.8

gal

)

water

to cook the pasta

2

tbsp

coarse sea salt

to salt the pasta water
Instructions
In a large pot, put the water to boil. Then cut the plum tomatoes in half.

In a large pan on low heat, add 3 tbsp of olive oil, crushed garlic, and the chili flakes. Let fry gently for 1 minute. Don't let the garlic burn.

Add the plum tomatoes and let cook on medium heat for 2 to 3 minutes, until they become soft. Add a little water if they stick to the pan.

Add the pelati in the pan and crush them with a fork or with a wooden spoon. Let the tomatoes simmer on low heat throughout the recipe, stirring occasionally. Add small amounts of water if the tomato sauce sticks to the pan.

At this poin the water to cook the pasta in should be boiling. Salt it with a generous amount of coarse sea salt. Then put the spaghetti in the water, and cook them for 4 minutes less than indicated on the cooking package.

If the package says 12 minutes, then cook it for 8 minutes only.

While the pasta cooks, take care of the tomato sauce. Season it with two pinches of salt and add around 10 basil leaves in it. You might need to add some extra pasta water if the sauce is too thick now.

When the pasta is ready, take it out of the water and put it into the pan with the sauce. Do not throw away the pasta water, we need it to finish cooking the pasta.TIP: The pasta should still be quite hard and not fully cooked as you should remove it 4 minutes before the time indicated on the package.

Finish cooking the pasta in the pan with the tomato sauce, adding one or two ladles of pasta water as the pasta cooks. Stir gently, and cook until the pasta is al dente - still with a nice bite to it.

Turn off the heat, and if you like, add a couple of extra spoons of extra virgin olive oil. Give it a final stir and serve with some fresh basil leaves on top.
Nutritional Values
Nutrition Facts
Pasta al Pomodoro
Amount Per Serving
Calories 533
Calories from Fat 144
% Daily Value*
Fat 16g25%
Potassium 646mg18%
Carbohydrates 83g28%
Protein 15g30%
Vitamin A 1041IU21%
Vitamin B6 1mg50%
Vitamin C 23mg28%
Vitamin E 3mg20%
Vitamin K 38µg36%
Calcium 78mg8%
Folate 42µg11%
Iron 3mg17%
Manganese 1mg50%
Magnesium 78mg20%
Zinc 2mg13%
* Percent Daily Values are based on a 2000 calorie diet.
Did you make this recipe?
Tag us on Instagram @Italiaplantbased
👨🏻‍🍳 Tips
Use a 2:1 tomatoes to pasta ratio for best balance between pasta and tomato sauce. That is, if you want to cook 200 grams (7 oz) of pasta, then you need 400 grams (14 oz) of tomatoes in total.
Use two different types of tomatoes - small fresh ones, and whole canned peeled tomatoes - to make the sauce richer and the balance sweetness and acidity of the dish.
Undercook the pasta by 4 minutes before draining it because we finish cooking it in the pan with the tomato sauce. This will make the sauce much creamier as the pasta releases some of its starch into the sauce.
Don't throw away the pasta water as we use it to finish cooking the pasta al pomodoro in the sauce. Thanks to its high starch content, pasta cooking water is perfect to add to our sauce. It will make it creamier.
Use bronze cut pasta if you can. Bronze cut pasta is best for these spaghetti al pomodoro, as opposed to steel cut pasta, has a rugged porous surface that will 1) release more starch making our final dish creamier, 2) allow the sauce to stick better thanks to its rugged surface.
🥫 Storage
Pasta al Pomodoro is best eaten on the spot. If you have some leftovers, store it in a air tight container in the refrigerator for up to 12 hours.
To reheat it, add it to a small pot with a dash of tap water and warm it up on medium-low heat. Add some fresh basil. Do not reheat more than once as this will destroy the texture of the spaghetti and its flavor.
🍜 Variations
This Pasta al Pomodoro recipe is just one way to make a delicious vegan pasta with a rich and creamy sauce. Here are some alternatives for 5 creamy vegan Italian pastas:
1. Cacio e Pepe: This is a creamy, sensual, peppery, and cheesy pasta dish that you can cook in just about 10 minutes. In the last couple of years, vegan cheese has become a strong valid substitute for regular cheese, in both texture and flavour.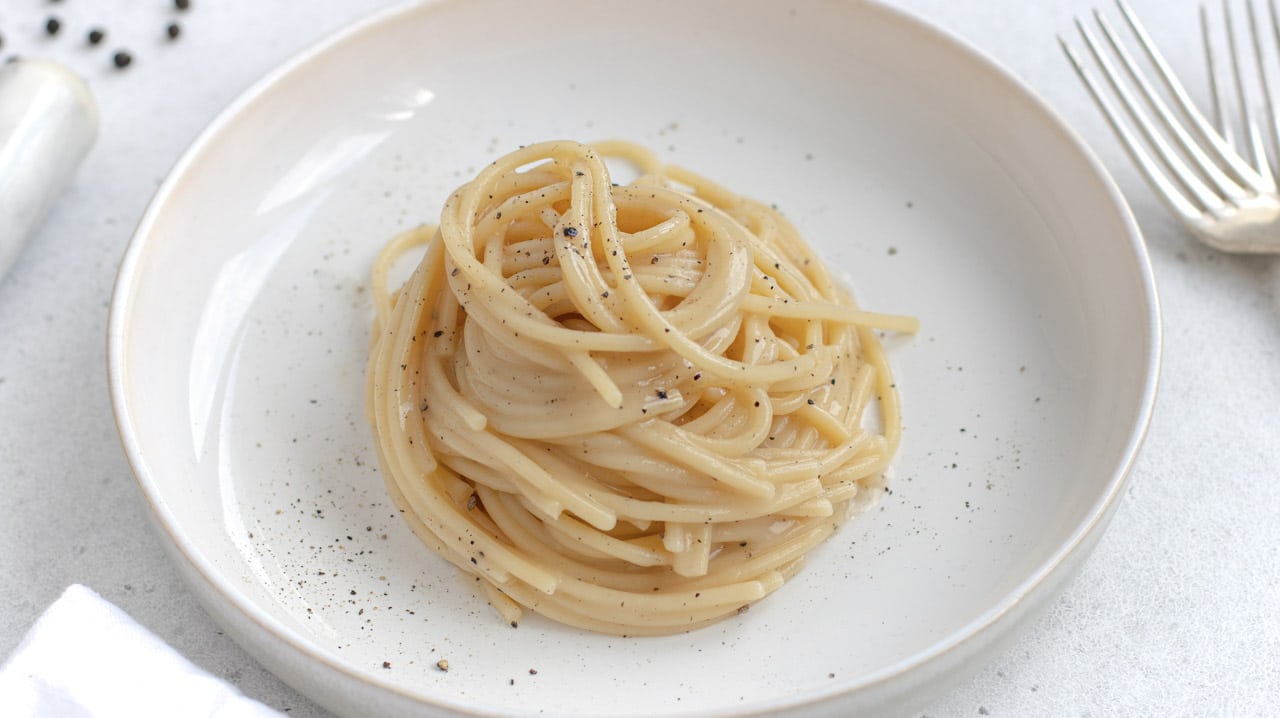 2. Aglio e Olio e peperoncino: simple and yet so fulfilling and delicious. It brings together the main elements of Italian cuisine: simplicity, creativity and comfort. No one can resist this.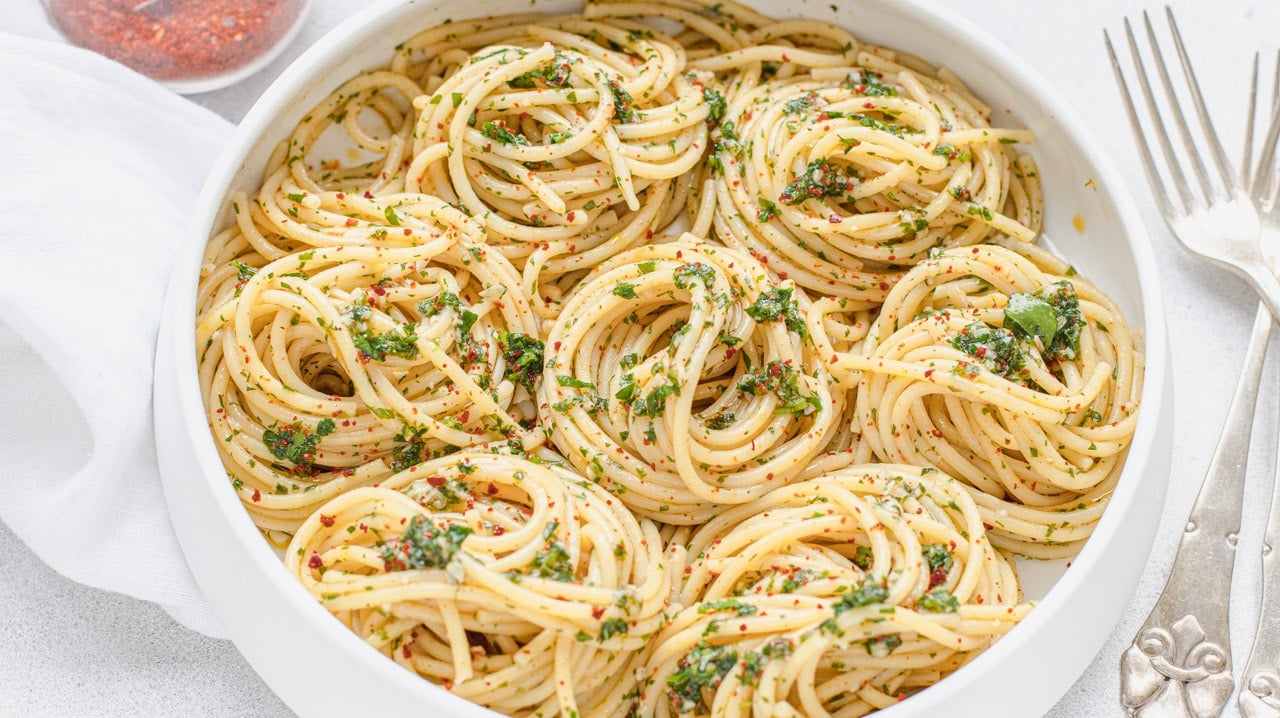 3. Creamy Baked Pasta Pizzaiola: our Pizzaiola Pasta bake has four layers of creaminess, and loads of umami. A rich tomato sauce, starchy pasta, vegan béchamel sauce and melted cheese make the 4 components of this mouth-watering pasta bake.
4. Quick and Creamy Pasta "Boscaiola": like a big warm hug on a cold and windy day! Mushrooms, peas and vegan smoked sausage to the sauce to give it umami, saltiness and texture. Ready in less than 30 minutes and perfect for everyday cooking.
5. Protein packed Vegan Spaghetti and Meatballs: here is an umami-explosion with creamy tomato sauce, Italian-spiced chickpea "meatballs" and al dente whole grain spaghetti. We added a pinch of home made vegan parmesan for a salty and cheesy finish.
🍝 Related recipes
If you have any tips or questions let us know in the comments below!