These Vegan Amaretti – Italian almond cookies – are crunchy on the outside, soft and moist on the inside, and bursting with almond flavor. They are perfect as a sweet during holidays and Christmas for parties and special occasions.

We take the original Italian amaretti recipe and make it without eggs for a flavor and texture that is as delicious as the non-vegan one.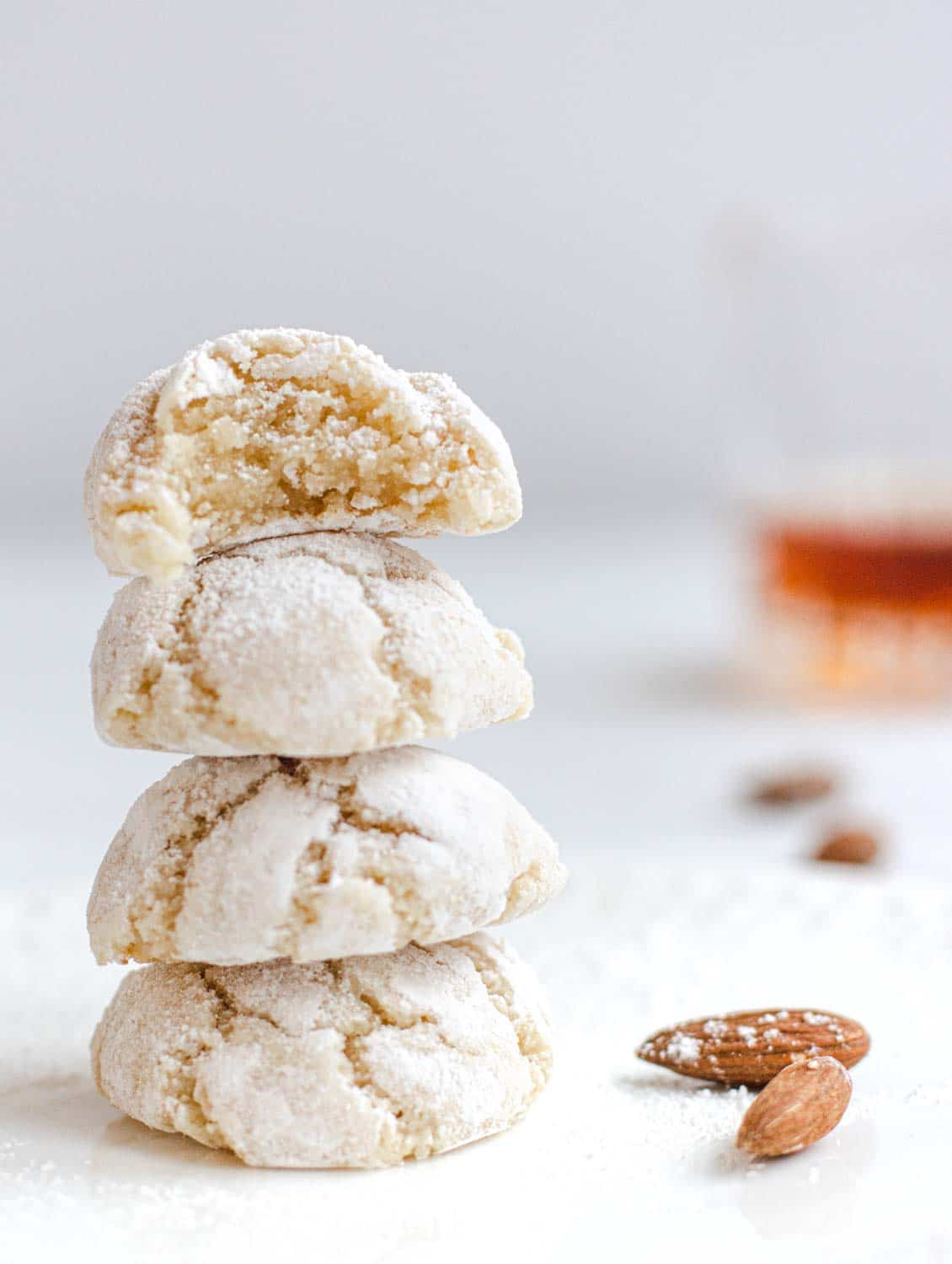 Check out our best Italian recipe collection!
Ingredients
Aquafaba: as a replacement for egg white we use chickpea water, also called aquafaba. Aquafaba has amazing foaming properties that make it the perfect egg white replacement for meringues and for various desserts where the beaten eggs' airy texture is a crucial ingredient.
Think of a moist, light chocolate brownie cake, ladyfingers for tiramisù, or almond orange cookies.
Almond flour: we used store-bought almond flour.
Sugar: White granulated sugar or caster sugar is the best to make perfectly light and crisp amaretti cookies.
Amaretto liquor: or almond aroma
Powdered sugar: for the cookie batter and for sprinkling on top
Vanilla aroma: or vanilla powder for sweetness
Storage
Our vegan amaretti keep fresh for up to a week if stored well in an airtight container, in a dry corner of your kitchen. You could stretch the storage time to up to two weeks, but the cookies will get a lot drier. In this case, you could warm them up slightly in the oven before serving them.
Tips
Amaretti are consumed mostly during winter and the Christmas period in Italy, generally eaten at the end of a meal, or as a snack in the middle of the afternoon. If you eat them after a meal, they are best served with a glass of sweet wine or warm plant milk on the side.
As the Italian tradition says, the cookies and biscuits are typically served on an abundant tray of cookies and accompanied by other types of Italian sweets. In many homes, they are also eaten for breakfast, mid-morning, and afternoon snacks – basically at any time!

Amaretti cookies are often served for parties, Christmas, and special occasions. For example, try making our other delicious cookies, such as Orange Almond Cookies, Almond Biscotti, and Red Wine Cookies. They are all perfect for winter, the holiday season, or at any other time when you feel like a sweet treat with no eggs and no butter.
Vegan Amaretti – Italian Almond Cookies
These Vegan Amaretti – Italian almond cookies – are crunchy on the outside, soft and moist on the inside, and burst with almond flavour. They are perfect as a snack during cold winter days, when you need a small treat to keep you going. We take the original Italian amaretti recipe and make it without eggs for a flavour and texture that is as delicious as the non-vegan one.
Ingredients
Dry ingredients
115

g

almond flour

store bought

70

g

sugar

50

g

powdered sugar

½

tsp

baking powder
Wet ingredients
25

g

acquafaba

this is simply the chickpea water from a can of chickpeas

7

g

amaretto liqueur

or almond aroma

½

tsp

vanilla extract
You'll also need
3

tbsp

powdered sugar

for coating the amaretti
Instructions
In a bowl, mix the dry ingredients together.

In a clean bowl, add the aquafaba – the water in a can of chickpeas – making sure there are no chickpea pieces in the water.

With an electric whisk/hand mixer beat up the chickpea water just like if it were egg whites. It should turn into an extra firm foam.

Scoop the foam into the bowl with the dry mix, then with a spatula, incorporate it to the dry ingredients, mixing gently with a circular movement from bottom to top.

Add the amaretto liqueur and the vanilla flavour to the mix and keep incorporating gently until you get a paste/dough.

Now, prepare a plate with 3 tbsp of powdered sugar. Take small pieces of dough and with your hands, start making small balls out of it. Each ball should weigh about 20 g to 23 g. This is important or else they won't cook properly.Shape the balls, then roll them on the plate with the powder sugar until they are fully coated.

Shake away the excess powdered sugar, then place them on a plate and let them rest in the freezer for 45 minutes. You can try to bake them straight away if you don't have time, but their shape might not hold when heated up in the oven. Preheat the oven to 170C/340F.

Place them on a tray lined with baking paper or a silicon baking mat, and bake at 170C / 340F for about 15 minutes. The cooking time depends a lot on the oven, so keep an eye on them. They are ready when they start cracking on top. Let cool down for about 15 minutes before serving.
Notes
MEASUREMENTS
We recommend using the metric system for this recipe.
Nutrition
Calories:
103
kcal
,
Carbohydrates:
14
g
,
Protein:
2
g
,
Fat:
5
g
,
Saturated Fat:
1
g
,
Potassium:
21
mg
,
Dietary Fiber:
1
g
,
Sugar:
12
g
,
Calcium:
29
mg
,
Iron:
1
mg
Tried this recipe?
Leave a comment below or mention @theplantbasedschool on Instagram. We are also on Facebook, Pinterest, YouTube, and TikTok.
---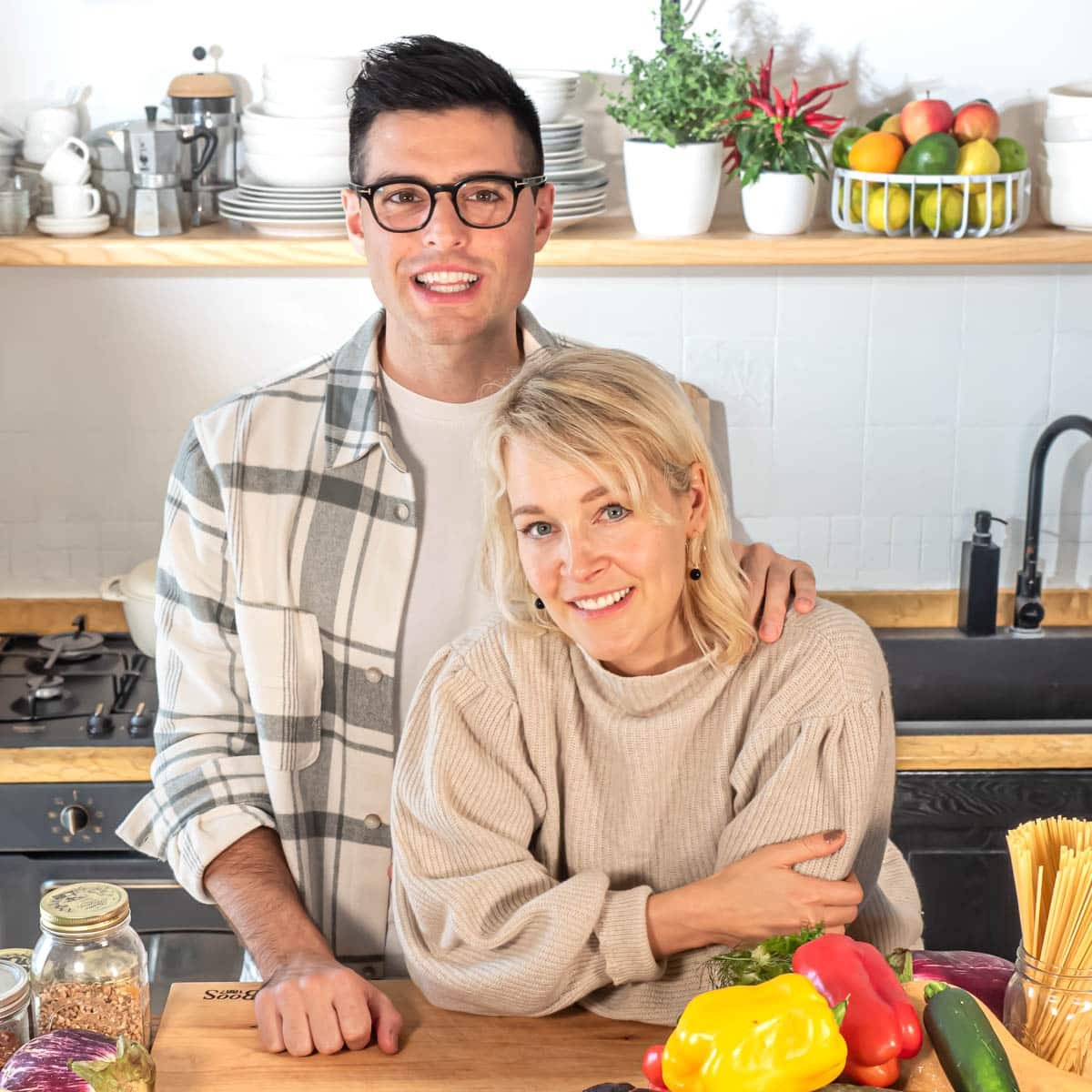 Hi! We are Nico & Louise
Welcome to The Plant-Based School, a food blog with easy, tasty, and wholesome recipes.
Our aim is to help you and your family eat more veggies through delicious recipes with simple ingredients.
Easy right?