Cambia lingua / Switch language: Italiano
Pasta aglio olio is an Italian classic first course that everyone needs to try at least once in their lifetime. It's so simple and yet so fulfilling and delicious. It brings to together the main elements of Italian cuisine: simplicity, creativity and comfort. No one can resist this.
Jump to:
🎥 Video
📋 Recipe
Pasta aglio olio and peperoncino recipe
An Italian classic first course that everyone needs to try at least once in their lifetime. It's so simple and yet so fulfilling and delicious. It brings to together the main elements of Italian cuisine: simplicity, creativity and comfort. No one can resist this.
Ingredients
300

grams

(

10.6

oz

)

spaghetti

(or bavette or linguine)

3

cloves

garlic

½ to 1

tbsp

chili flakes

60-100

ml

olive oil, extra virgin

2

handfuls

flat-leaf parsley

finely chopped

3

liters

(

0.8

gal

)

water

to cook the pasta

2

tbsp

(

2

tbsp

)

coarse sea salt
Instructions
Start by finely chopping the parsley and the garlic.

In a large pot, bring 3 to 4 litres (1 gallon) of water to boil. Then add the coarse sea salt.

Cook the pasta in the boiling water for the time that's on the package minus 4 minutes.

While the pasta cooks, add the olive oil to a non stick or stainless steel pan.

When the oil is warm, add the finely chopped garlic. Let fry in the oil for about 1 minute. Make sure your heat is on low and the oil doesn't get too hot. You don't want to burn the oil, nor the garlic.

Turn the fire off, then add the chili flakes. Let fry with the garlic with the residual heat of the pan.

Finally, turn on the heat for another 30 seconds or so, until the garlic starts to fry again. As soon as it fries, turn the heat off and add the finally chopped parsley to the pan. Stir and let the parsley, garlic, and chili flakes cook together only with the residual heat of the pan and the oil.

When the pasta is ready, toss it in the pan but save the pasta cooking water. Turn on the heat on medium and finish cooking the pasta in the pan with the sauce while stirring for another 3 minutes.Add a ladle or two of pasta water to make the whole thing come together.

Serve immediately with some extra chili flakes and parsley on top. Enjoy this simple and delicious meal.
Nutritional Values
Nutrition Facts
Pasta aglio olio and peperoncino recipe
Amount Per Serving
Calories 557
Calories from Fat 198
% Daily Value*
Fat 22g34%
Carbohydrates 76g25%
Protein 13g26%
Calcium 35mg4%
Iron 2mg11%
* Percent Daily Values are based on a 2000 calorie diet.
Did you make this recipe?
Tag us on Instagram @Italiaplantbased
👨🏻‍🍳 Tips
Chop everything in advance
If you haven't done this recipe before my advice is to chop the garlic and the parsley before you start cooking the pasta. This is because you need to give your full attention to the garlic while it turns golden in the oil.
Garlic burns very easily in hot oil, so you need to make sure that the oil doesn't become too hot. If you burn the garlic don't worry, this happens. But you'll need to start again, or your pasta will taste really bitter and burned.
Use the right pasta type
This recipe is best with long pasta types. Spaghetti or linguine are the best. Another thing you should look for when you buy your pasta is the ingredients. Unfortunately, pasta has a bad reputation for being unhealthy, but this cannot be further from the truth.
Authentic Italian pasta, made from durum wheat or whole wheat - best if organic - is an incredible food. It has a perfect balance of protein (13g) and carbs (73g), is low fat (1.5g), and has low glycemic index. Just make sure you don't buy low quality pasta made from white flour.
It took me 4 years to convince Louise to give pasta a try. Like most people she was afraid to get fat after eating pasta. After many months of eating it, she has never been slimmer and happier. And if I don't cook pasta at least once per day I am in big trouble 🙂
Salt the pasta water but don't put oil in it
With all pasta recipes, and in particular with this one, is very important to put a generous amount of salt - one handful for 3 to 4 litres (1 gallon) of water - into the water you cook the pasta in.
The best salt is coarse sea salt. Sea salt is healthier than table salt and it gives a better flavour to the food since it contains natural minerals. Good quality sea salt is made by letting the sea water dry in the sun. Table salt, on the other hand, is made by chemically extracting the salt from the ground, then adding chemicals to it to make it stay dry. It's bad. Never buy table salt.
When you cook pasta, you should add the salt to the water only after the water is already boiling. I've been telling my mom this since my first class of cooking school when I was 14, but she never listens to me and she still puts the salt in cold water.
The result? It's gonna take longer for the water to boil as adding the salt increases the boiling point of the water. So, if you are in a hurry, salt the water once is already boiling.
P.s. There is no need to put oil in the pasta water when you cook dry pasta.
🍜 Variations
This Aglio e Olio recipe is just one way to make a delicious vegan pasta with a rich and satisfying sauce. Here are some alternatives for 3 Delicious Italian pastas:
Cacio e Pepe: Pasta cacio e pepe vegan. Is that even possible? Yes! And the result is an irresistible, creamy, sensual, peppery, and cheesy pasta dish that you can cook in just about 10 minutes. In the last couple of years, vegan cheese has become a strong valid substitute for regular cheese, in both texture and flavour. Try, and let us know what you think!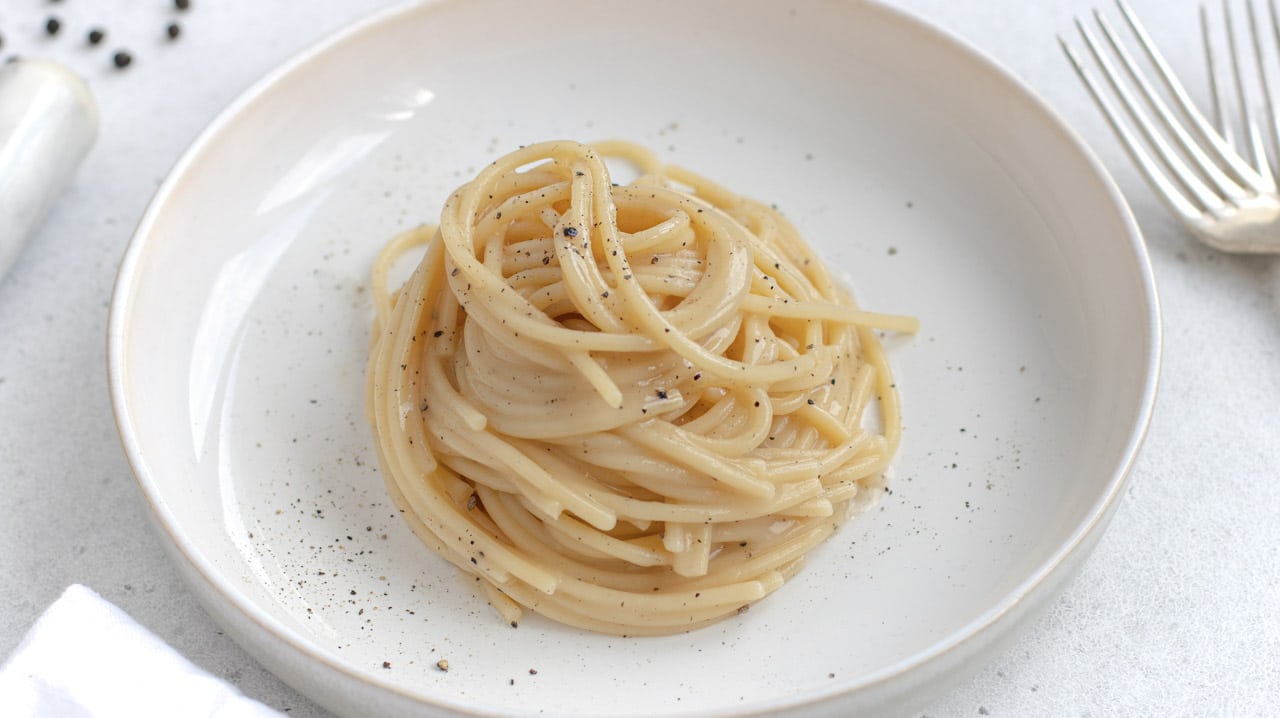 2. Pasta al Pomodoro: Our spaghetti al pomodoro is quick to make, with easy-to-find and simple ingredients. They are creamy, full of umami, and with with notes of garlic and fresh basil. This Pasta recipe is a healthy and naturally vegan dish that is the perfect comfort food for a cozy night full of hygge.
3. Linguine with Chanterelles Mushrooms: Simple and fresh ingredients, for a healthy and delicious meal. You can throw this wonderful vegan pasta recipe together in under 10 minutes. Just the time to boil the pasta, et voilà!
🍝 Related recipes
If you have any tips or questions let us know in the comments below!