Cambia lingua / Switch language: Italiano
This no-knead vegan Italian focaccia is soft and moist on the inside, and crispy and packed with flavour on the outside. It's very easy to prepare without having to knead by hand, but rather working the dough in a bowl with a spoon.

Follow our tips and you'll get an authentic Italian focaccia that will leave everyone wanting for more.
Jump to:
What to expect: very easy to prepare, very soft inside and crispy outside, topped with simple ingredients and herbs. Very aromatic, colourful, and with authentic Italian flavours. If you like it with something cheesy on top, check out our vegan Italian cheese spread.
Our recipe for this no knead vegan focaccia is the result of several experiments made after learning from the many regional Italian traditions of focaccia-making.
For example, pushing down the cherry tomatoes deep in the dough is typical of the focaccia eaten in Bari, Apulia. Cherry tomatoes, releasing their liquid during cooking, create that "gooey" texture which, combined with the crunchy crust, is just perfect.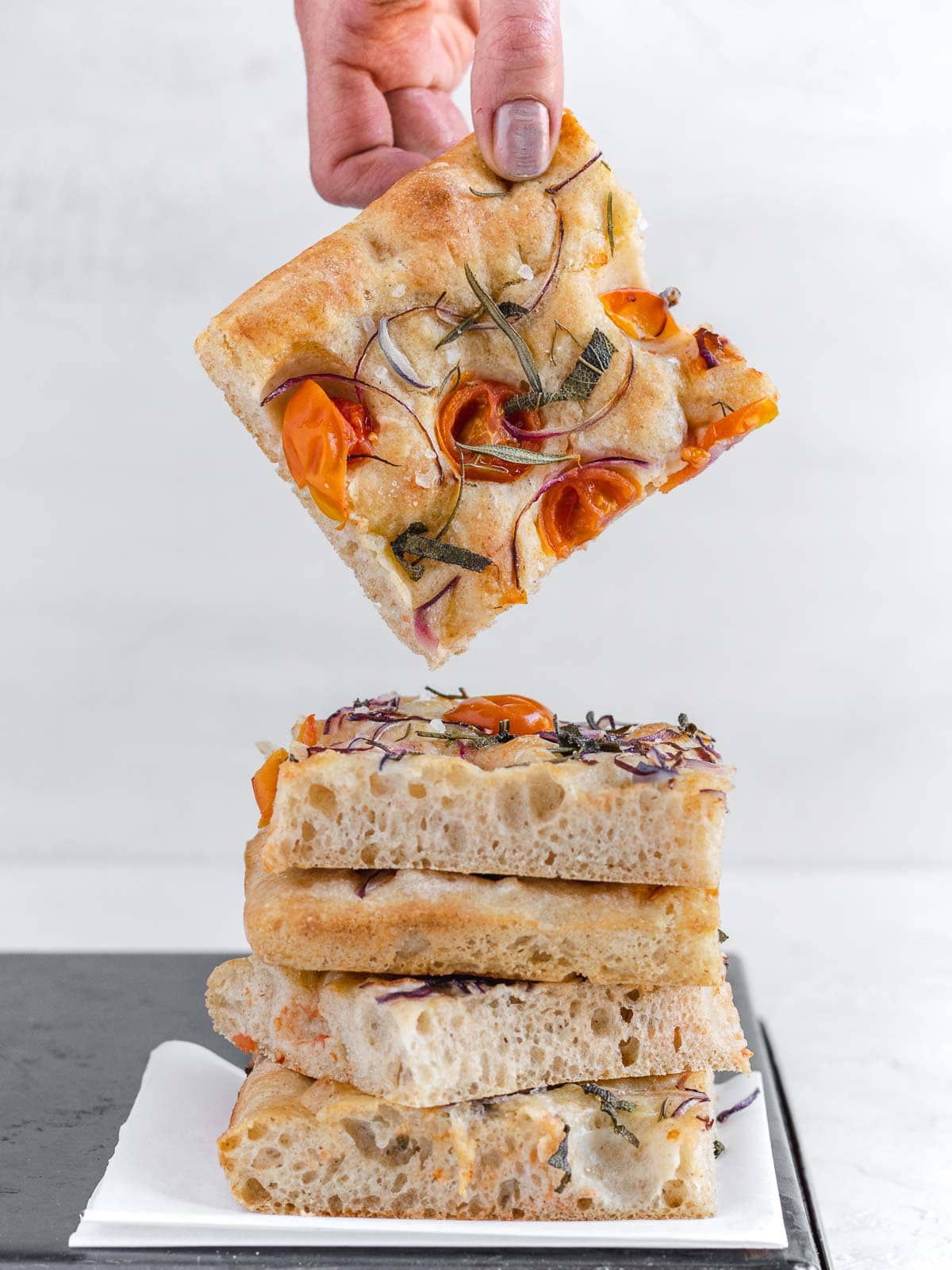 The seasoning with sage, onion and rosemary, on the other hand, is typical of central Italy, especially Umbria, where sage and rosemary are really everywhere. Together, these flavours give a rustic, countryside spin to the focaccia.
Or the grains of coarse salt, tossed on top of the dough before baking it, typical of the Genoese tradition, where the slice of focaccia is eaten turned upside down to stimulate the taste buds on the tongue with salt.

Note that focaccia in Italy is not always vegan. In some regions they add lard to the dough. Our recipe is 100% plant-based. For other traditional Italian recipes with leavened dough check out our vegan cream buns, our vegan croissants, or our vegan pan brioche.
Ingredients & Substitutions
For the focaccia dough
Flour: you can use bread flour, all purpose flour, or like I do, a semi whole-wheat flour, sometimes known as first clear flour.
Water: I use lukewarm tap water. The lukewarm water helps the yeast to start rising as quickly as possible, thus reducing proofing time. It also helps us to hydrate the flour faster, and this is important in this preparation as we are not going to knead the dough much. Do not use hot water or you'll kill the yeast and your dough won't proof.
Yeast: I use instant dry yeast, but you can also use fresh yeast, or active dry yeast. If you use fresh yeast, you need to triple my instant dry yeast amount.
Salt and sugar: the salt is for flavour, the sugar is to help the yeast do its job.
For the topping
You can use any topping for this no knead vegan Italian focaccia. The topping I recommend is a simple one made with cherry tomatoes, onion, rosemary, sage, extra virgin olive oil, salt, and a few grains of coarse salt. This combination is a classic in Italy.
Tips
High hydration
Hydration in this case means the amount of water compared to the amount of flour. In this focaccia the hydration is 80%, so very high. High hydration allows us to get a soft focaccia, full of air bubbles and crispy on the outside.

All this without having to knead it, without having to use sourdough, and without having to do very long proofing and maturing of the dough.
Fold the dough on itself several times
This technique, carried out with a spoon or a kitchen spatula, is sufficient to create a strong enough gluten network. This gluten network is capable of retaining the air released by the yeast during the second rising and during baking.

This is a key step in obtaining an airy, bubbly and soft focaccia. I made this focaccia many times, and I can tell you with confidence that folding the dough on itself 40 times is the perfect amount of folding. It takes just 1 minute.
Second proofing in the baking tray
The second proofing in the pan allows the focaccia to grow and become lighter. It also allows air bubbles to form, which, thanks to the gluten network explained above, make the focaccia tall, soft and airy.
Poke with your fingertips
A focaccia to be good must have holes made with the fingertip where the olive oil collects and where the dough is slightly less cooked than the top part of the focaccia.
The combination of the gooey undercooked dough with the crunchy part make the focaccia truly irresistible when you bite it.
Moreover, making holes with the tip of fingers allows the air released by yeasts to remain in the dough.

A mistake would be to push the focaccia with the whole palm of the hand. If you do that, you would push the air out of the dough, making a too-flat and too-compact focaccia.
Add oil and water on top
In many Italian regions, people like to season focaccia with a brine of water, extra virgin olive oil, and salt before baking it. This emulsion goes into the little holes made with your fingers and causes the focaccia to remain be flavourful and a bit moist in these holes.
For our focaccia with cherry tomatoes you don't need this step. But if you make a white focaccia with rosemary then I recommend adding the brine made with 15 grams (1tbsp) of olive oil, 60 grams (4tbsp) of water and two pinches of salt.
Coarse salt
"Tossing" a little coarse salt over the focaccia before baking it will make this simple snack even more delicious. In Genova they make focaccia like this. And in my opinion coarse salt it is the "cherry on top" of a good focaccia.
Halved cherry tomatoes pushed in
If you decide to make focaccia with cherry tomatoes then make sure to push them well into the dough so they don't come out while cooking.

Also, in this way, the dough underneath the cherry tomatoes will remain slightly less cooked, making the focaccia very yummy.
Note: In my opinion a focaccia without oil and salt is not a focaccia, but just a piece of bread. In this recipe I avoid adding fat/oil in the dough, I don't think there is a need for it.

But I think it's important to add a drizzle of oil on the baking sheet before laying the focaccia in it, instead of using baking paper. It's also important to add a drizzle of oil (or even better brine with water, oil and salt) on the focaccia before baking it.
Storage
Focaccia is best eaten within a few minutes, straight out of the baking tray. If you have leftover, you can store it in a plastic food bag or in an airtight container for a couple of days. At room temperature, not in the fridge.
Then when you feel like eating it, reheat it in the oven at 360F, 180C until it's warm, soft and crispy.
You can also freeze the focaccia once it's baked and cooled completely. To thaw it you can use the microwave with defrost function, or leave it out of the freezer for 2 hours and then warm it well in the oven at 360F, 180C for 10 minutes.
Recipe
No knead vegan Italian focaccia
This no-knead vegan Italian focaccia is soft and the right amount of moist on the inside, and crispy and packed with flavour on the outside. It is very easy to prepare without having to knead by hand, but working the dough in a bowl with a spoon. Follow our advice and you'll get an authentic Italian focaccia that will leave everyone wanting for more.
Equipment
Baking tray 16 x 12 inches (or 40 x 30 cm).
Ingredients
For the dough
500

g

(

3

cups

)

bread flour

400

g

(

1.7

cups

)

lukewarm water

3.5

g

(

1

tsp

)

instant dry yeast

or 10 g fresh yeast*

5

g

(

1

tsp

)

sugar

10

g

(

2

tsp

)

salt
For the topping
30

g

(

2

tbsp

)

olive oil

extra virgin

5

g

(

1

tsp

)

salt

4

stalks

rosemary

10 - 15

leaves

sage

1

red onion

20

cherry tomatoes

1

tsp

coarse salt
Instructions
In a large bowl add all the ingredients for the dough: flour, yeast, sugar, lukewarm water, and salt. Mix all ingredients well for two minutes, stirring with a spatula or a spoon. You should have a sticky and wet dough.NB: read the instructions for your yeast. Mine can be put directly into the flour. But many other dry yeasts must first be dissolved in lukewarm water and sugar.

Cover the bowl with a damp cloth, leaving enough space between the bowl and the dough.Proof in a slightly warm oven for 2 hours. The dough should double in volume. To warm up the oven, turn it on for 30 seconds, then turn it off. That should be enough heat for the dough to proof well.

After proofing, fold the dough over on itself from the outside to the inside, still in the bowl and with a spatula (or with a spoon). There's no need to touch it with your hands.Fold it 40 times. This will take about 1 minute. See this short video clip below to understand the technique.

Grease your baking tray with olive oil, then dust it with flour. This will help the focaccia come out of the tray easily once baked.NB: I do not recommend using parchment paper, it is difficult to shape the dough and the end result will not be the same.

Transfer the dough to the center of the baking tray, then with the back of two spoons (or two spatulas) spread the dough out until the whole tray is evenly covered. To prevent the spoons from sticking to the dough, wet the spoons with water. If the focaccia gets a little wet it's even better.Put back in the slightly warm oven to proof for another 45 minutes, this time without covering it. After this second proofing, take it out of the oven and preheat the oven to maximum power. For a domestic oven that usually is between 450F and 480F (or 230C and 250C). Static oven is best, not ventilated.

Now drizzle the focaccia with some olive oil (a couple of tablespoons).Then with lightly wet or oiled fingertips of your hands, poke small holes in the focaccia. NOTE: I wet my fingertips by mixing oil and water in a small bowl and dipping my fingers in.

Season with cherry tomatoes cut in half (push them well into the focaccia), chopped sage, rosemary, finely chopped onion, a generous sprinkling of salt, a few grains of coarse salt, and a drizzle of oil.

When the oven has reached temperature, place the focaccia in the medium-low rack of the oven and bake it for about 18 to 20 minutes.But cooking times varies a lot based on your oven and on how much topping you put on. Check it at around 16 minutes. The focaccia is cooked when it's nice and crispy on top and bottom, but still soft inside.

Let it cool down for at least 5 minutes before removing it from the pan, cutting it and serving it.
Notes
IMPORTANT: Small mistake in the video. Oven temperature should be 480F or 250C. Not 360F (180C) as written in the video. Sorry about that.
Instant dry yeast does not need to be dissolved in warm water. You can replace instant dry yeast with the same quantity of active dry yeast, but active dry yeast needs to be dissolved in warm water and sugar before being used. 
You can also replace instant dry yeast with fresh yeast. In this case you need to use 3x more fresh yeast, so multiply my dose for yeast times 3. Also, fresh yeast needs to be dissolved in warm water or warm milk and sugar before being used.
MEASUREMENTS
If you can, use a digital scale for our recipes. This way you'll get the best results.
We use
calculateme.com
to convert grams to US volume measurements. We believe they have the most accurate conversion algorithm. If must use cups and spoons, then use the "spoon and level" method. That is, spoon the ingredients into the measuring cup, or measuring spoon. Then level the excess with a knife.
Nutritional Values
Nutrition Facts
No knead vegan Italian focaccia
Amount Per Serving
Calories 187
Calories from Fat 27
% Daily Value*
Fat 3g5%
Potassium 131mg4%
Carbohydrates 33g11%
Protein 6g12%
Vitamin A 166IU3%
Vitamin B6 1mg50%
Vitamin C 8mg10%
Vitamin E 1mg7%
Vitamin K 2µg2%
Calcium 29mg3%
Folate 29µg7%
Iron 1mg6%
Manganese 1mg50%
Magnesium 18mg5%
Zinc 1mg7%
* Percent Daily Values are based on a 2000 calorie diet.
Did you make this recipe?
Tag us on Instagram @Italiaplantbased
Related recipes
Let us know in the comments below if you made this no knead vegan Italian focaccia, or take a picture and tag us on instagram @italiaplantbased.