Cambia lingua / Switch language: Italiano
We hope you'll love this creamy vegan risotto with asparagus. We took inspiration from some of the best chefs in the world to make this one and give a full round asparagus flavour.
📋 Recipe Card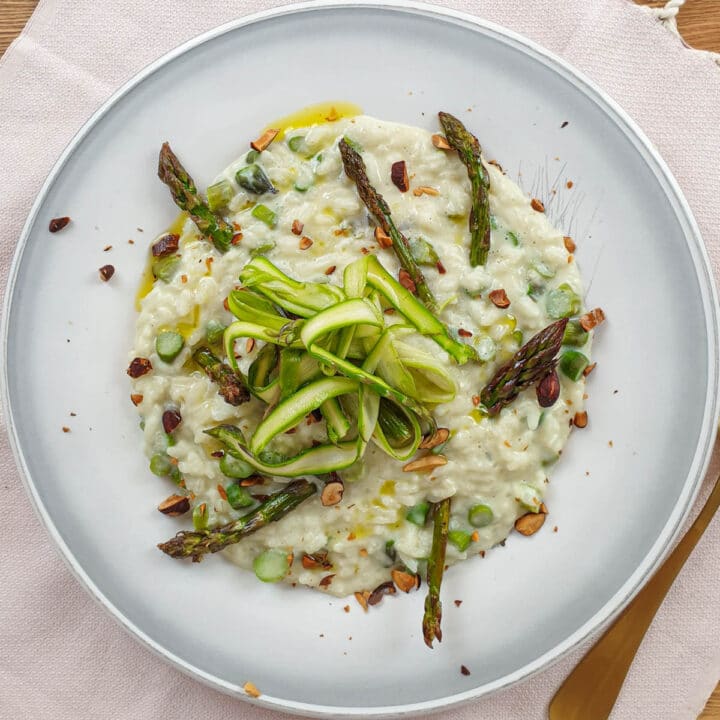 Vegan asparagus risotto
We hope you loved this creamy vegan risotto with asparagus. We took inspiration from some of the best chefs in the world to make this one and give a full round asparagus flavour.
Ingredients
700

grams

green asparagus

200

grams

risotto rice

100

grams

almonds

1

small

white onion

1

tbsp

vegetable bouillon powder

1

cup

soy milk

1

tbsp

lemon juice

3

tbsp

olive oil

salt & pepper
Instructions
1. Prep the asparagus
Cut off the end of the asparagus and save it for the vegetable stock. Set aside 8 asparagus whole (without the end part). Cut off the top part of the remaining asparagus and set it aside. Cut the middle part of the remaining asparagus into small discs.
2. Prep the asparagus stock
In a large pot with about 4 litres (1 gallon) of water add 1 tbsp of vegetable bouillon and the ends of the asparagus. Bring to boil and keep this vegetable stock hot on slow boil throughout this recipe. Add a pinch or two of coarse sea salt.
3. Cook the asparagus discs
In a non stick pan, add a finely chopped white onion and a ladle of the vegetable stock. Let the onion cook for 1 minute, then add the asparagus discs and let them cook for about 5 to 6 minutes. Add some more vegetable stock if necessary and season with some sea salt.
4. Prep the almond-asparagus cream
In a small pot with boiling water, blanch half of the almonds for exactly 60 seconds. The drain them under cold water and remove their skin. It should be very easy to do, just squeeze the almonds through your fingers and they should pop out of their skin.

In a small blender, add the peeled almonds, soy milk, 2 tbsp of cooked asparagus discs, a pinch of salt and a squeeze of fresh lemon juice. Blend very well until you have a very smooth cream.
5. Prep the toppings
On a baking tray with some parchment paper or a silicon mat, season the tip of the asparagus with a crushed clove of garlic, olive oil, salt and a squeeze of lemon juice. On the same tray, but separate from the asparagus, season the second half of the almonds with olive oil and salt. Bake in the oven for 10 min at 180˚C (360˚F). Then crush the almonds into small pieces.
6. Start cooking the risotto
In a large pan, add the risotto rice and start toasting the rice on medium heat for about 1 minute while stirring with a wooden spoon.

Add a small quantity of hot vegetable stock to the rice (about 1.5 ladles) and stir. When the vegetable stock has evaporated, add some more, little by little. Keep stirring often. Repeat this for the next 10 minutes.

In the meantime, take the 8 whole asparagus that you previously set aside, and with a potato peeler, start shaving them, creating thin slices of asparagus. Season this with some salt, olive oil, and a drizzle of lemon juice. Set aside. Don't forget to keep an eye on the risotto, you need to keep adding vegetable stock and keep stirring.

After 10 minutes, add the asparagus discs to the rice, some extra vegetable stock, and keep stirring. Keep adding vegetable stock and stirring for about 5 more minutes, until the risotto is cooked al dente. It needs to have some bite.

Turn off the heat and add the almond-asparagus cream into the risotto while stirring. Add some more vegetable stock if necessary. At this point taste and add some salt if necessary.

Keep stirring until the cream is fully incorporated. Remember that the consistency of your risotto needs to be wavy, or as us Italian say, "all'onda". Not too think, not too watery, just like a wave.
7. Plating the risotto
Serve risotto immediately on a flat plate. Let it set into the place without touching it. Then add the roasted asparagus tips on top. Sprinkle with some crushed roasted almonds. Top with a bush of asparagus shavings, and drizzle with some drops of extra virgin olive oil.
Nutritional Values
Nutrition Facts
Vegan asparagus risotto
Amount Per Serving
Calories 485
Calories from Fat 225
% Daily Value*
Fat 25g38%
Carbohydrates 56g19%
Protein 14g28%
Calcium 195mg20%
Iron 7mg39%
* Percent Daily Values are based on a 2000 calorie diet.
Did you make this recipe?
Tag us on Instagram @Italiaplantbased
👨🏻‍🍳 Top tips
COOK YOUR VEGETABLES IN DIFFERENT WAYS
We love to cook seasonal food and these days, in Germany at least, there is nothing more seasonal than asparagus. Supermarkets are flooded with white and greens bunches of this beautiful and delicious vegetable, and so we couldn't resist and went all the way to created the best vegan asparagus risotto. Don't worry, it's still relatively simple to make. Just follow our steps and tips 🙂
Traditional non vegan risottos are creamy and rich in flavour mainly thanks to parmesan cheese and butter added during the last stage of cooking "mantecatura". Since we don't use either of those ingredients, we had to come up with a new way of recreating that creamy indulgent risotto experience. To do this, we took inspiration from some of the top chefs around the world, especially Wolfgang Puck, living legend Massimo Bottura and Alice Waters, and we used the asparagus in 5 different ways to create this delicious and beautiful dish.
When you want to create a dish with a main vegetable and elevate its flavour, take that vegetable and cook it in different ways before using it for the dish. You will get a deeper, multidimensional flavour infused into the dish. You will also get different textures and different colours which will help create the wow factor when serving the dish. Here we boiled, sautéd, blended, baked, and shaved the asparagus to create the perfect risotto.
USE THE RIGHT VARIETY OF RICE
As simple as this sounds, if you don't buy rice that is specifically grown for risotto, you won't be able to make risotto. The best rice for risotto are the varieties cultivated in Italy. Arborio, Baldo, Carnaroli, Maratelli, Padano, Roma, and Vialone Nano are all great. They all contain a higher starch content than generic rice. This makes it possible for the grain to absorb water and release the starch, making the rice extra creamy if cooked properly. Don't worry, you will find risotto rice in most stores these days.
FLAVOUR THE VEGETABLE STOCK
It's important to flavour the stock with the scraps of your main ingredient. We do this to give that extra flavour boost infused into the rice. For example, in this case, we added the woody asparagus ends into the vegetable stock to infuse the water with asparagus flavour. This flavour will penetrate the rice and make the flavour profile of the dish a lot deeper and more complex.
Also, some chefs prefer not to add salt to the stock as it is hard to control saltiness of the risotto this way because the water from the stock evaporates and the liquid becomes saltier. We personally like to add a pinch or two of salt to the stock to boost its flavour. Just make sure to occasionally taste it, and if it's too salty, add some more water to it.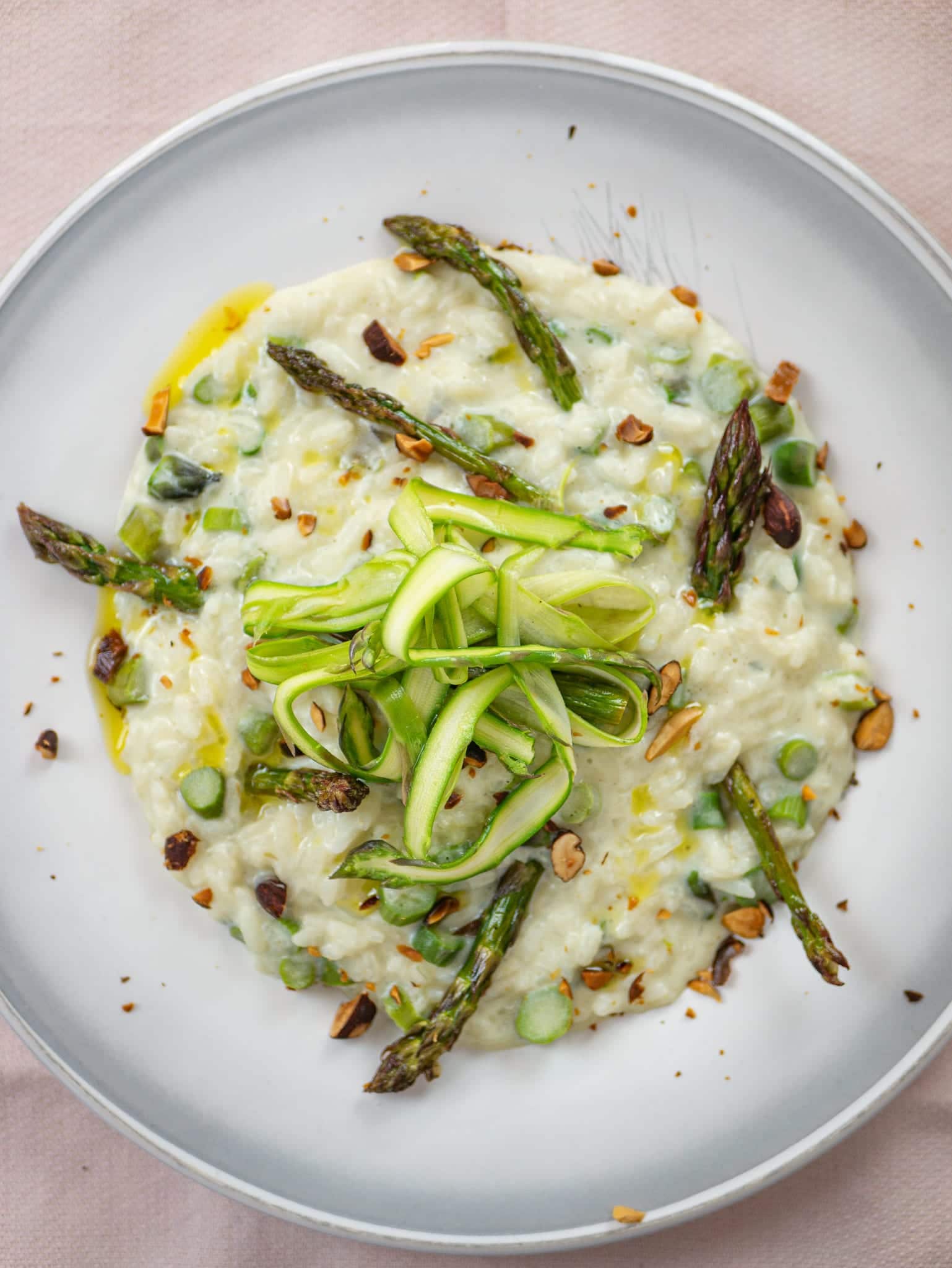 ADD THE LIQUID GRADUALLY
This is a crucial step that most people get wrong, simply because they are impatient. To cook the risotto right you need to follow some strict steps. First, toast the rice for 1 minute max in pan with some olive oil, or like in this case, dry. Second, add the vegetable stock gradually, usually 1 to 2 ladles at a time. You don't want to drown the rice in water, or else it won't become creamy.
Remember that the vegetable stock must be kept very hot, on a slow boil, so that it doesn't lower the temperature of the rice when you add it to it.
Also, remember to stir the rice often, and repeat the process of adding liquid and stirring throughout the cooking time of the risotto. Third, add the main component of the risotto - in this case the asparagus - ¾ into the cooking time. Usually we do this around the 10 minute mark.
MAKE IT CREAMY - MANTECARE
This is a mandatory step when making risotto. It is the final step before serving and the one when you will make the risotto extra creamy and wavy. Mantecare, in Italian cooking, means to make a dish creamy by adding some kind of fat like butter, cream, parmesan cheese, or olive oil.

In this case, since we are vegan, we have developed our own cream made with blanched almonds and asparagus to mantecare this risotto. The almonds are the perfect match to the asparagus, and elevate their flavour. They are also rich in good fats that make the risotto creamy and luxurious. If you can, try to find organic almonds, as the non-organic ones are full of chemicals and are cultivated with some controversial agricultural practices.
When you do this final step of "mantecare", turn off the heat and start adding the fat component to the risotto while stirring with a wooden spoon. If the rice is too thick you can add some more vegetable stock. Remember that at the end, the rice must turn out not to thick, nor too soupy, but it needs to have a wavy consistency. In fact, in Italy risotto is only served all'onda (wavy).
SERVE THE RISOTTO WAVY - ALL'ONDA
Plating the risotto is actually very simple if you have the right consistency. Just scoop a couple of ladles of the rice onto a plate from the centre and never, I mean never, touch it. The rice will slide in its place by itself. A bit like pancake batter when you make pancakes. Once in its place, you can style the plate.
Here we used olive oil & lemon baked asparagus tips, and toasted organic almonds from Sicily, crushed and seasoned with some sea salt. We also added some lightly seasoned asparagus shavings on top to add some freshness and colour to this rich and luxurious spring dish.
We hope you liked this creamy vegan risotto with asparagus. It's fresh, springy, full of flavour, and beautiful. We think you might also like our hearty oats risotto and our homemade trofie al pesto.
And if you have any tips or questions, we would love to hear from you in our comment section below.
🍝 Related recipes
If you have any tips or questions let us know in the comments below!