Cambia lingua / Switch language: Italiano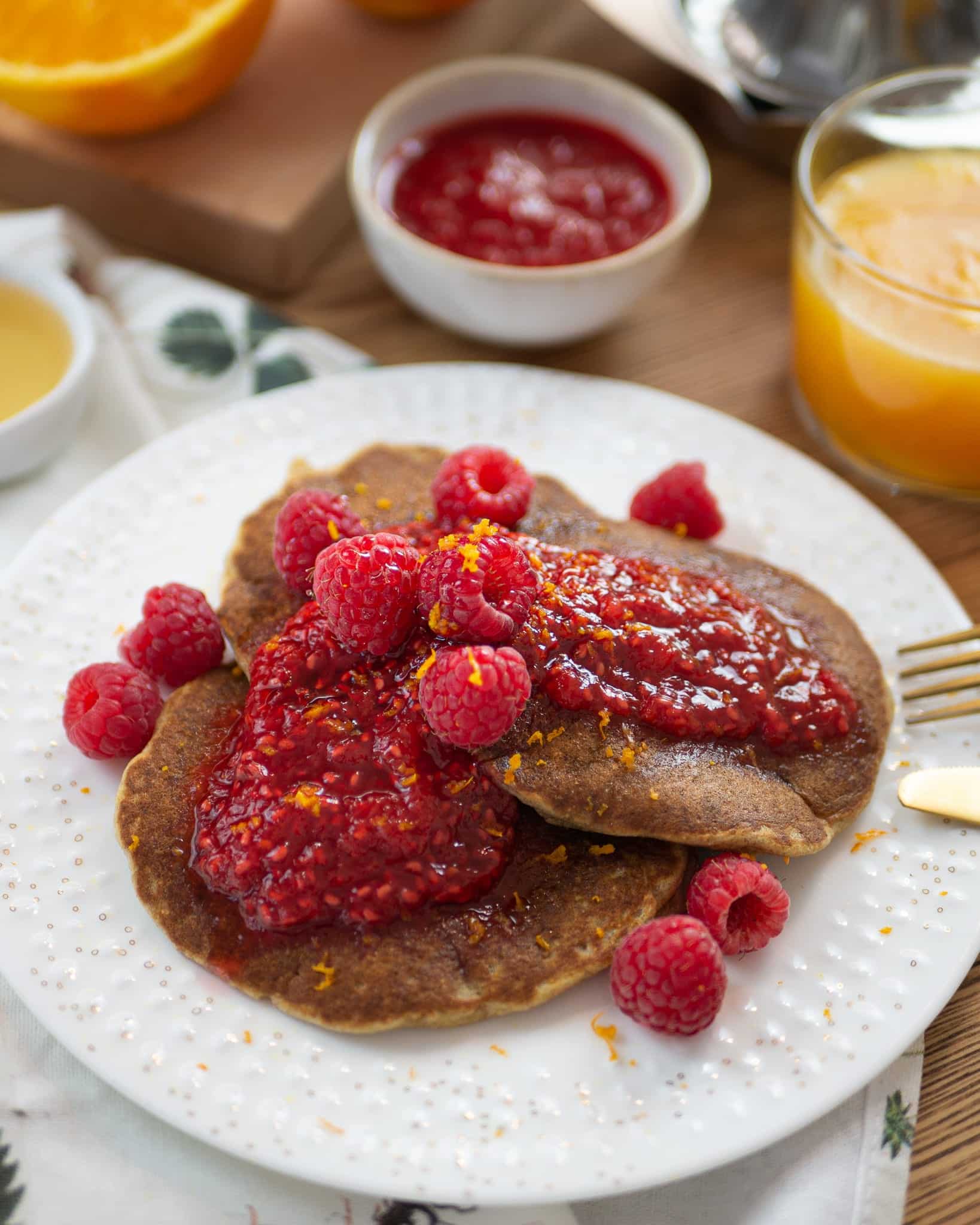 Vegan banana pancakes are the ultimate Sunday breakfast treat! They are packed with flavour thanks to the oats and the bananas, they are moist thanks to the coconut oil and they are light and fluffy thanks to the baking soda and powder. Our quick raspberry jam on top is the perfect complement to these delicious treats.
If you don't have raspberries, check out our vegan oatmeal pancakes with apple compote or our vegan apple fritters.
Jump to:
🎥 Video
🍓Ingredients
Rolled oats: are so much better than flour for your pancakes. Oats is full of flavour and fibre so you'll get healthy and delicious pancakes. To turn them into oat flour you just need to blend them for a few second.

Plant-milk: you can choose any plant milk that you like. Our favourite ones are organic almond milk and organic soy milk. With soy and almonds make sure you buy organic. It's a lot better for your health, for the bees, and for the environment.

Banana: choose a very ripe one for maximum flavour. Also, banana works as an egg replacement in vegan pancakes and it's perfect to bind the batter together.

Coconut oil: this is optional so if you are on a low-fat diet you can skip coconut oil all-together and your pancakes will turn out just fine. However, if you want the extra moist and flavour go for it.

Baking soda & baking powder: for fluffiness. They work great in this recipe.

Sea salt: to bring all the flavours together. Don't use cheap table salt, always choose sea salt.

Fresh raspberries, sugar and orange: to make a quick and delicious raspberry jam.
📋 Recipe
Vegan banana pancakes with raspberry jam recipe
Vegan banana pancakes are the ultimate Sunday breakfast treat! They are packed with flavour thanks to the oats and the bananas, they are moist thanks to the coconut oil and they are light and fluffy thanks to the baking soda and powder. Our quick raspberry jam on top is the perfect complement to these delicious treats.
Equipment
Whisk, bowl, non-stick pan and a blender.
Ingredients
For the pancakes
1

cup

rolled oats

¾

cup

plant milk

1

ripe

banana

2

tbsp

coconut oil

melted

1

tsp

baking soda

½

tsp

baking powder

⅓

tsp

salt
For the raspberry jam
1

cup

fresh raspberries

(125 grams)

0.5

orange

juice

1

tbsp

sugar
Instructions
For the pancakes
In a blender, mix the oats, baking powder and baking soda, and a pinch of salt

In a bowl, mash the ripe banana and the coconut oil with a fork

Add plant milk and stir well until the banana turns into smaller pieces

Add the flour/dry mix little by little while whisking

Let the batter rest in the fridge for at least 15 minutes

Cook into small pancakes on a hot non-stick pan

Serve with the raspberry jam, some fresh berries, and some grated orange zest on top
For the raspberry jam
In a pot, mix freshly squeezed orange juice, sugar and raspberries and gently stir for a few minutes on low-medium heat until you have a runny jam consistency. Set aside
Nutritional Values
Nutrition Facts
Vegan banana pancakes with raspberry jam recipe
Amount Per Serving
Calories 385
Calories from Fat 171
% Daily Value*
Fat 19g29%
Potassium 522mg15%
Carbohydrates 48g16%
Protein 9g18%
Vitamin A 421IU8%
Vitamin B6 1mg50%
Vitamin C 40mg48%
Vitamin E 3mg20%
Vitamin K 5µg5%
Calcium 216mg22%
Folate 64µg16%
Iron 3mg17%
Manganese 2mg100%
Magnesium 72mg18%
Zinc 2mg13%
* Percent Daily Values are based on a 2000 calorie diet.
Did you make this recipe?
Tag us on Instagram @Italiaplantbased
👨🏻‍🍳 Top tips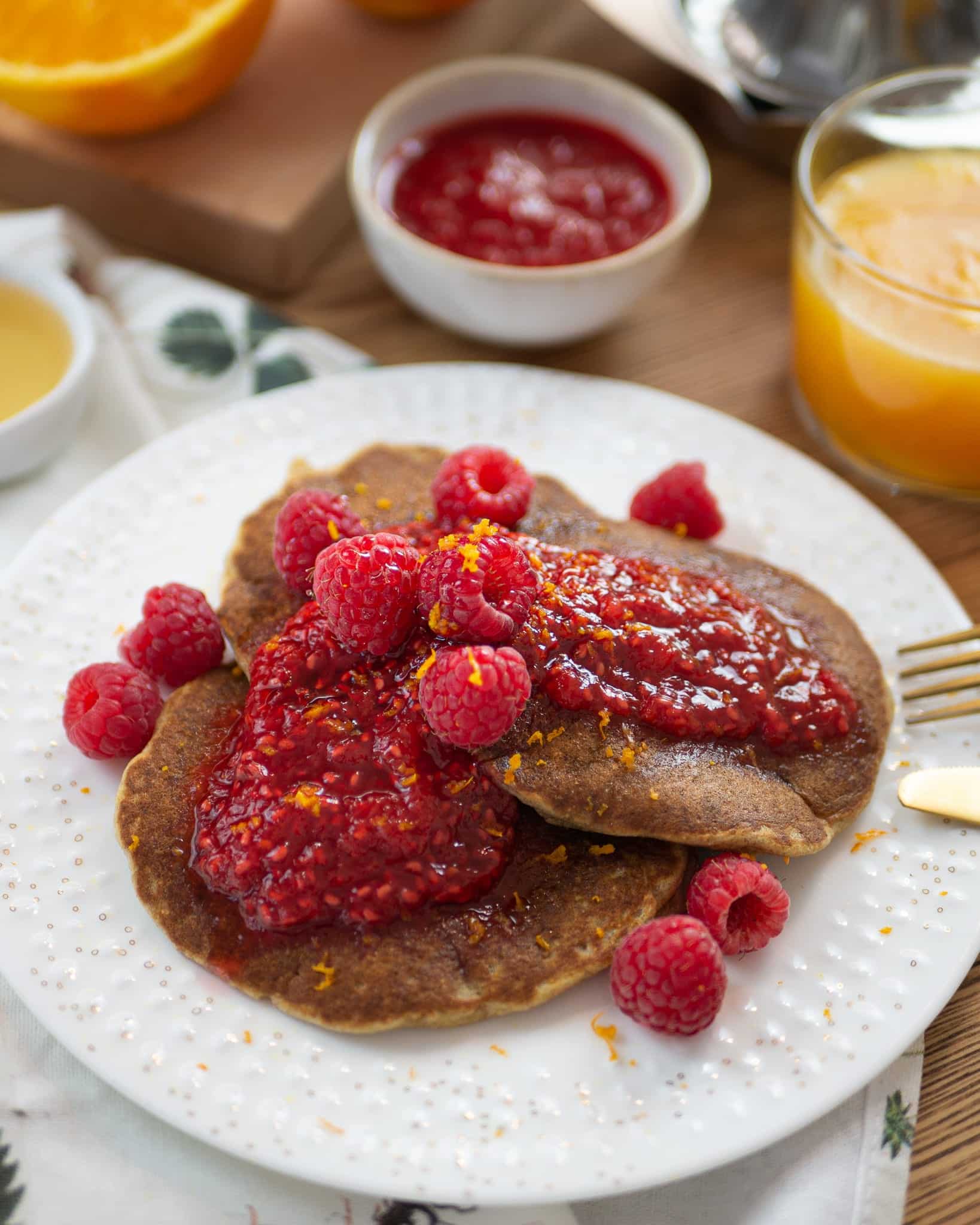 Ditch the pancake mix from the store.
There is no simpler recipe than vegan banana pancakes, yet we still go out and buy pancake mixes full of low grade processed ingredients and preservatives. Ditch it. Start from your own oats instead for a much richer flavour and much healthier nutritional profile (hello fibre). You can simply blend them and then add some wholesome organic ingredients like a ripe banana, some good coconut oil, and plant milk. Et voila!

Let it rest!
It is very important to let the pancake batter rest for at least 15 minutes. If you don't do this step, the batter will be running away as soon as you place it on the pan, and you'll get crappy looking pancakes. Letting it rest allows the oat flour to hydrate and bind with the water molecules, making it stick together when you put it on the hot pan.

Make your own jam!
While the pancake batter is resting is the perfect time to make your own jam. But keep it simple. Pick your favourite fruit, then add some fruit juice to it (preferably fresh) and a spoon of wholegrain sugar if it's Sunday :-). You just need to cook it while stirring for a few minutes, and you have your quick homemade jam for your pancakes. Our fav combination is raspberry and orange juice, or ripe banana and apple juice.
📖 Questions & answers
What are vegan pancakes?
They are pancakes that do not contain animal-based products such us eggs, milk and butter. They are healthier and delicious.
What flour should I use for vegan pancakes?
We really really love the taste and texture of flour made with rolled oats. We just blend the rolled oats for a few seconds in a blender, et voilà. You can however use any other flour, including all purpose, spelt, and wholegrain flour.
Are vegan pancakes healthy?
Yes. In our opinion our recipe can be considered healthy. It uses banana for sweetness and fibre-packed oat flour instead of all purpose flour. Of course, it you pour a pint of maple syrup on top they won't be as healthy.
Can I use water instead of milk for pancakes?
Yes you can. You pancakes will be lighter
How do you make vegan pancakes fluffy?
To get the fluffiest pancakes you want to add both baking powder and baking soda just like we write in the recipe card above. Also, if you want them lighter than our version, then use all purpose flour instead of oat flour.

We prefer oat flour because the pancakes are still fluffy but they have a ton more flavour than if made with regular flour. Also, remember to let them rest!
🧁 Variations
Vegan Oatmeal pancakes with apple compote
Simple and healthy oatmeal pancake recipe without eggs and without milk, perfect to enjoy with a glass of orange juice on a Sunday morning. They are light, moist, nutritious, sweet and full of apple flour. You can make them with oats or wholegrain flour, and top them with a delicious apple and cinnamon compote, an indulgent homemade apple syrup, orange zest and walnuts. They are divine!
Blueberry vegan pancakes: add a half a cup of fresh blueberries to the batter. You can also use froze blueberries but they will colour your batter blue.

Chocolate chip pancakes: roughly chop half a cup of vegan dark chocolate and add it to the batter.

Vegan pancakes and custard: they are also delicious with our vegan lemon custard and some fresh strawberries on top.
🥫 Storage
You can store the batter in bowl or in an air tight container in the refrigerator for up to 5 days. Just give it a quick whisk before making the pancakes.

You can also store the pancakes after cooking them. They will last for about 3 days in the refrigerator. You can warm them up on a non-stick pan for a few seconds.
🍰 Related recipes
Have you tried making those at home? Let us know in the comments below 🙂