Calling all fellow vegan pasta-lovers! This is a list of drool-worthy pastas for every pasta-lover out there. We have compiled 34 Best Vegan Pasta Recipes from some of our favorite bloggers that share a passion for delicious pasta.
These recipes are from all over the world; Italy, Mexico, Spain, the US (to name a few). The pastas are enriched with ultra creamy sauces, sensual flavors, authentic cooking styles, pungent spices, and they are all easy-to-follow. Whether it's winter, summer, spring and fall - you will find seasonal and comforting recipes that will delight your palate all year round.

All in all, completely irresistible pastas with loads of gusto and great variety:
Low-fat Pastas
15-minute Pastas
Pasta with Vegan Meats
Extra Creamy Pasta
Vegan Cheesy Pastas
Pasta Salads
Pasta Bakes
Home made Pasta
And much more.
It is a long post, but it is well worth your time. So, grab a good cup of tea, or coffee, a vegan biscuit, and lean back in a comfy chair. Let your hunger unfold while scrolling through this list and find your perfect pasta match.

Take notice that the headlines of the posts link directly to the recipes, and there is an additional link to the recipe in the text description. Recipes in no particular order 🙂
Let the drooling begin! Buon appetito!
Umami, max creaminess, and chewy mushrooms. What more could you wish for in a meal? We love that this delicious Pasta dish is ready in 30 minutes or less and is the perfect quick and easy dinner. Get Alison's creamy recipe for easy and delicious mushroom pasta here.
Simple and fresh ingredients come together in this Healthy Linguine Pasta meal. You can throw this wonderful vegan pasta recipe together in under 10 minutes. Just the time that it takes to boil the pasta! The perfect quick dinner. Get the recipe for linguine with chanterelle mushrooms here.
Baked Pasta when it's best! This pasta is baked with healthy and delicious ingredients such as spinach and artichoke. It gets a creamy and heavenly cheesy spin with blended cashews and nutritional yeast. Get Sam's recipe for vegan spinach artichoke pasta bake here.
This delightful and ultra-comforting One-pot Pasta Soup is one of our favorite comfort meals! Your taste buds will thank you for the combination of salty, creamy and garlicky flavors that come together and make the perfect vegan Italian meal. Get Melanie's recipe for the vegan Italian sausage pasta soup here.
Carbonara creaminess-alert here! Boost your confidence by making this vegan version of pasta carbonara with butternut squash, cashew nuts and marinated-at-home tofu. Pure vegan carbonara love! Get Richa's recipe for vegan butternut squash carbonara here.
In the mood for mouth-watering Pasta but feeling too lazy to cook? Then, this green pesto-wonder could be just right for you. In just 10 minutes you will have yourself a creamy, dairy-free pesto pasta with a cheesy, salty flavour. Get Monica's creamy recipe for pesto pasta here.
We absolutely love the combination of classic Italian Pasta with loads of healthy vegetables! This Vegan Bolognese is easy, nutritious and very satisfying. Just sprinkle with your favorite brand of nutritional yeast and you are set for a delicious lunch or dinner! Get Bianca's easy-to-follow recipe for carrot bolognese here.
The perfect winter-pasta with a comforting chestnut pesto that will make you smile. Fresh chestnuts are easily boiled and blended with hazelnuts and nutritional yeast for a rounded and incredibly creamy experience. Get the delicious recipe for vegan pasta with chestnuts here.
Gluten-free, easy to make, creamy and healthy - seriously, this pasta seems to have it all! Sweet piquillo pepper or red bell pepper make the main ingredient for the sauce and deliver loads of delicious taste and healthy vitamin C. Don't forget the drizzle of vegan parmesan cheese on top, please! Get Iosune and Alberto's wonderful recipe for simple vegan piquillo pepper pasta (GF) here.
We love when Pasta and tomato sauce come together with well-cooked and deliciously seasoned vegetables. This roasted eggplant and zucchini pasta serves well as a quick lunch and perfect as a no-fuss weeknight dinner. Such a simple meal, and with maximum flavor! Get Melissa's tasty recipe for the roasted eggplant and zucchini pasta here.
This comforting and nutritious vegan lemon pasta is a healthy and creamy bowl of pasta-goodness. We love this rich dish because of the balanced flavors of herbs, chewy mushrooms, and fresh lemon. It's perfect for when you are looking for a satisfying but healthy meal! Get Caitlin's beautiful recipe for vegan lemon pasta spring vegetables here.
Here is a super easy, classic macaroni and cheese that makes for a perfect weeknight dinner! We love the classic pastas as long as they are easy to make and deliver a tasty result, and this mac'n cheese definitely qualifies! Get Alissa's creamy recipe for the vegan mac'n cheese here.
We always love when there is room for flexibility in our pasta-making! This creamy hummus pasta delivers a creamy and super delicious flavor, but the recipe also leaves room for creativity. Mix with your favorite veggies and herbs for a fully customized meal - YUM! Get Jessica's recipe for hummus pasta here.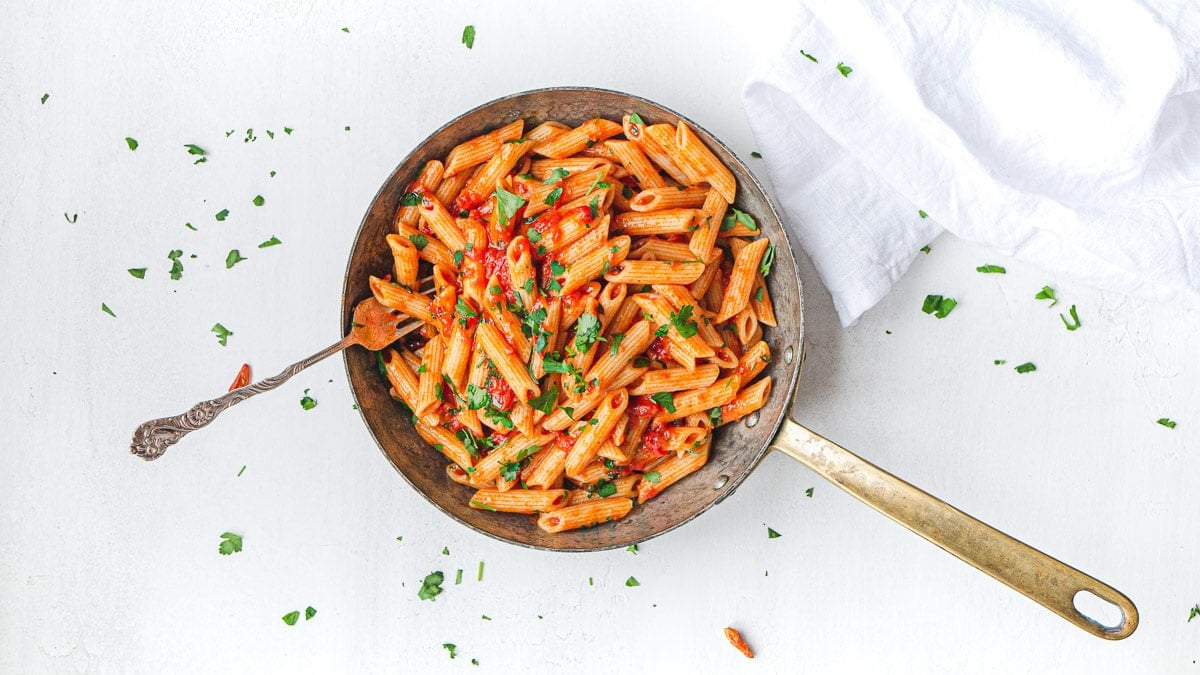 This classic Italian pasta meal is one of the simplest yes most delicious you can find. A very delicious combo of creamy tomato, pungent chili and freshly chopped parsley. This pasta will seduce your palate and maybe, give you slightly red cheeks (arrabbiata means red-faced and angry in Italian). Get the recipe for the pungent penne all'arrabbiata here.
We never thought that broccoli pesto could be this flavorful, but this recipe is a testimonial to the versatility and deliciousness of broccoli (and spinach) pesto. Such an easy dinner with camouflaged veggies - what's not to love about that!? Get Sophia's recipe for broccoli pesto pasta here.
Mexican-inspired pasta with chipotle is one of our new favorite pastas. This recipe proves the never-ending versatility of pasta and it is just perfect for cold winter days (actually, it is amazing on hot days too!). Get Dora's vegan creamy chipotle pasta recipe here.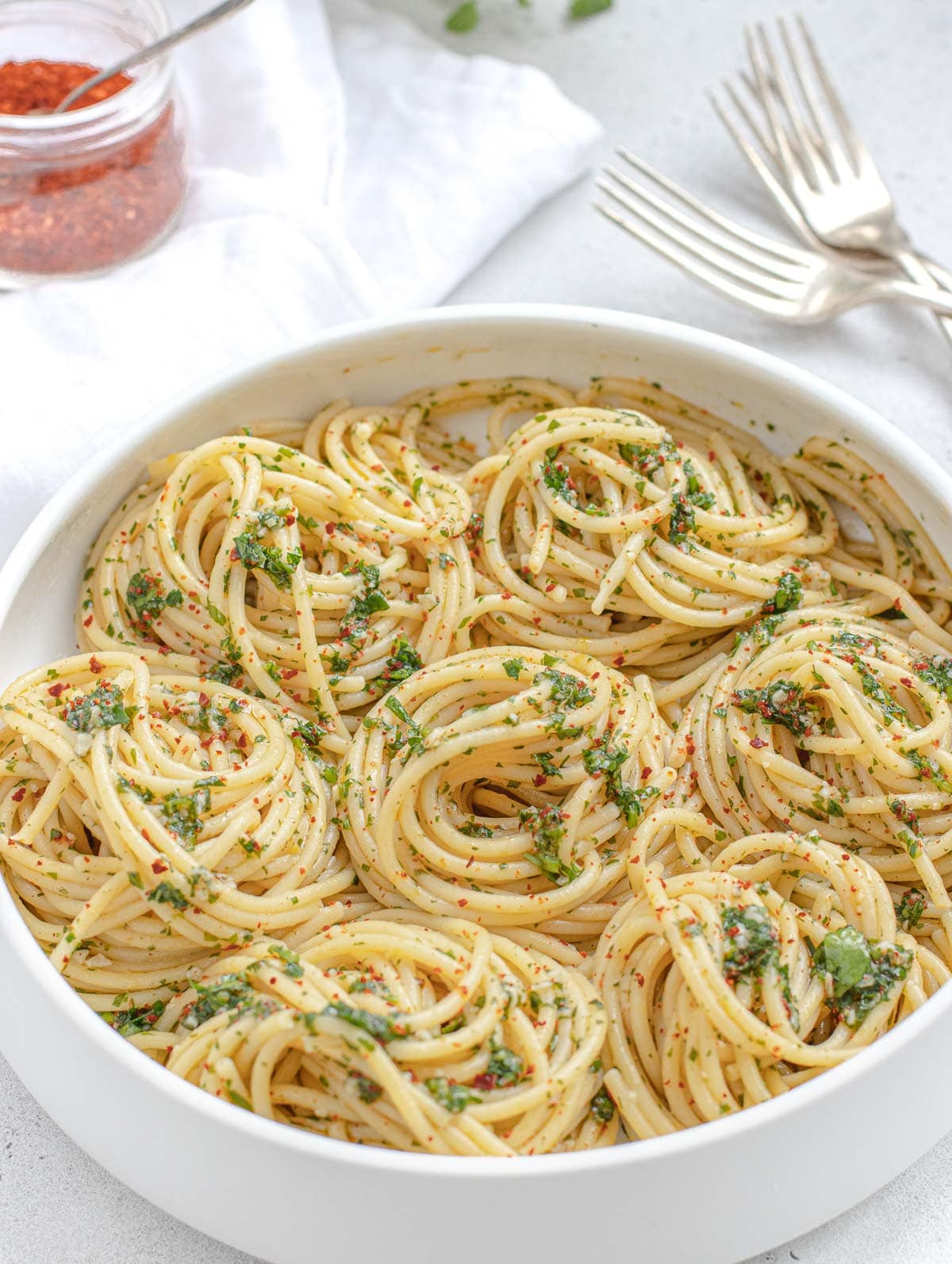 A classic and sensuous pasta (think Scarlett Johanson and Jon Favreau in the movie "Chef"). This recipe has just 5 simple ingredients, it is very affordable and light for the body due to the simple composition of ingredients. Just delicious! Get the full recipe for pasta aglio e olio pepperoncino here.
Oh my, the creamiest and most delicious mouthful of spaghetti combined with pantry-ingredients come together in this pasta. Perfect 12 months a year, for lunch or for dinner. We ate it as a primi piatto (served before the main course), and it was a perfect first course! Get Nisha's easy-to-follow vegan pantry pasta recipe here.
This beautiful pappardelle pasta with chewy mushrooms and a hearty sauce will satisfy any pasta craving of yours! With surprisingly few and simple ingredients you will be able to re-create this bowl at home and share with vegans (or non-vegans) - it will be a guaranteed favorite! Get Samira's super creamy mushroom sauce pasta recipe here.
Here is a creamy pasta-masterpiece with a pungent and irresistibly creamy sauce that hugs the penne. Ingredients are all easy to find and affordable, so nothing should really stand in your way before trying this recipe at home. It is a wonderfully comforting pasta dish! Get Claire's vegan tomato basil cream sauce and pasta recipe here.
This mouth-watering orzo recipe is the perfect beginner-friendly pasta! We absolutely love that it is loaded with good vitamin C, and it can be prepared in advance for lunches or weeknight dinners. Oh, and don't forget to sprinkle Tajda's vegan parmesan on top! Get Tajda's vegan orzo recipe here.
A rustic and authentic pasta that satisfies our frequent cravings for eggplant! This eggplant puttanesca is such an aromatic pasta, and reminds us of hot summers traveling through the central regions of Italy, visiting Nico's family. A truly authentic recipe! Get Julie's colorful eggplant puttanesca vegan recipe here.
Simplicity meets creaminess in this wholesome garlic-infused pasta dish. A recipe that is super easy to cook and leaves your palate with a velvety and creamy flavor - we are sold! Perfect weeknight dinner recipe. Get Ameera and Robin's creamy garlic pasta here.
A different way of eating pasta, but definitely no less creamy, tasty and delicious! These butternut-stuffed shells are filled with almond-tofu ricotta and marinara sauce-goodness and will leave vegans and non-vegans smiling after eating. See Alison's vegan stuffed shells recipe here.
This easy vegan pasta salad recipe is quick to make, it's refreshing, and seasoned with a delicious lemon-mustard vinaigrette dressing. It's perfect for a quick lunch, post-workout meal, and if you have some leftovers you can pack it up and bring it for a picnic in the park. Perfect for vegan food prepping too! Get the vegan pasta salad recipe here.
A dairy-free white pasta that is also low in fat - yes please! You can even prepare this veggie-loaded bowl of pasta in advance, meal prep, and save some time on those busy days. Versatile, super healthy and SO tasty! Get Alena and Lars' full vegan white sauce pasta recipe here.
We cannot get enough of mushrooms, it is probably one of the best meat replacements out there. But hey, when it is combined with lentils in a creamy, starchy one-pot meal we get really excited. Serious umami-alert! Get Jackie's one-pot lentil mushroom pasta here.
Baked pasta is not just for the cold winter months! This baked cauliflower pasta is perfectly creamy and delicious all year round. We especially love that it only requires 7 ingredients and has crunchy bread crumbs on top. Yum! Get Katie's cauliflower mac'n cheese recipe here.
Colorful pasta salads are just beautiful. But this one has an added creamy dimension to it that makes it one of our favorite pasta salads out there. Fusili pasta, loads of veggies and a creamy chipotle dressing will make you forget that it's dairy-free. We want to dig in! Get Ashley's Southwest vegan pasta salad recipe here.
This Pizzaiola Pasta bake has four delicious layers of creaminess. There's a rich tomato sauce that embraces the pasta, a smooth homemade béchamel sauce, and the extra creaminess of the starch that comes out of the pasta while cooking it in one pot and vegan cheese topping. It is one of our favorite Sunday comfort foods! Get the pasta pizzaiola bake recipe here.
Kale, Tomato and Pine nuts make a wonderful symphony in this healthy pasta dish. The vegetables are infused with fresh Italian herbs and balsamic vinegar resulting in a mouth-watering and authentic pasta. Perfect for weeknight dinners! Get Emilie's gluten-free one pan tomato kale pasta recipe here.
Oh my, we had to include this Thai-inspired bowl of pasta sunshine. Lime, peanuts and crunchy veggies make a beautiful and colorful bowl of Asian-infused flavors. How we long for the streets of Bangkok and the beaches of Koh Lanta now. 15-minutes cooking only! Get Melanie's wonderful peanut noodle recipe here.
For those hot and steamy summer days, where you just feel like eating watermelon and light pasta salads. This Greek inspired pasta salad is perfect, easy and makes you feel SO good and energized after eating! Disclaimer: we would make this pasta salad in a minute also with minus degrees outside! Get Julie's glorious Greek pasta salad recipe here.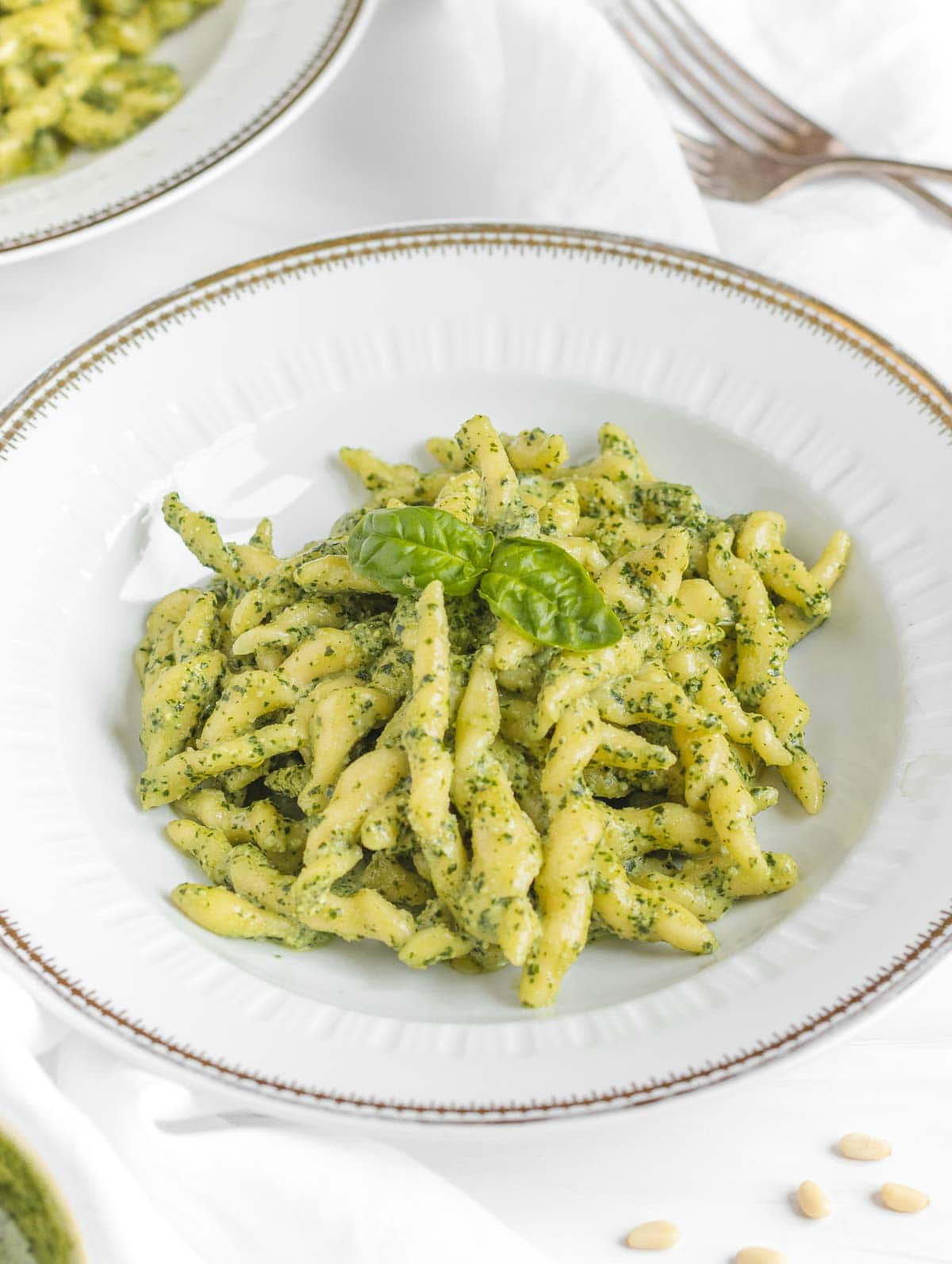 Vegan Homemade Trofie Pasta is a classic Italian fresh pasta made for centuries on the Italian riviera Ligure. Our recipe follows the original tradition. It's made with only three ingredients, it's naturally vegan, shaped by hand, and dressed with a delicious vegan pesto sauce. Perfect as a family activity for kids and grown-ups alike! Get the recipe for the homemade pasta here.
Which one is Your Favorite?
Did we forget any of your vegan favorites in this list of 34 Best Vegan Pasta Recipes? Tell us! Maybe you have tried making one of these pastas? We would love to hear about it!

You can pin this post for days when you feel tired and want an easy and delicious meal, or even better; share the post if you think someone you know will find their perfect pasta match here.
Leave a comment below if you liked our list. Your comment would mean the world to us, truly.
We would love to have you join our little community of vegan PASTA-lovers! Join us on Pinterest, Instagram and YouTube, the more the merrier.

Buon Appetito,

Nico and Louise